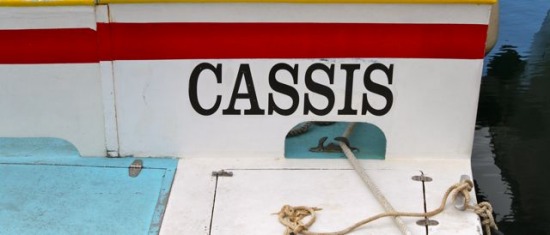 There are certainly many great things about Aix en Provence. One of the best things in Nutmeg's books, is that fact that you can say over coffee in the morning "Do you want to go to Cassis for lunch?".  Cassis is an easy 37 minute drive (50 Kilometres) so it is definitely doable for lunch.  One fine day in January they did just that.
Cassis is located just east of Marseille and is very famous for the adjacent large towering white cliffs.  The cliffs are equally stunning as those found along the English Chanel in Normandy.  There are beautiful inlets called les Calanques that are accessible mostly by boat, or in some cases by tough hiking routes.  What surprised Ginger and Nutmeg was the significant wine growing area right around Cassis.  What they understand now is that the area is known for white and rose wines.  The area is not known for Creme de Cassis, which is actually made from blackcurrants and is a speciality of Burgundy.
The current location of Cassis was first occupied between sometime in 500 BC. It formed part of a maritime route during Roman times.  The town developed on agriculture, fishing and marine trade.  Some new industries developed in the 18th century including; olive oil, wine production, dried cod among others.  The Stone of Cassis has been quarried here for centuries and actually was used in major ports around the Mediterranean.  An interesting trivia fact is this is the same stone that forms the base of the Statue of Liberty.
Today the town is mostly focused on tourism, fishing and wine production.  The sheltered harbour is filled with pleasure craft, fishing boats and tour boats.  The water is lined with restaurants of all descriptions, sporting large terraces for enjoying the sun and watching the sights.  The food at the restaurant La Paillote that Ginger and Nutmeg chose was decent, the service attentive and Jade got her own bowl of water.  Cassis is a lovely place for lunch.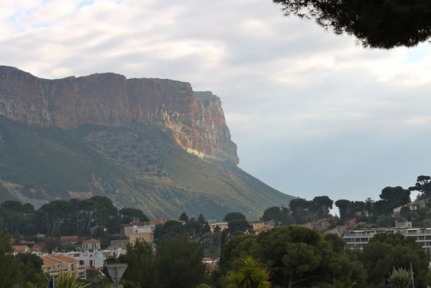 Like many port towns the people watching is part of the fun.  So over lunch it was entertaining to watch the flow of passers-by.  There were several ladies dressed in fur, as it was January, it was also 10 degrees in the sun.  There were multitudes of small dogs in sweaters and coats. A certain abundance of leather, big sunglasses and bling.  Generally an easy way to pass a lunch hour.  Enjoy the photos.
Food Travel Tags:
Cassis, Cote Bleu, Provence, Travel Tips