There is no question, France is a must visit place for foodies and market lovers.  Nutmeg, as you already know is market crazy.  She finds that there is something completely engaging about the sights and sounds of a market.  In particular, Nutmeg loves the literal buzz of the commercial activity resulting from the connection of buyers to vendors, who are in many cases the actual producers.  Southern France is a critical food production area for the country, with a slightly milder climate, the growing season is long and literally "fruitful".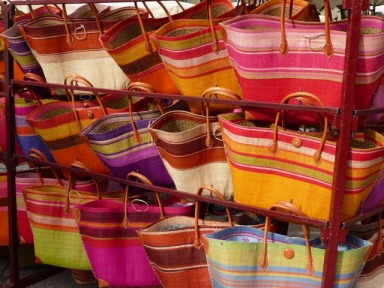 In Provence, there is a market every day of the week.  Most markets run in the mornings from 8:00 – 13:00.  There are many markets that do not cater specifically to tourists, and really are meant for the people who live near-by.  At these small, very local markets, do not expect fancy stands, artisanal breads, or free samples.  Do expect fresh produce, locally grown and at decent prices.  In addition, you can usually stock-up on pajamas, socks and underwear at the same time.
Here are some notes and photos from our market wanderings so far:
Eygalieres: Friday mornings.  This market has a good selection of food and Provençal specialties (soaps, spices).  The market fills the main street and caters to both locals and tourists.  It is not the place for bargains and certainly do not expect to barter.  You should expect a lively crowd and if you want to feel like a local, go to Café de la Place for a drink to soak up the atmosphere.  However, do not go there for a meal as the service and food is terrible as Ginger and Nutmeg recently discovered.  We do highly recommend you go to Bar du Progress instead.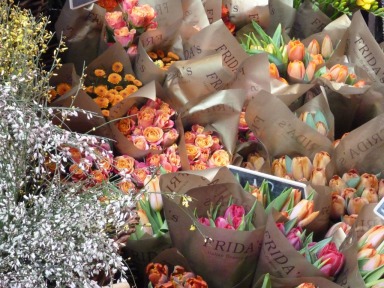 Eyragues: Friday mornings.  This tiny market is for locals.  They will of course take your money if you are not local, but you should expect a limited selection.  This market is for the people who live near-by to resupply and buy necessary items like pyjamas at the same time.
St Tropez: Saturday mornings.  This market is less than 50% food.  There are lots of clothing stands and bric-a-brac.  Good people watching but definitely expensive and caters to tourists.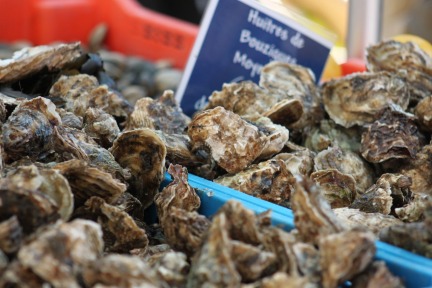 L'Isle-sur-la-Sourge: Sunday mornings and early afternoons.  This is a big market catering to locals from Avignon, les Alpilles and tourists.  The market is a healthy mix of fresh produce, prepared foods, baking and clothes of every variety.  In addition, to the market the retail stores in the town all have outdoor booths.  In the afternoons, the focus is on antiques.  Definitely, worth a visit.
Aix en Provence: This town is a paradise for Nutmeg as there is a market of some kind every single day.  In Place Richelme there is a market open daily, mostly frequented by locals.  They offer a decent selection of produce, some olives, honey and there is one very good fish vendor.  On Tuesdays, Thursdays and Saturdays there is a much larger market at Place des Precheurs.  There is a flower market everyday that rotates between two locations.  Clothing, antiques and flea markets are also easily discovered a few days a week.  It is endless…
There is no point in listing all the choices, as each town and village has at least one market day in many cases more than one (see galleries for some recent encounters).  So Ginger and Nutmeg are eating very healthy and buying local, whenever possible.  Jade (market dog) is pretty good at finding some choice morsels on the ground and we are awaiting the day she snatches a baguette out of someone's market basket.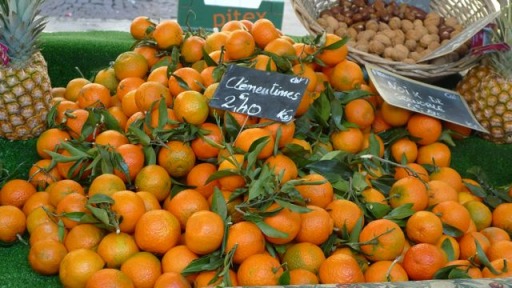 Food Travel Tags:
Food info in France, Markets in Provence, Provencal Food, Provence Travel, Travel in France