Aix en Provence is often referred to as "Cezanne's city".  It is hard to miss the "Steps of Cezanne" emblems on the sidewalks of Aix, these symbols lead tourists to some of the more famous sites for Cezanne.  The problem with looking at your feet to follow the little emblems, is you might miss some of the sights along the way.  Nutmeg could fill a book and several photo albums to really describe this city.  Aix en Provence has a long history (founded in 123 BC) as a centre built over hot springs or "thermes".  Aix is a student town, tourist town, the official centre of the 13th department of France.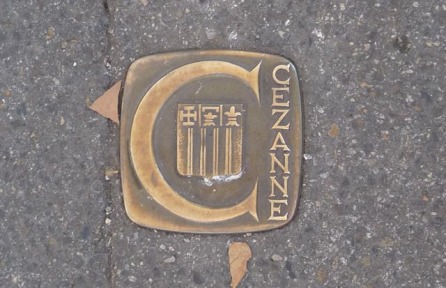 The interesting thing is it was not "love at first sight" for Nutmeg.  The city is frankly a bit scruffy, and takes awhile to get under your skin.  The famous boulevard Cours Mirebeau, although tree lined and shaded, is also home to a mixture of very tourist restaurants, banks and uninteresting retail stores.  The old town (vieux ville) is a maze of small crowded streets, overflowing with retail stores, restaurants, brasseries and boulangeries.  It took Nutmeg a few weeks of walking the streets, to get properly oriented.  There were several attempts and a many failures with restaurant meals, to sort out the better options available.  There were some market disasters before they were able to identify the regular and reliable vendors.
Now that Ginger and Nutmeg are on the verge of leaving Aix-en-Provence, and it is with quite heavy hearts.  They have had some great experiences and would like to share some of their favorites for your next visit:
Boulangerie: This is tough in France as there are so many good ones.  Nutmeg's favourite is Farinoman Fou, their bread is rustic and unique. Their unique breads include a couple standouts; Maître Goji (goji berries and raisins) and Choco Souris (chocolate smile).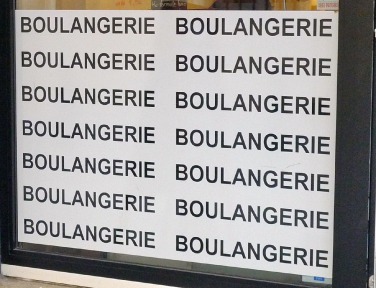 Doors: The great thing about exploring a city like Aix with such a depth of history, is the ability to revel in the age old architecture and wonder what lies behind the doors.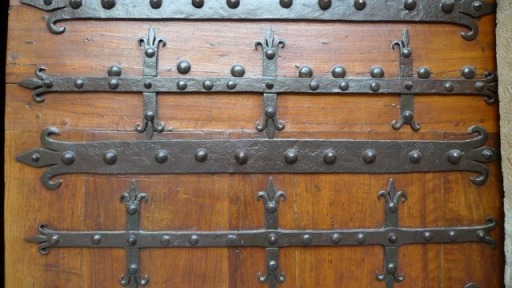 Fountains: As mentioned above the city was built on top of hot springs and the main streets have several beautiful fountains as a nod to that history.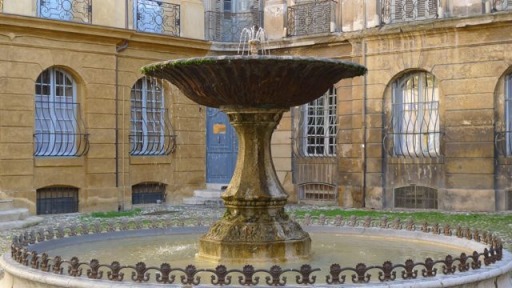 Gelato: Amorino –  Ginger has tried all the obvious locations and without a doubt this one at the end of le Cours Mirabeau is his hands down favourite, worth every Euro.  Their chocolate is also worth a mention, it is expensive and exquisite.
Creperie: Hands down the crêpes made by Delphine at Crepes Cidres & Companie are the best in town. Delphine is originally from Brittany and insists on using authentic Breton ingredients (this is not always easy in Provence).  Her crêpes are hot and made to order.  The expresso is consistent and all the special treats like mini Madeleine cookies are delicious. If that is not enough, she is lovely.  Stop by!!
Market: You already know that Nutmeg is market crazy, so Aix-en-Provence is fantastic as there is a market every single day.  The local market in Place de Richelme is the one that we gravitated to and found our trusted vendors, who work really hard, long hours.
Restaurants: As mentioned above Aix is many things but above all a student and tourist town.  This is not necessarily a good combination for decent restaurant options.  There is certainly no lack of food establishments but most are not recommended by Nutmeg (Ginger might be a bit more generous).  We have encountered a few honourable mentions:
Le Millefeuille (small, nice decor and a menu that changes daily)
L'Epicurien Restaurant ( 7-10 tables, the menu changes weekly) – Divine
La Cave d'Yves (tiny wine bar, small tapas style menu, lots great wine and a sommelier who really knows his stuff)
Carton Rouge (really tiny, this place makes Yves look spacious, very tasty food, daily menu, cooked to order) – Make a reservation
Tapas Cafe (in Place des Augustins, it does not look like much outside but the food is authentic Spanish Tapas and Ginger liked the Mojitos)
Poivre D'Ane (bright and small, they offer two prix-fix menus) – great service, reservations are a must
Route de Cezanne: Easily accessed from the centre of town, this rural road to Mont St Victore and vineyards is a must see.  It is lovely for a short bike ride or longer drive.
Special events:
The Cathédrale Saint-Sauveur for the Scandinavian Christmas concert in honour of Santa Lucia
Église Saint Jean de Malte concert "Chœurs au Diapason" by the Ordre de Malte –  10 euros for a "programme sacre et airs d'opéra"
FUTUREALISMEs at the Muse Granet
In the end there is lots to love about Aix en Provence, book your trip or at least check out the photos in galleries. Also Ginger's newest video on biking.
The is good news is although Ginger and Nutmeg are leaving Aix, they are actually only moving about 45 minutes away so will be back frequently to visit all their favourite spots.
Food Travel Tags:
Aix en Provence, Provence Travel, Things to do in Aix en Provence, Travel in France, Travel Tips with Pets, Travel with Dogs