Ginger and Nutmeg are a bit distracted by our move from Aix en Provence to Eygalieres, so it is once again my turn for a bit of "air-time".  Here is my rebuttal to Nutmeg's last post "Our Favorite things about Aix en Provence".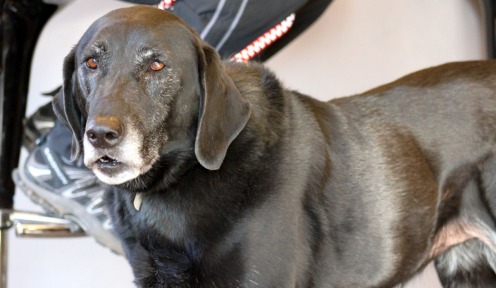 I have never lived in a place quite like Aix en Provence.  When I was a young puppy I lived in the woods in Vermont, and putting on a collar was a dress-up occasion.  Then I moved to Calgary. Ginger came to pick me up in Montreal and took me on a long trip to that strange place (Calgary).  We arrived and there was another dog who looked like me but she was not very interested in me.  My roaming space much reduced, in fact it was a bit like a sardine can after Vermont.  The good news is Ginger and Nutmeg made lots of trips to Canmore, where we could swim and run around like black Labradors do.
Aix en Provence is a place where I go for lots of walks but never go off leash.  Nutmeg says it is because there are no parks.  I think it is because of all the tempting scraps on the ground.  We walk every morning up the famous Cours Mirabeau, it is lovely and often there are a few morsels of food on the ground from the restaurants along our way. It is possible Nutmeg might be right, the single park that is close to our house is locked on weekends.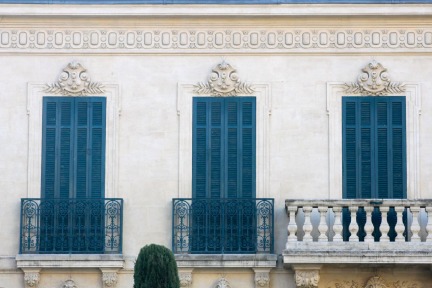 This town maybe very well be Cezanne's city but he never painted dogs, and as such his canvases, his studio, the old mill and all the rest of the sites are not very interesting to me. Aix en Provence is marketed as une ville d'art, the problem is that museums are not very dog friendly and the audio-guides are not easy for me to understand.
Tourists are often drawn to the history of Aix as une ville d'eau, as it was built on some ancient springs and there are fountains everywhere.  That sounds pretty nice and there are definitely lots of fountains around.  The problem is that I am not allowed to swim or even drink from these inviting pools.   Although, once Ginger did give me a sponge bath after a pigeon dropped a small deposit on my back. Finally, is clear that I am definitely not welcome at the fancy spa Thermes Sextius.  As such living in this watery city has been of no benefit to me.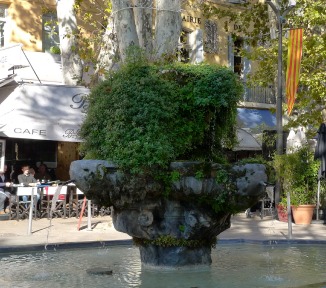 It is really nice that there is a market in Aix, we go there almost everyday, or at least everyday that the coffee shop is open.  The problem is the smells and snacks are so very tempting and I am kept on a short-leash by Ginger.  My best chance for morsels is the Saturday market when it is really busy and Ginger is a bit distracted. I almost scored a "Bio" baguette the other day when he was not looking – Nutmeg was not happy about my attempt.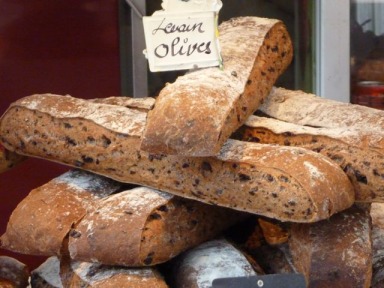 So our usual walks include stops at the coffee shop and market in the morning.  In the evening, we almost always pick up a fresh loaf of bread and usually some gelato for Ginger.  They do not share any of these treats so it is hard to say that these would be my favorites.
I do like the countryside around Aix. We have been on lots of day-trips from Aix and several hikes.  My favorites are Barrage Zola and l'ermitage Saint Jean du Puy.  Nutmeg has tried to go hiking every Tuesday with a group.  Sometimes Ginger comes too.  Here is a photo from the hike to l'ermitage.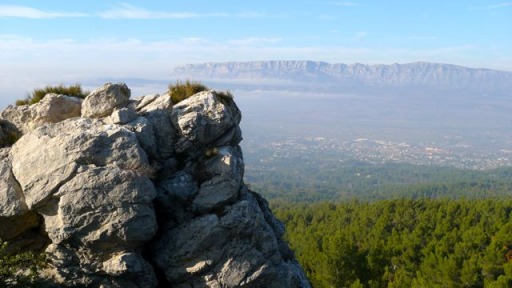 In my humble opinion as a dog of a certain age the city of Aix en Provence is perfect for tourists, students and artists but not for black Labrador dogs.  I am looking forward to my next French home in the lovely Provencal countryside near les Alpilles.
Food Travel Tags:
Aix en Provence, Provence Travel, Things to do in Aix en Provence, Travel in France, Travel Tips with Pets, Travel with Dogs