Who would not be inspired by this view?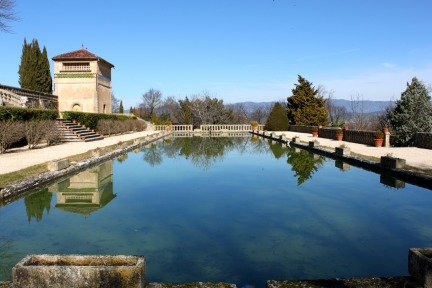 Whether your passion is art, music, food or something else it would be hard not to feel the urge to be creative.  Ginger and Nutmeg were very fortunate to spend two days with Marc Heracle in his beautifully appointed kitchen at Chateau D'Arnajon. The Chateau is located in the village of Le Puy Sainte Reparade.  Marc's focus is on traditional Provençal style cuisine.  Traditional methods pre-1900s did not include dairy, butter or refined flours.  The cooking methods of the time used olive oil, almonds, olives, citrus and spices that were (and still are) found in abundance in the region. Marc's style is relaxed as he shares his knowledge and practical experience.  He encourages participation and is happy to share some stories.
Chateau D'Arnajon was at one time a bastide, a large hunting residence in the country.  These country homes of wealthy families from the 17th and 18th centuries were typically used as summer residences to escape the heat of the cities. The very nature of these beautiful properties was to instill relaxation, with pools, gardens and in this case a particular "salon de rafraîchir" (cool grotto).  The Chateau D'Arnajon was owned in the 17th century by an Agoult. The property is in private hands now and is being lovingly restored. In mid-July they host an outdoor concert to celebrate the love of music and the French national holiday, Bastille Day.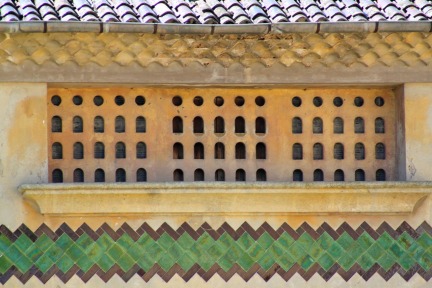 Marc is gifted, Nutmeg challenged him to create a day for G&N and some dear friends from Montreal, M. Poivre and his lovely bride Kalina (the national berry of the Ukraine).  M.Poivre has known Nutmeg since her first day as a babe. Even though the relationship goes way back, their food tastes are very different.  M. Poivre is a hunter and loves all things wild including, but not limited to: duck, venison, pheasant, squirrels, salmon and pretty much anything that moves in the wild.  Nutmeg loves greens, fruits, legumes and nuts.
What a challenge!!  Marc was up for it and guided us through the creation of some simple dishes using traditional ingredients.  One of Nutmeg's favorites is a dish that she has repeated since, Tartes d'herbes aux Epinards.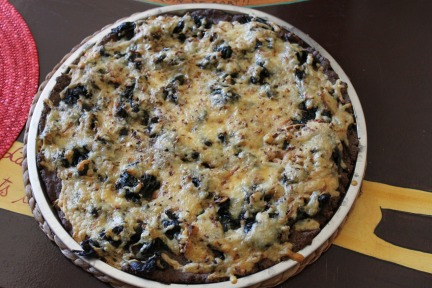 Tarte Herbes aux Epinards
Prep time:
Cook time:
Total time:
This recipe is from the kitchen of Marc Heracle in Provence. It is a more traditional dish as it uses typical local products (olives, spinach, olive oil). This is a simple dish to make. You can serve as a starter or as a main with a big salad. You may never make pizza again!


Ingredients
1½ lbs of Spinach about 6 cups, or mix of leafy greens
1 Teaspoon salt
A Pinch of Oregano
7-8 Tablespoons of Olive Oil
2 1⁄2 Cups of Flour
Baking Powder
1 Clove of Garlic
20 Black Olives pitted
5 Tablespoons of Water
3 Cups of Grated Cheese to you preference we used Emmental
Instructions
Sauté in a pan spinach or mixed greens in 3 tablespoons of olive oil
Add salt and oregano
Stir until the spinach is wilted, remove from heat
In a food processor, mix flour, with a pinch of baking powder, garlic clove, olives, water and add 4 tablespoons of olive oil, pulse until well mixed
Spread this dough on a pizza dish
Cover with the wilted spinach
Cover with grated cheese
Bake for 15 minutes at 400° F
Food Travel Tags:
Cooking Classes in Provence, French Food, French Recipes, Provence Travel, Recipes for Savoury Tarts, Recipes with Spinach