Spring 2011 came early to the French mountain resorts, mostly due to a lack of snow during the ski season.  Ginger and Nutmeg needed to change the tires on the car to the "summer wheels", as we had been rolling along on dry roads for several months in the South.  The "stars aligned" and Ginger found a few consecutive days with no commitments, a good weather forecast and a chance to visit Saffron and Truffle while they were on holidays in Chamonix.  The three of us piled in the car with almost no luggage and headed NE.  The drive was easy and Nutmeg's only disappointment was that the walnut trees near Grenoble were not in bloom.
We arrived in Chamonix and I headed straight for the river, Ginger went directly to the car garage and Nutmeg settled in for a massage – anybody wondering who is the smartest in the crew?  The next morning dawned and it promised to be a beautiful day.  The team was headed to the golf course and I was destined for a very big nap, or so I thought, until Saffron said that she was sure I could join them on the 18-hole walk.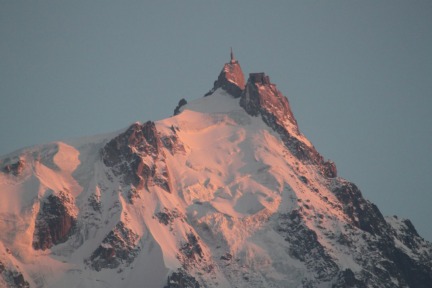 I had never been to a golf course before, so was I a little unsure whether to be excited or not.  I was pretty certain that a walk with my friends would be nice and I might even find something I could eat on along the way, so I gamely jumped in the car.   According to Ginger, the golf course in Chamonix was designed by Robert Trent Jones Senior – I have NO idea what that is supposed to mean.  What I did manage to sort out is that at 8:15am the golf course maybe "open" but the office (where you pay for the game) and pro-shop (where you spend money on cool clothes) are NOT open.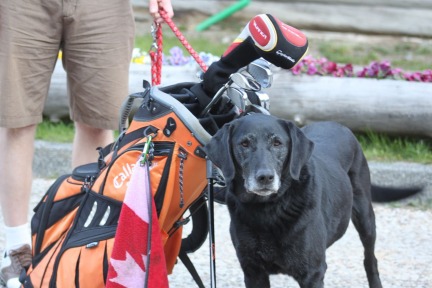 At this point I am quite excited we are actually a crew of six for the walk with the "sticks".  Saffron is my keeper and the official photo-gal, Truffle and Ginger are carrying large bags with metal sticks, Nutmeg and the "Yummy" gal from down-under are pushing their metal sticks around.  OK I got a bit excited, I was encouraging Ginger on his great tee-shot from the number one tee-box AND just like that the gig was up…a French-speaking, official-looking fellow, showed up to tell us NO DOGS (translated).  So I did get my big nap in the end and they did play their game of golf.  I still do not know exactly what that means, but I hope to find out soon on a more dog friendly golf course.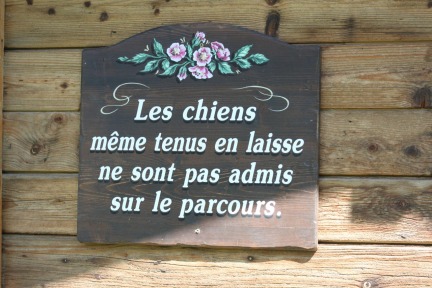 Apparently, the golf was ok; the walk was nice, the company terrific and lunch was the best.
Or according to each of the players:
Truffle: "If you watch a game, it's fun. If you play it, it's recreation. If you work at it, it's golf." – Bob Hope
Ginger: "The greatest liar in the world is the golfer who claims he plays the game for merely exercise." – Tommy Bolt
Yummy Gal: "Relax? How can anybody relax and play golf? You have to grip the club don't you?" – Ben Hogan
Nutmeg: "Golf is a good walk spoiled." – Mark Twain
[tfb username='GingerandNutmeg' count='true' lang='en' theme='light']
Food Travel Tags:
Chamonix, Golf in Chamonix, Travel in France, Travel Tips with Pets, Travel with Dogs