Ginger is a good sport and keen travel partner, he agreed to several days of sightseeing in the cities of Genoa, Bologna and Venice. He gamely played tourist; walked all day, took lots of pictures, visited old churches, and climbed up towers, but when given the choice of sleeping-in or visiting a market – he chose his pillow. Nutmeg was not deterred; she grabbed her camera, some money for a cappuccino and walked the short distance from the hotel to Bologna's Mercato delle Erbe.

Bologna is well-known as a city with a strong culinary reputation. This is not light cuisine; there is a heavy focus on meat, cheese and pasta. There is a near addiction to cured pork meat; such as prosciutto, salami and mortadella. Pasta comes in every variety, with the ragù alla bolognese as the most famous. The local region is also well known for Parmesan cheese, Modena balsamic vinegar and of course some great wines.
Although the Slow Food movement is not based in Bologna (it is based in Bra, Italy), the city's cuisine exemplifies the philosophy of this group. The typical Bolognese cuisine is not fast-food, it is time-intensive to prepare, uses local ingredients and is meant to be enjoyed. The Slow Food movement was founded in 1989, there are over 100,000 members globally and 2000 communities practising sustainable growing methodology. If you are interested to learn more click on the link above, you might be surprised at what is available in your local community.
So an early morning visit to the Mercato delle Erbe was a real treat for Nutmeg. This indoor market is easily missed, the signage is far from obvious, and the building is setback from the bustling Via Ugo Bassi, a retail and fast-food strip. Once you find the enter market you know immediately that you are in another world; the smells are fresh, the variety of colours inviting and there is a sense that you really are closer to the source of your food. There are about 70 stalls; the centre core of the market is mostly dedicated to fruit and vegetables. The outer walls and two wings are where you find more of the specialty items; cheeses, pastas, cured meats, bread, fish, meat etc. If you decide to go to the market check the hours, as it is "generally" open early morning, early evening and closed Sundays (although there is some flexibility in the schedule).
Here are a couple photos: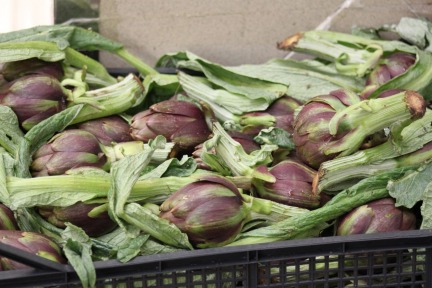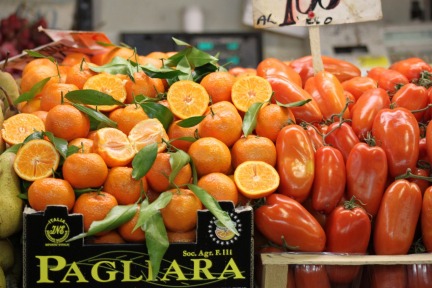 It is worth the effort to visit Mercato delle Erbe, it has been the current location since 1910.
The cappuccino was excellent!
Food Travel Tags:
Bologna, Italian Markets, Italy Travel, Markets in Europe, Mercato delle Erbe Bologna, Things to do in Bologna