In Nutmeg's books the Chartreuse liqueur is unappealing in colour (green) and definitely taste (distilled alcohol with 130 herbal extracts).  Thankfully, Ginger does not like it much either.  The production of this liqueur started in France in the 1740s by the Carthusian monks in the Chartreuse Mountains near Grenoble.  The production and sale of Chartreuse continues to support the order of monks today.  The history of the liqueur is interesting in that the production was stopped a couple times when the monks were expelled from France in 1793 and again in 1903.  It was not until after World War II that they were officially allowed to return to France.  Production today is based in Voiron and the exact recipe remains a well kept secret.
The liqueur may be unappealing but Nutmeg was interested to see La Chartreuse in Villeneuve les Avignon across the mighty Rhone river from Avignon.  This beautiful mostly restored structure is now state owned and is the home of the Centre National des Ecritures du Spectacle (CNES).  It took almost 100 years for the government to buy back the majority of the property that had once made up this monastery, the last owner left in 1988. During it's functioning time, the monastery structure and surrounding land was close to 400 acres.  The senior monks (fathers) led a contemplative life where they were physically and mentally solitary, in their devotion to the faith.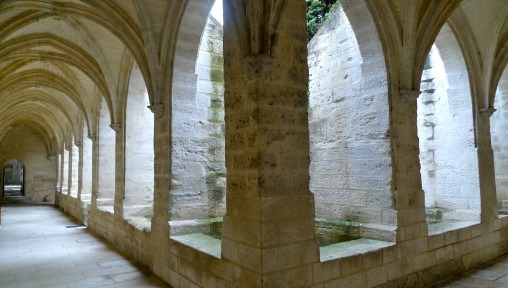 The Carthusian order was officially started in 1127.  A man who later became Saint Bruno and six companions retired to the Massif de la Grande Chartreuse near Grenoble in 1084.  Their focus was on a life of devotion and contemplation in harmony with the local community.  This monastic life spread to other groups in France.  The property around Villeneuve les Avignon was donated to the order of the Carthusian monks in 1353, by Pope Innocent VI, who is supposedly interned in the church on the property.  At it's peak this monastery was the largest in France.  The buildings have been beautifully restored and the site is open in a limited fashion to visitors.  The property is used heavily by the CNES for visiting writers and groups working on visual productions.
During the visit Nutmeg was completely convinced that spending a few weeks "in residence" on this property would help spur on the creative juices. If nothing else one could be inspired sitting in this courtyard (below) and eating lunch, or as we did sitting by the fireplace in January with some warm hot chocolate and tasty snacks.  If you are in the region La Chartreuse should not be missed!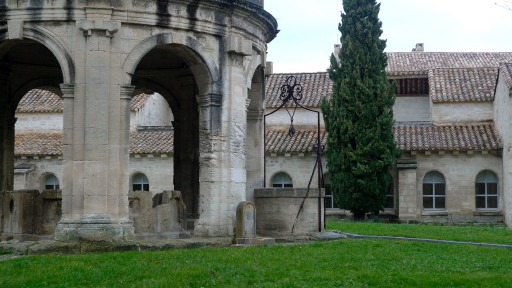 Food Travel Tags:
Abbeys, Avignon, Carthusian Monks, France, La Chartreuse, Provence, Villeneuve les Avignon