Ginger and Nutmeg have discovered that within France, Provence is the land of abundance.  There is lots of sunshine, almost never ending wind, at times constant rain, olive groves, vineyards, orchards and endless markets.  One could be overwhelmed by the array of choices and local flavours. Nutmeg's very practical side has decided that given the array of local choices it is best to narrow the selection and the following are her thoughts on the essentials in a Provençal kitchen:
Fleur de Sel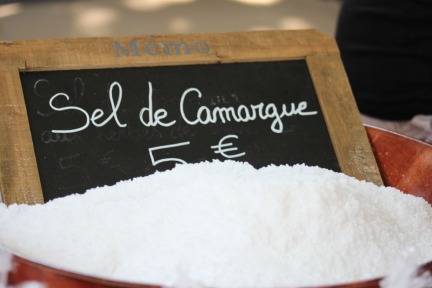 Literally translated as "Flower of salt".  Fleur de Sel is the top layer of sea salt, it is hand-harvested before it sinks to the bottom of the salt pans. Traditional Fleur de sel in France is collected off the coast of Brittany, Ginger and Nutmeg are many hours from there, but the good news is there is lots also produced in Camargue (part of Provence). The salt appears to be slightly pinkish grey as some sand is collected in the process of harvesting.  The salt is flaky in texture, and has natural potassium, calcium, magnesium, copper and iodine that occur within it. Each container is carefully packaged with a cork top and is signed by the salt-raker who harvested it. Fleur de Sel  is named largely from the aroma of violet that develops as the salt dries.
Herbs de Provence and Olive Oil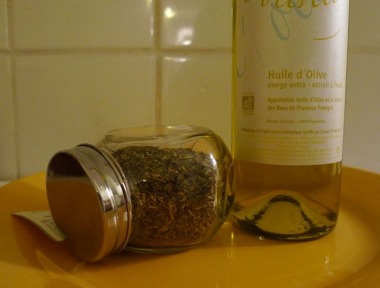 Herbes de Provence is a traditional blend of highly aromatic herbs that grow mostly wild in the hills of southern France in the summer months. The herbs are used both fresh and dried.  Typical herbs include (quantities may vary);  Bay leaf, chervil, oregano, thyme, fennel, rosemary, savory, tarragon, mint, and marjoram. Sometimes for the tourist crowd orange zest or lavender are included.  As a practice the herbs are used to infuse the flavour in grilled foods such as fish or meat.  Often the herbs can be found in stews and or mixed with olive oil to infuse the flavors.  On a recent hikes we literally felt like we were walking in a jar of "Herbes de Provence" as they grow wild through-out the region.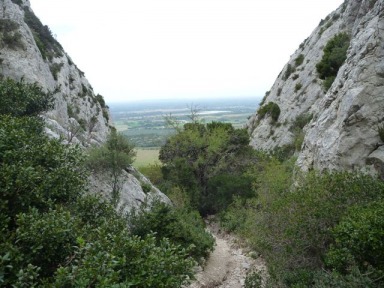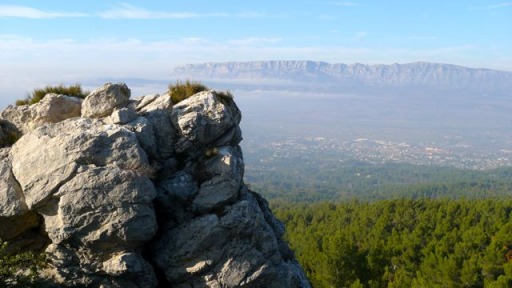 Jams and Jellies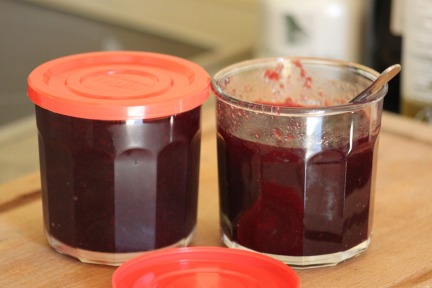 The French are not big breakfast eaters, they love a cafe (usually just a shot of expresso) and a little bit of fresh baguette or maybe des viennoiseries (pastries…croissants, pain au chocolate, strudels etc) with some jam/jelly.  In general, French bread is fantastic it is baked several times a day, and literally can go stale in between. In the morning, there is nothing better than a bit of jam on your pain. The jam is often homemade, full of sugar and outrageously delicious. Ginger and Nutmeg have been treated to plum, peach, fig, cherry, peach-melon, pear and apricot all fait à la maison – delicious on bread and even better with chèvre.
There are of course many other things required for a true French kitchen but these are just some of the basics.  It helps to have one of these in your back yard.
A bientot!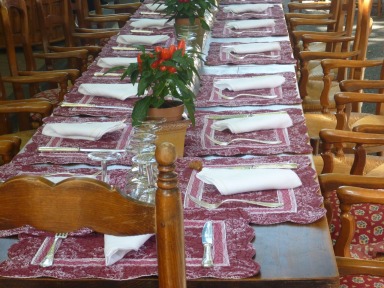 Food Travel Tags:
French Food, Provencal Food, Provencal Traditions, Travel in France