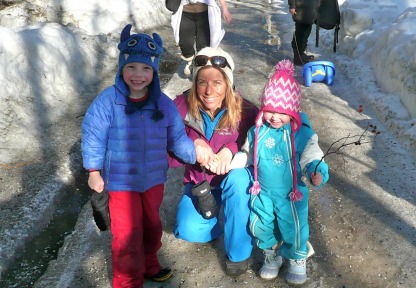 Chamonix based mountain guide, Isabelle Santoire is part of an elite group of trained mountain guides at le Syndicat national des Guides de Montagne (SNGM).
There are about 1600 guides associated with this group in France, many of whom can be found in Chamonix. These are individuals who have all met the stringent testing criteria. Isabelle represents of small number women in this physically demanding line of work; there are only 14 females in Chamonix and even fewer who guide full-time.
Isabelle has been in France for over 20 years. She trained and worked as a teacher. Isabelle followed her then boyfriend (Mr. Lamoureux) to Geneva from Canada and fell amoureuse (in love) with someone else.
C'est la vie.
Her life is busy with two small children and a partner who is also a mountain guide. They make it work, so they can play outdoors in their paradise, near Mt Blanc.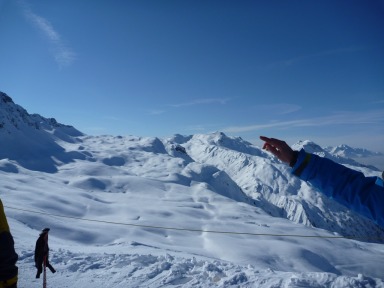 Isabelle is one of remarkably few certified female guides, and she is able to make her mark by taking a gentler approach. She can climb, ski and read mountain conditions just as well as the boys, in fact, she beat them all in her accreditation scores. Her goal is to try and give everyone within the group, a little bit extra in their day. That could be the slope you did not think you could ski, or the best lunch on a sunny terrace.
Ginger and Nutmeg were introduced to Isabelle in Chamonix. During their latest trip, the day they had scheduled with Isa dawned, just barely, with flat light and low cloud – not ideal for off-piste touring. Isabelle consulted her trusty websites and decided that a trip to Italy was in order. The threesome headed through the Mt. Blanc tunnel and was greeted by partially sunny skies and much better visibility on the Mt. Bianco side at Courmayeur.
Yahoo!  Isa scored the first point of the day.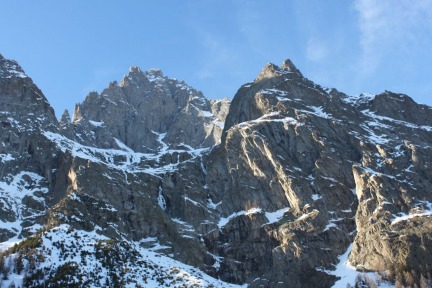 Despite the partial sun, the temperatures were brisk. Nutmeg had utterly maxed out on layers.  Isabelle determined that a short break and a warm drink were in order. Arriving at the hillside Chalet Chez Croux snack bar for a famous Bombardino, they were greeted by Enrico. He is the proprietor (age 79), who was happy to share old photos and some of his family history as they sipped the distinctive coffee.  This drink is guaranteed to warm you up with a shot of brandy, shot of VOV (sweet, egg-based liqueur), espresso, and the key ingredient FRENCH whipped cream. Decadent, warm and delicious – it is wise to stop at one.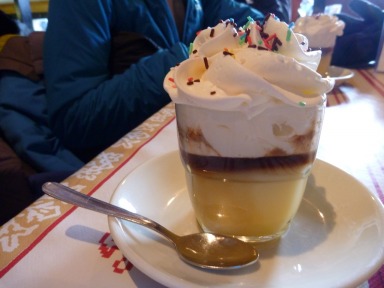 In the few times that Ginger and Nutmeg have skied with Isabelle she has never disappointed them in the areas of skiing or food. This occasion was no exception, Ginger managed to get into some untracked powder, Nutmeg got down a steep slope into a gully, and they had an enjoyable lunch.
If you want a guided mountain experience near Chamonix, some tasty food and a few laughs, lovely Isabelle can be found via her blog or on her Facebook page.
Just to prove Isabelle is a female mountain guide focused on delivering, here are some more photos:
A hearty lunch: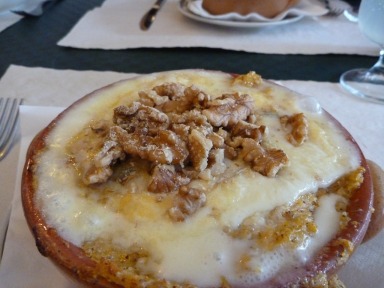 A stop at church – have you ever been to church in ski boots?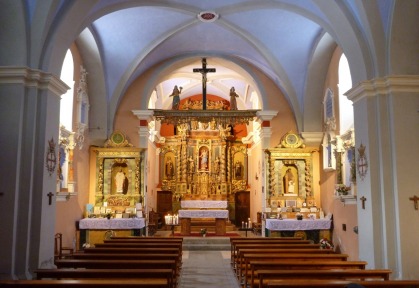 And a full body workout…there was a little skate skiing in touring gear.
[tfb username='GingerandNutmeg' count='true' lang='en' theme='light']
Food Travel Tags:
Backcountry safety, Backcountry Skiing, Chamonix, Chamonix Mountain Guides, Isabelle Santoire, Travel in France