NO, Ginger and Nutmeg are not going into the film business. The famous old (1953) movie Roman Holiday, with Audrey Hepburn and Gregory Peck, was not the impetus for their visit to the Italian capital city. There were two compelling reasons to indulge in a little three-day Roman holiday. The first was a chance to visit with dear friends, and the second reason was the last time either Ginger or Nutmeg had stepped foot in Rome was over 25 years ago!
Fleur de Sel and Espresso arrived on their transatlantic flight a few moments after Ginger and Nutmeg's short flight from Marseille. In fact, it was just enough time for a quick Italian espresso and a walk to the right terminal. Once settled in their hotel rooms and they all met for lunch on the beautiful Piazzo del Polpolo. This plaza has a fountain and it is relatively free of the crowds, as compared to the major sites in Rome. Unfortunately, the concierge recommended a restaurant on the square, which was a bust, so much for her suggestions.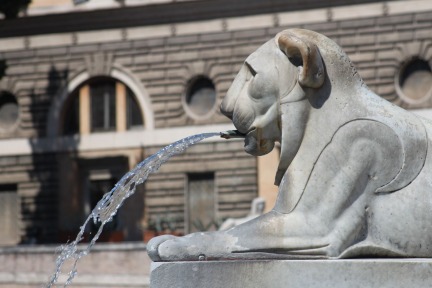 Since everyone in the group had already visited Rome, there was a mutual agreement and collective sigh of relief there would be no waiting in line at the Vatican or Collesium, in the scorching summer heat. Thus, the three-day plan involved food, wine, walking, talking and some shopping.
Rome with over two thousand years of history, boasts a wide array of monuments, squares, fountains, ruins, museums and churches. The city is one of the most visited in Europe, and in August, it is over-run with tourists. The Romans who have the means to do so leave town to escape the heat and most likely to avoid the tourists.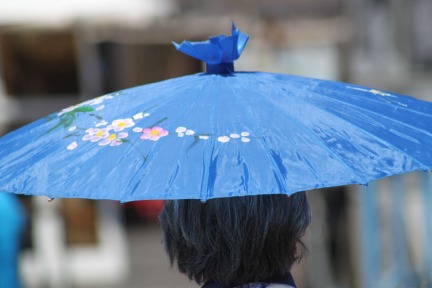 There are actually a few notable things to do in touristy Rome that offer a slightly cooler, less crowded perspective.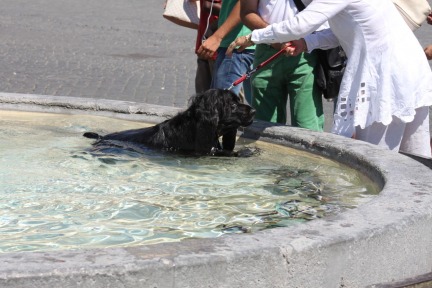 One option is to explore the tree shaded Villa Borghese Park. This green space is vast; there is a zoo, botanical gardens, Galleria Borghese Museum and even a few options for dining. During Roman times, the Villa Borghese estate would have provided an escape from the city for the well to do.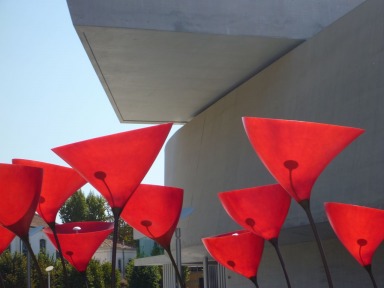 Air-conditioned museums provide some escape from the heat. The group visited the MAXXI museum which opened in May 2010. It is dedicated to contemporary art and architecture. An Anglo-Iraqi architect Zaha Hadid designed the structure, her striking plan was chosen from 273 global submissions.
Ginger and Nutmeg knew that they would be in capable hands for dining options with Fleur de Sel and Espresso, who are perhaps even more dedicated foodies. Other than a couple of lunches that did not quite meet the mark, the group indulged in a combination of traditional and contemporary cuisine, in lovely settings.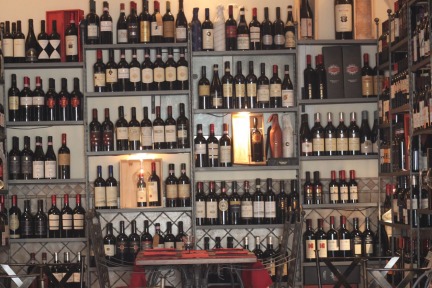 One highlight of the trip was the Food, Wine and Art tour. Marilena co-founder of Walks Inside Rome ran this visit. Marilena was careful to ascertain the group's interests at the very start. As such, her tailored private tour included a market overview, mozzarella sampling, excellent pizza, coffee granitas and some lovely wine in one of the oldest Enoteca's in Rome. Along the way, she pointed out some intriguing tidbits and hidden gems.
After three days of indulging in the city of the Romans, it was time for everyone to leave, but not without some newly acquired knowledge of the differences in buffalo mozzarella, and subtleties of Italian wines. If you would like to see more photos check out our Rome Photo Gallery.
[tfb username='GingerandNutmeg' count='true' lang='en' theme='light']
Food Travel Tags:
food info, Italian food, Italian Markets, Things to do in Rome, Travel in Italy