Does Paintbox inspire your creative juices?
A bit of childhood whimsy with paint by numbers?
Or the lyrics to the 1967 Pink Floyd song?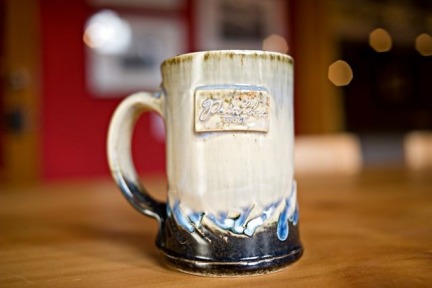 In Canmore, the answer is none of the above. The Paintbox lodge is a 5-suite boutique hotel in downtown Canmore. The building in its first incarnation was a hostel for climbers in the 1970's. A complete renovation by the previous owners removed any traces of the utilitarian, low budget history. The lodge was refinished in a contemporary, mountain style with an emphasis on natural wood, stone, vivid colours and cozy sitting areas.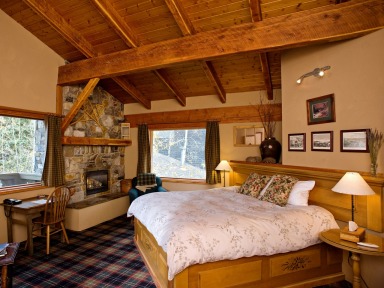 A delightful Canmore based couple owns the lodge today. This unassuming twosome is Sara Renner, Olympic medallist in cross-country skiing and Thomas Grandi Canada's top technical alpine racer. After reaching the peak of their respective sports, they are now balancing the needs of a young family with trying to run a successful, small business.
With help from their partner Miele Canada, an old underused manager's suite was transformed into a beautiful, bright red and white demonstration kitchen. The sparkling space is a showcase for Miele equipment and a practical room used every morning to provide lucky hotel guests with fresh muffins, personal espressos and frittata cooked by a famous athlete.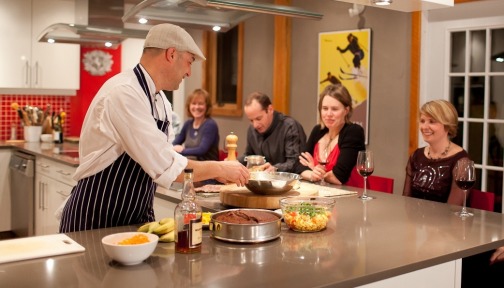 Outside of providing an inviting place to spend a few nights they offer cooking classes, where participants are welcomed several times a month to the kitchen and to share a meal at the large harvest table. These instructional evenings cover a range of cuisine from French bistro to Indian.
Are you looking for an opportunity to learn a few tricks from a master chef? Meet some other foodies? Indulge in a dinner that you did not have to cook? A romantic get-away?
Look no further, your Paintbox evening starts with a glass of Prosecco and a few nibbles as you witness the food preparation. There is a video here if you want to see Chef George in action.
The Paintbox Lodge stands out from local hotel competition, with a unique location, just steps from downtown Canmore and beautifully appointed suites. Book a now for your getaway to the mountains.
Photo Credits (#1 & 2 – Orange Girl) (#3 – Eric Daigle)
[tfb username='GingerandNutmeg' count='true' lang='en' theme='light']
Food Travel Tags:
Canadian Rockies, Canmore, Cooking classes, Paintbox Lodge, restaurants, Travel Alberta