Is it possible more flavour and less fat? Yes!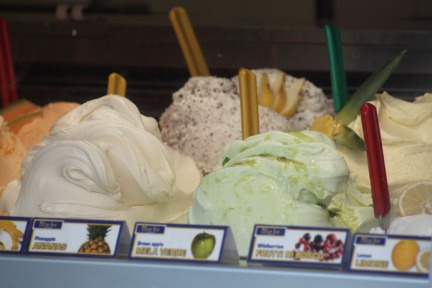 Italian cuisine is known for its' simplicity and high-quality ingredients. Gelato is one such example. The Italians have been perfecting this frozen desert since the days of the Medici family of Florence. In 1565, a Florentine chef, Bernardo Buontalenti, served his frozen concoction to Catherine de'Medici. Since that time, the popularity of the dessert and the wide variety of flavours has exploded. Today, gelato can be found all over Italy and many places around the globe.
Ice cream and gelato are made with similar ingredients; cream or milk, sugar, eggs and flavourings. Gelato is typically lower in butterfat content and higher in sugars, than ice cream. There is no air added to gelato and it is served slightly warmer, resulting in a more intense flavour than ice cream.
When in Italy, look for a Gelaterie Artigianale although, it is still not a guarantee. Superior gelato is made with fresh eggs and cream. It should never include artificial flavours or colours. Gelato should be made in small batches using the finest ingredients.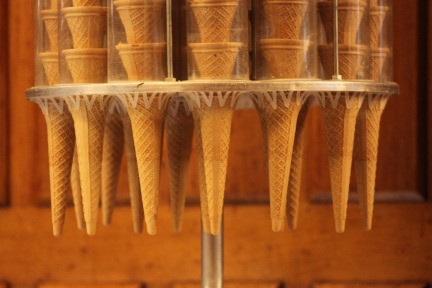 Ginger is a self-professed, global gelato taster. His nose leads him to the nearest store where he happily samples their wares. When in Rome, one must pay a visit to Giolitti for gelato. The restaurant opened in 1900, they have not spent much money on interior upgrades since then. Who needs to? The store has a line-up out the door and offers at least 60 flavours of the good stuff. Ginger made three trips in 2.5 days. The winning flavour was the coffee, and the runner-up was caramelized fig.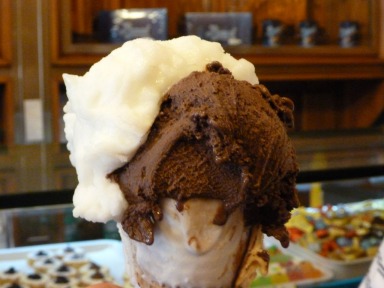 Gelato is relatively easy to make at home, you need an ice cream maker with a separate container (bowl) that can be frozen. Although, the process is fairly straightforward, perfecting the flavours can take awhile. Ginger has attempted; lemon, peach, coffee and chocolate-orange. The last one was the best.  Here, is the secret formula.

Dark Chocolate, Orange Gelato
Prep time:
Cook time:
Total time:
Perfecting gelato is an art, Ginger maybe practising for many years to come. The key is using fresh ingredients, not to over mix and allowing the gelato to thaw slightly before serving.
Ingredients
2 Cups Cream (15%)
1½ Cups Milk (2%)
5 Large Egg Yolks
¾ Cup White Sugar
1 Cup Unsweetened Cocoa Powder
2 Ounces Bittersweet Chocolate, finely chopped
2 Tablespoons Grand Marnier
2 Teaspoons Vanilla Extract
1 Large Pinch Kosher Salt
2 Tablespoons Dark Chocolate, chopped in chunks
2 Tablespoons Candied Orange, chopped in chunks
Instructions
Heat the milk, cream, and ½ cup sugar in a heavy saucepan on medium heat
Stir until the sugar dissolves and the milk starts to simmer (it should not boil)
Add the cocoa powder and bittersweet chocolate and whisk until smooth and the chocolate is fully melted
Pour into a large heat proof jug
Place the egg yolks and the remaining ¼ cup sugar in a bowl and mix well with an electric mixer or food processor. The mixture should be very thick and light yellow in colour
Continue mixing on low speed, slowly pour the warm chocolate mixture into the egg mixture
Then pour the egg and chocolate mixture back into the 2-quart saucepan and cook over medium-low heat, stirring constantly, until thickened
Pour into a bowl, stir in the Grand Marnier, vanilla, and salt
Wrap with plastic and chill completely in the fridge, preferably overnight
Move the custard into the bowl your ice cream maker and process according to the manufacturer directions
Stir in the roughly chopped chocolate and orange
Place in the freezer until set
Food Travel Tags:
Easy healthy desserts, Easy Italian Recipes, food info, Gelato, Travel in Italy