Ginger and Nutmeg have had lots of visitors in Provence this year. Nutmeg likes to think that her blog posts planted the "seed" that enticed them all to book their plane tickets. In reality, her friends are well travelled and do not need her help to convince them that Provence is exceptional in the summer.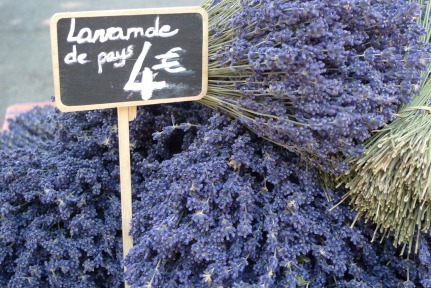 G&N love all the foreign visitors, it is a marvellous chance to show off the region, discover some new towns and introduce new friends to old ones. One such occasion happened last week at a cooking class with Nutmeg's talented friends Ghyslaine and Jacques. You can read last year's post here.
The menu was as follows (with a few photos):
Fleurs de courgette croustillantes – Zucchini Flower Tempura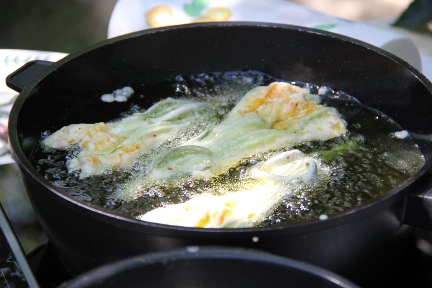 Crespeou – Layered Omelette Cake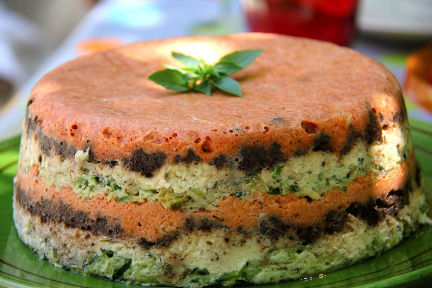 Tarte fine aux abricots – Apricot Tart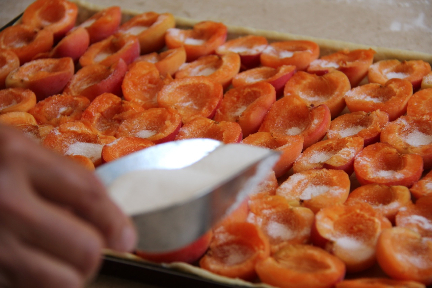 Crespeou (pronounced cres-PAY-oo) means crêpe in Provencal is also called Gâteau d'Omelettes. This is a traditional Provencal recipe, which is often found in picnic hampers and at potluck parties. The dish can be prepared in advance and served hot or cold. It is versatile as it can be adjusted to suit preferences and seasons.
Enjoy the recipe!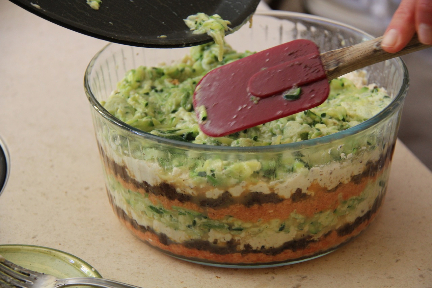 Crespeou Provencal Picnic Fare
Prep time:
Cook time:
Total time:
This dish is not complicated, despite the number of steps. You can use whatever ingredients you prefer in the layers. Serve with the tomato sauce and a green salad. Alternates for ingredients: roasted red pepper, mushrooms, ham, cheese, pesto - just make sure to choose one ingredient per layer
Ingredients
16 Large Eggs
2 Cups Tomato Sauce, fresh or canned
2 Cups Shredded Zucchini
1½ Cups Black Olive Tapenade
2 Cans Brandade (cod), you can use tuna if you prefer
6 Large Tomatoes
Salt and Pepper, to taste
3-4 Tablespoons Olive Oil
A few Basil Leaves
1 Small Onion
1-2 Cloves Garlic
Instructions
Preheat your oven to 310F (160C)
First prepare the layers individually
Prepare your tomato sauce in advance (see below) and blend or use good quality canned
Finely shred the zucchini and turn lightly in a pan with some olive oil for 3-4 minutes
Put the zucchini in a colander and allow to drain the liquid
In four separate bowls place the Tomato Sauce, Zucchini, Tapenade and Brandade
Working one colour (or layer) at a time
Lightly oil a shallow frying pan and turn on medium-high
Lightly oil a glass baking dish
Put a layer of parchment paper on the bottom of the dish
Beat two eggs and add ½- 3/4 cup of tomato sauce, mix well
Turn the mixture into your pan and cook quickly to a very soft scrambled egg consistency
Pour the mixture into the glass dish and spread evenly in one layer
Repeat the same sequence for the zucchini
Repeat the same sequence for the tapenade
Repeat the same sequence for the brandade
One you have done one layer of each mixture start again with the tomato mixture and follow the same layering pattern - you will have a total of 8 layers
Once complete put a piece of parchment paper on the top, to avoid the dish from drying out
Put the casserole in the oven and bake for about 30 minutes - while it is cooking prepare tomato sauce for the side
The dish is ready when a test knife comes out clean
Loosen the edges and place a plate over the dish and flip over, it should slide out
To prepare the Tomato Sauce
Lightly score the skin of 6 tomatoes, place in a bowl
Pour boiling water over top and rest for 1-2 minutes
Remove the skin, it should peel easily
Chop the tomatoes in two and remove the seeds
Cut tomatoes in big chunks
Finely chop the onion
Peel and crush the garlic
In a lightly oiled pan, cook the onion and garlic until soft, not brown 31. Add the tomatoes and allow to cook
Add basil
Add salt and pepper
Serve as an accompaniment to the crespeou
The meal was delicious and fun to prepare. Thanks again to Ghyslaine and Jacques you can contact them
here
.
Food Travel Tags:
Cooking Classes in Provence, Crespeou, Provencal Food, Provencal Traditions, Travel in France