Are you a history buff?
Nutmeg would like to introduce you to a real find: Beware Madame la Guillotine, A Revolutionary Tour of Paris by Time Traveler Tours, an educational tourism start-up that is capturing worldwide attention.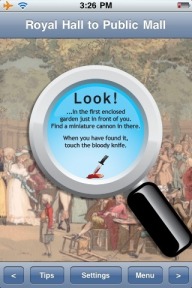 Sarah Towle is Founder and Creative Director of Time Traveler Tours, mobile iTineraries that reveal history through the stories of characters who helped shape their time, enhanced with dash of interactive games. Her first StoryApp, Beware Madame la Guillotine, A Revolutionary Tour of Paris, received accolades as a School Library Journal Top 10 2011 App and Teachers With Apps Top 10 Tried & True Classroom App. It was also recently named a Top 10 2012 Travel App by the World Youth and Student Travel Conference. Sarah's second title, also on a death theme, Day of the Dead, a journey to the Napoleonic era, is due for release later this year.
Recently named a Top 10 Finalist in the 2012 App Yap Contest of the World Youth and Student Travel Conference, this app is revolutionary, indeed.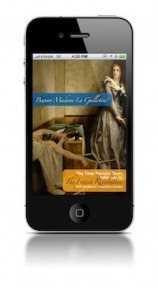 First, there's the content – Called a StoryApp iTinerary by its creator, Beware Mme la Guillotine is a daylong trip-through-time to the French Revolution, narrated by the infamous murderess of the Reign of Terror, Charlotte Corday.
As Charlotte guides you through central Paris – from the Palais Royal to the Conciergerie Prison – recounting her motives for killing a man, she reveals the Revolution in a way that is both engaging and fun. Her gripping story is enhanced en route by treasure hunts and other games that deepen the narrative as well as compel the itinerary forward. There's even a restaurant recommendation with a 10% discount included at Paris' oldest café and veritable museum to the French Revolution, Le Café Procope.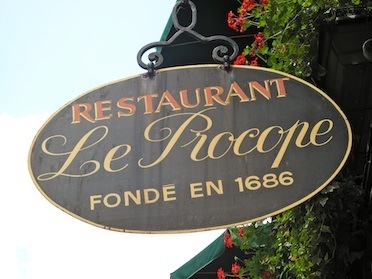 Perfect for family travellers and educational groups, this app really is a new generation of travel guide for the next generation of traveller. But we're here to tell you that adults love it too!
And then, there's the concept – Combining story and games to bring history to life in a smart mobile package, this initial offering in the proposed series by Time Traveler Tours is the first travel app of its kind. Yet the idea – History through Story and Games in the Palm of Your Hand – makes ideal use of the mobile format. An idea hiding in plain sight, we wish we'd thought of it.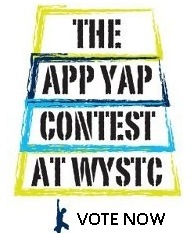 Please join us in supporting Time Traveler Tours to win the 2012 App Yap Contest VOTE HERE.
WIN A FREE DOWNLOAD!
Answer one of the following questions to enter a random drawing for a free download offered by Time Traveler Tours exclusively to Ginger & Nutmeg readers. Three correct answers will enter your name three times! (Hint: all answers can be found at Time Travelers Tours Blog)
• Who did Charlotte kill on July 13, 1793 and where?
• What weapon did Charlotte use to kill him and where did she buy it?
• What was the French name of the victim's journal and where was it printed?
Photo credits: Sarah Towle
---
When you are in Paris download a copy of this handy GPS guided App for your smartphone with all sorts of self-guided walking options for the City of Lights.
Food Travel Tags:
Best Apps for Travel, Paris, Travel in France, Travel to Paris