The relief palatable, the calm almost surreal, something is missing – the wind has stopped!
In France, the mistral is a strong wind that typically blows from the north or northwest.  Mistral the name for this wind means "masterly", and in Nutmeg's opinion, it certainly lives up that reputation.  The mistral typically blows hard, with gusts at times up to 100 km/hour as it accelerates down the Rhone and Durance rivers towards the Mediterranean.  Much like a Chinook in Calgary, the mistral brings a change in weather, in this case it is typically dry and cooler.  This can be a relief in the hot days of spring and early summer, or a curse in the later days of the fall as it creates glacial temperatures.
There are two French expressions when it comes to the mistral "le vent qui rend fou" (the wind which makes you crazy) and "le vent des voleurs" (the wind of robbers).  Nutmeg thinks both sayings are accurate.  The mistral can blow for just a couple of days or even as long as a week.  A strong mistral will typically send cafe patrons indoors and make golf games virtually unplayable.  The beautiful plane trees of Provence, with their noisy, leafy canopies provide excellent cover for robbers, as even dogs cannot hear their approach.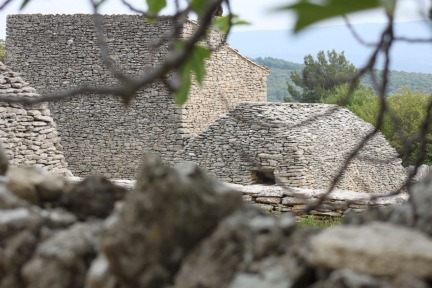 Like any wind, the mistral cannot be seen by the naked eye. Its' presence is known by the chilly gusts, its' crazed supremacy and the changing forces that it brings. In a strange way, you can almost see the rocky outcrops being formed by the sheer force of this unseen phenomenon.  The olive trees in Provence are typically trimmed to keep them small in size, this makes for easier picking in the fall.  It also allows the trees to hold on tight to their tiny buds as the wind tries to shake them loose.   The mistral has impacted architecture in the region for centuries.  The typical farmhouse or Mas was built to face south with its' back to the wind. Church bell-towers have openings to allow the wind to pass through. Stone walls and interior courtyards are built for some minor relief.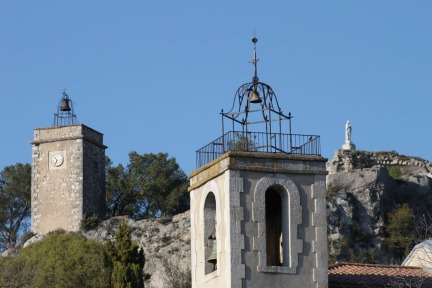 Ginger and Nutmeg experienced their first mistral in October when they were exploring Provence on their bikes.  That particular mistral was strong enough to nearly knock over a bike and its' rider.  It certainly was cold enough to warrant jackets and in Nutmeg's case long gloves. Since the fall, there have been countless strong blows, during their time in France.  Often the wind can bring some relief, to a hot, humid spell of weather. However, that brief respite is quickly forgotten as sleep becomes almost impossible for days on end.
Then one day dawns and something has clearly changed, there is a sense of peace.  The olive and fruit trees can go back to their production cycles in the calm.
Food Travel Tags:
Mistral, Provence, Travel in France, Wind