It took 11.5 months for Ginger and Nutmeg to make it to Paris, only a 2.5 hour train ride from their Provencal home base. The capital city is one that both Ginger and Nutmeg love and have visited several times. It is entirely possible; that the relaxing rhythm of life in the sunny south had kept them from Paris for that length of time.
However, they finally had a compelling reason to venture to l'ile de France, to meet some friends in the city. After, Nutmeg managed to master, the not so intuitive, SNCF website and purchase their train tickets, the rest was easy. The trains run frequently and sometimes even on time. Departing from Avignon TGV, their goal was to feel like real Parisians for three days.
Audacious!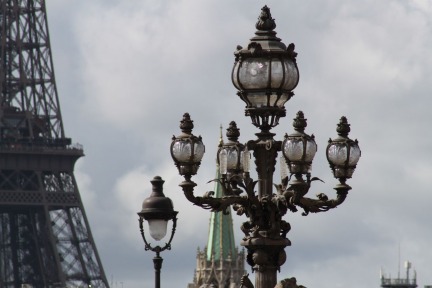 Par hasard, their visit fell on the weekend of the European heritage days, les Journées du Patrimoine. This event usually falls in the middle of September for two days. The concept dates back to 1983 in France, and it was established by the European Council in 1991. Now, over 40 countries and many regions celebrate the occasion by showcasing historical monuments, private residences and public buildings that are typically not open to the public. In Paris, the Ministry of Culture makes a user friendly with a free App called Patrimap. The App allows the user to follow specific walking trails or discover buildings and monuments that are close at hand. Nutmeg downloaded the FREE App and then proceeded to pay Rogers AT&T $150 for the privilege of roaming on their network!
The weekend in Paris started with a stroll through the Jardin des Tuileries originally a clay quarry for tiles in the 16th century. Now, it is a magnificent urban garden with plenty of places to sit and reflect on the surroundings.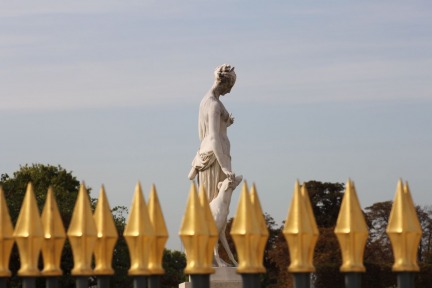 On a tip from some real Parisian friends, Ginger and Nutmeg made their way to Artcurial, an auction house just off the Champs-Élysées. On the ground floor are some samples of the treasures for upcoming auctions. If you are in the market for an authentic Kelly bag, high-end Bordeaux for your wine collection or a new Chagall for your walls, this is your place! For those with more meager budgets, there is a café on the main floor and unique exhibits on the upper floors. At that time, the temporary exhibit was Lancôme 20 Artists for a Rose, in honor of the brand.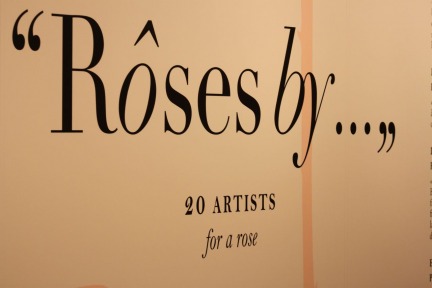 Continuing on the art theme, Ginger suggested a visit to the Galerie Nationale de l'Image, before diner. The Jeu de Paume structure was built in 17th century as a tennis court and modernized in 1991. Today, the gallery is focused on being a leader in the display of photography and images.
That evening, the duo was treated to a fabulous diner "chez nous". What could be better than an evening that starts with pink champagne, followed by epaule d'agneau au four (oven roasted lamb shoulder) and superb wine? Not much!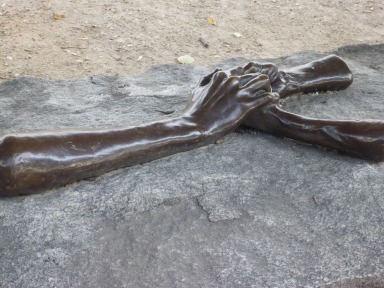 A Saturday morning coffee is a ritual for Nutmeg regardless of location but certainly in a city filled with cafes. They met a friend at Café de Flore, a Saint-Germain institution for a morning café crème, and a long chat. It is abundantly clear that this restaurant has been around for a while; the décor is dated, although savvy marketing would label it "art deco". There may be some Parisians who drink their café at this restaurant, but not many, given the ludicrous prices.
The rest of the day was spent strolling through the streets, looking at heritage sites and visiting a few museums. The Institut du Monde Arabe is worth a visit to see the permanent collection of items from the Arab world. There are beautiful tiles, magnificent calligraphy and outstanding fabrics. If that does not strike a chord, the unobstructed view of Notre Dame from the 9th floor terrace, certainly should.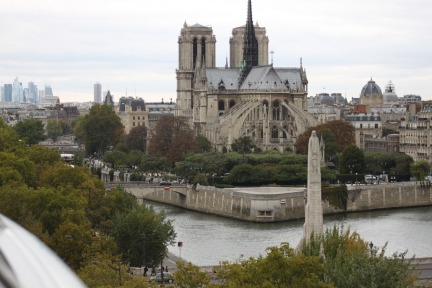 There are markets all over Paris each day of the week; even the Parisians could spend a lifetime trying to visit them all. Ginger and Nutmeg took a Sunday morning walk to the morning market on Boulevard Raspail. This market is billed as an organic market, and there is certainly sensational produce available. The aroma of the potato leek cakes on the griddle at the first stall is seductive. The roasting chickens and organic cheeses are certainly enticing. However, the thing that seriously got Ginger's attention were the real English muffins. He had to buy some!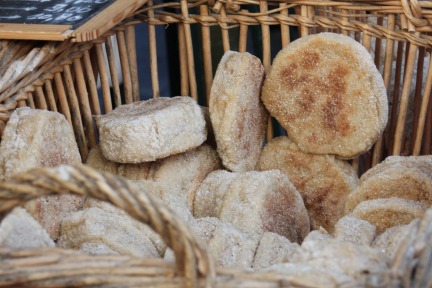 The three days passed in a flash, filled with art, cafes, galleries, gardens, markets, museums and restaurants. Ginger and Nutmeg left the famed city having felt just a little bit like Parisians with a photo gallery (click link) to remind them of the trip.
Download a GPS guided walking tour of Paris here.
Food Travel Tags:
Coffee, Markets, Paris, Paris Food, Travel in France