It is possible, that it was the thirst and hunger created by biking over the lunch hour, or maybe it was their recent trip to Italy.  Regardless, both Nutmeg and Ginger both thought they had been transported from Provence to Tuscany.  The hilly rolling terrain, endless vineyards, Cyprus trees, olive groves and small villages are all extremely reminiscent of Tuscany.  It is no accident that the Luberon area within Provence resembles Tuscany.  Roman presence in present day Provence began in 2 B.C.. The Roman rulers heavily influenced architecture and immense construction projects (aqueducts, theaters, arenas) within the region. There is documentation of organized religious activity as early as the 3rd century, in Roman occupied Provencal towns.  During the 14th century, (1309 – 77) seven French Popes led the Catholic church from Avignon. Perched villages and castles in Provence created for defensive purposes are similar to those found in Tuscany.
Tuscany or Provence?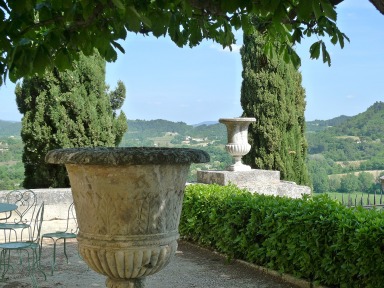 Provence.
Tuscany or Provence?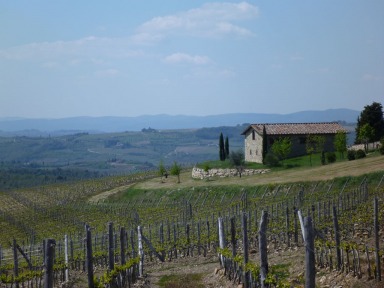 Tuscany.
The Luberon is located in the Vaucluse department of Provence.  The rolling hills of the Petit Luberon transition, into much steeper terrain near the legendary Mont Ventoux.  Between the Luberon hills, one finds small farming villages, large agricultural centres, and ancient perched towns.  All throughout the region are vineyards including the famous Châteauneuf-du-Pape. In the Luberon like the rest of Provence, there are markets every day of the week.
G&N's journey started in the beautiful village of Lourmarin, where there is a sizable Friday morning market.  The Lourmarin market offers shoppers a wide variety of food, clothing and local products. However, the town is tiny, and the market crowded, even in early May.  The vendors include local vineyards, fruit and vegetables, flowers, seafood, cheese, breads, baked goods, clothing, pottery, fabrics etc.. Nutmeg can only imagine what the crowds are like in peak season, at the time of their visit every cafe was teeming with market-goers eating lunch.
Vaucluse Tourisme has created some fabulous free information for all sorts of activities including, biking, hiking, water sports, fishing and other pursuits.  The biking routes are clearly sign-posted, well described by degree of difficulty and even provide details on WC locations along the way. The complete Luberon route is a circuit of 236 Kilometres.  G&N only completed a short round-trip section of the Grande Luberon; with brief stops in Cucuron (unique water feature in the main square), La Tour d'Aigue (remains of an 11th Century castle) and Ansouis.  Despite the popularity of the region, G&N were able to find small roads and uncrowded vistas.  However, if you have any desire to eat in a restaurant at lunch-time, play it safe a make a reservation.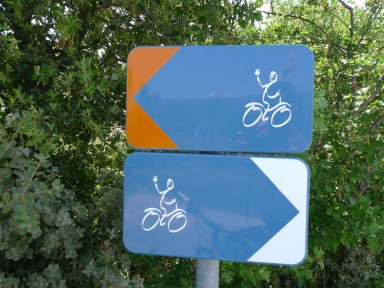 Their final stop was in the tiny village of Ansouis, with its' castle perched high on the hill and the village nestled next to it.  This tiny village, the castle, and church are all heavily influenced by the Italian styles of the era.  G&N were fortunate to arrive at Chateau d'Ansouis just in time for the guided tour (they offer two tours every afternoon except on Tuesdays).  This 12th Century chateau was built on the foundations of a former defensive fort. This impressive structure had been occupied by generations of the Sabran family for centuries.  However, it has now been sold to a private Provencal family, who are carefully restoring sections.  The castle offers visitors some beautiful views from landscaped terraces.
In the end, Ginger and Nutmeg were right the similarities between this part of Provence and Tuscany are not a mistake.  Centuries of Roman occupation, religious influences, similar climates and landscapes have created an area that is remarkably similar to the beautiful Italian region. However, there is one obvious difference – NO good gelato (according to Ginger)!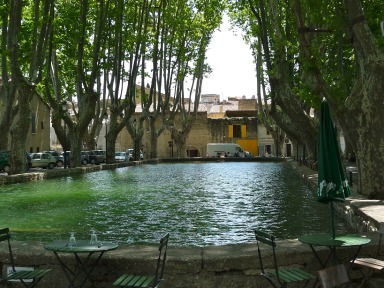 [tfb username='GingerandNutmeg' count='true' lang='en' theme='light']
Food Travel Tags:
Ansouis, Provence Travel, Travel in France, Travel in Italy, Travel to Tuscany