It is Saturday morning in the Luberon village of Cucuron, Eric Sapet the chef and owner of la Petite Maison is enjoying a few minutes of social time over a pause-café with friends. He has a busy day ahead there is a 25-person cooking class focused on girolles (chanterelle mushrooms). And the restaurant is fully booked for both lunch and dinner.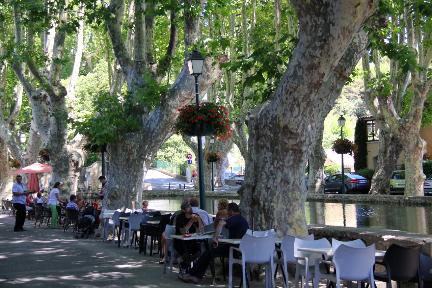 G&N love these theme based cooking classes at la Petite Maison. Clearly, based on the number of attendees for the courses they are not alone. After five years of programming Eric Sapet has developed a loyal following.
Arriving in Cucuron, a small medieval town dating from the 11th century was a combination of hard work and chance for M. Sapet. He was classically trained in his field in Paris at l'Ecole Hôtelière. Once the scholastic course load was finished, the long kitchen hours began in earnest. He spent 11 years working his way through the ranks in some of the Grands Restaurants Parisiens including the Michelin 3-star la Tour d'Argent. The path of his cooking career wandered from famous Parisian kitchens to a Relais et Châteaux in the Ardèche before he was attracted to the popular village of Lourmarin in the Luberon, in 2005.
La Petite Maison was once just that – a private residence. The charming building dates from the 19th century. The restaurant is situated, in the heart of this working village, right next to an enormous rectangular etang (pond) shaded by plane trees. In 2007, the house was converted into a restaurant. An old structure in a medieval village translates into a tiny kitchen and equally small prep area. Wood paneled walls and period photos surround the dining tables adorned with crisp, white table linens and china place settings, a classic backdrop for Eric Sapet's inventive cuisine.
The morning's cooking class is followed by the opportunity to sample the creative menu over a long, lazy lunch – accompanied by excellent wine pairings. Nutmeg was able to borrow a few minutes of M. Sapet's precious time to ask some questions.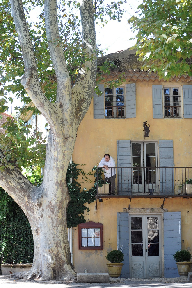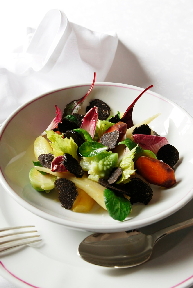 Provence is a rich canvas for local products – do you have a preferred season for ingredients and produce? No, every season is intriguing with powerful, rich flavours.
In your opinion what is the most versatile ingredient? The black truffle.
What is the most critical piece of equipment in your kitchen? The high quality oven.
If you had the chance what would you change at La Petite Maison? It would be fantastic to have more prep area and a larger kitchen. The existing space is remarkably tight for a total staff of 10 people; in the kitchen and waiting on tables.
Aside from your own restaurant do you have any regional favourites that you would recommend? Yes, two particularly enjoyable places to eat are La Bamboo Thai in Lourmarin and la Bastide de Moustier in Moustier.
G&N left Cucuron after an exquisite lunch, with a few new recipes and cooking tips. The only thing missing was a hammock for an afternoon siesta.
 Are you going to book a cooking class or a table at La Petite Maison?
______
References:
1. La Petite Maison
______
Image Credits:
 1. Ginger and Nutmeg
2. Ginger and Nutmeg

3 & 4 Courtesy La Petite Maison
Food Travel Tags:
Chef Eric Sapet, Cooking classes, Cucuron, French Food, Provence Travel, Recipes with Mushrooms, Travel in France