The official workweek in France is 35 hours. Then there is vacation time consisting of, 11 statutory holidays (jours fériés) and 5 weeks of personal vacation time.  Minimum retirement age is currently 60, it will move to 62 in 2018. Does that sound like paradise?
Think again.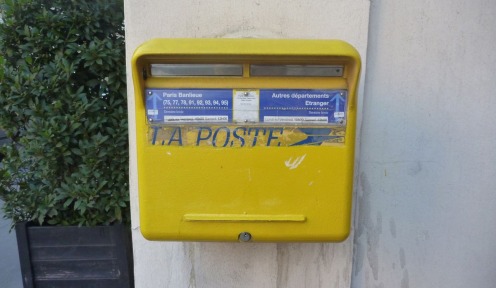 The tiny village of Eygalières has a post office (La Poste); in fact, most small towns in France have a postal/banking outlet. La Poste offers a variety of both postal (52% of revenues) and banking services (25% of revenues). La Poste also has a broad range of delivery vehicles in their fleet; from push carts (these might not too effective in a Canadian winter), to scooters, bicycles and cute little trucks. Canada Post is probably a bit jealous of the broad range of services that La Poste is able to provide.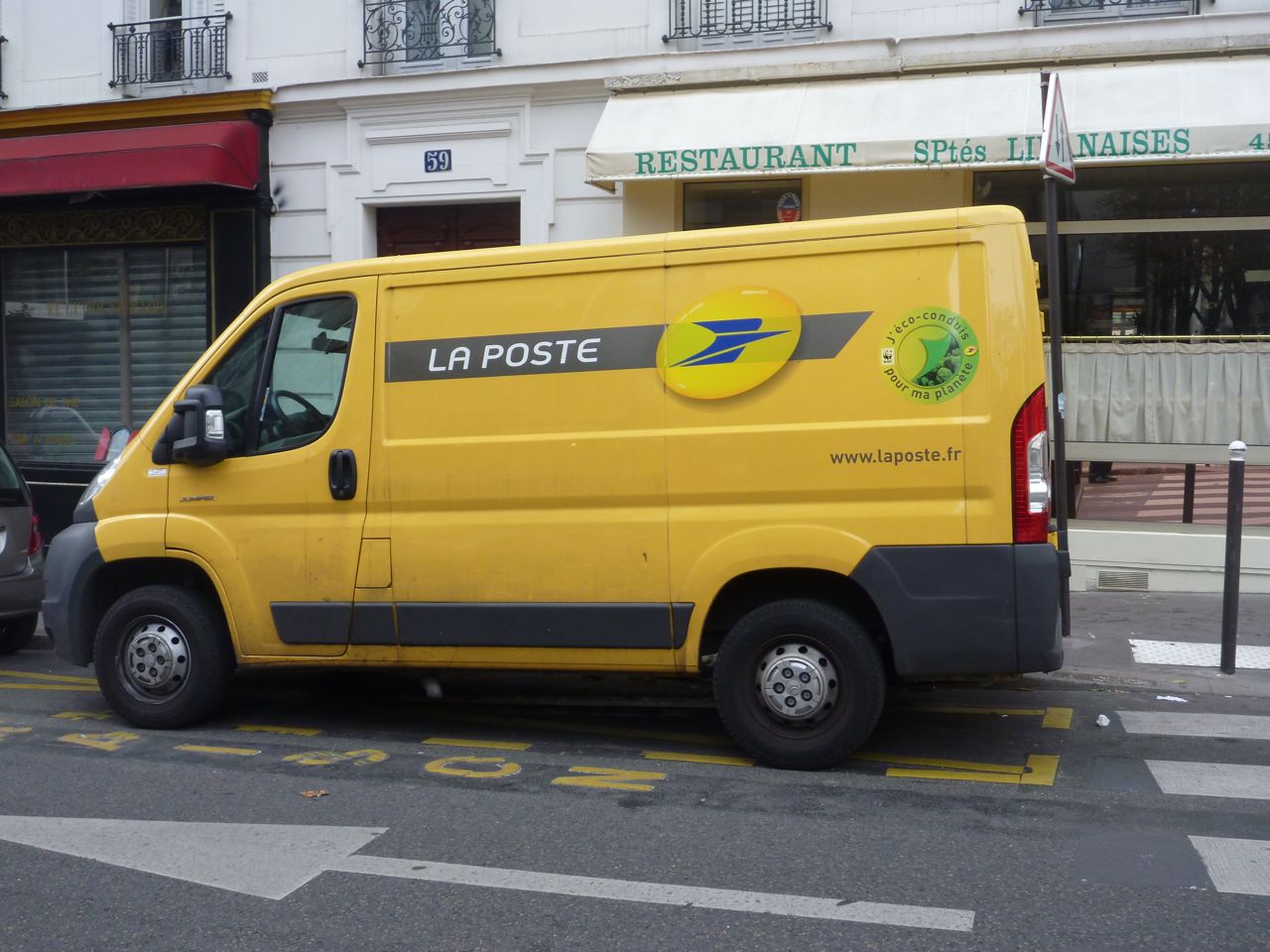 La Poste has made some significant investments in technology; many services can be accessed online. However, occasionally you actually need to go to a retail outlet. In Eygalières, Nutmeg spent a lot of time going to La Poste only to find out she had the day or time wrong. The postal outlet is open 6-days a week but only for limited hours, 18 hours in total.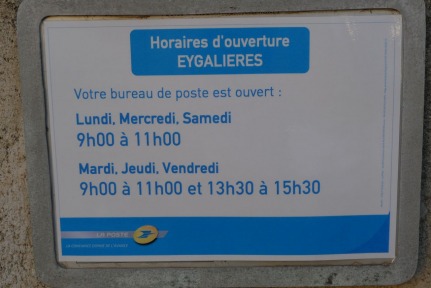 There is no perfect time to go to La Poste. At opening time, you can be guaranteed a queue. You are also extremely likely to witness the sole staff person struggling (note: for some reason they are all females) to wake up her computer. Arrive just before closing and you risk the door being locked, so she can finish her shift on time. While waiting in line, you will certainly overhear her talking on the telephone. This does not seem to constitute an official break, but it is clear she finds it difficult to multi-task. Heaven forbid if the computer system is down, as elementary math equations are a challenge.
Nutmeg does have a curious observation about the free-form customer line at La Poste. Somehow, there is no pushing, no jostling and each person instinctively seems to know where they are in the queue. Customers are remarkably polite, there is a bonjour to all when someone new arrives and bon journée when departing. In Canada, a "cattle gate" seems to be the acceptable way to force customers to respect the rules, while they ignore each other, focused on his or her multimedia-enabled smart phones.
La Poste despite the apparent inefficiency at the retail level is far more reliable than Canuck snail mail. In France, if you mail a letter today for delivery within the country you can almost guarantee arrival within 24 hours to an urban center and 48 hours in rural locations. Despite the 35-hour workweek, the system seems to work – Canada Post eat your heart out.  Below are some entertaining facts that Nutmeg dug up while waiting in line:
*All Figures based on 2010 data ** Euro Conversion (1=.74 Cdn)

La Poste

Canada Post

Country Population
65,312,249
34,278,400
Founded
1576
1867
Employees
300,000
71,000
Trivial Pursuit
No longer sole provider for letters under 50g effective 01/01/11 135,000 public post boxes
11.3 million postal banking accounts
Larger postal area than any other country except Russia 10.6 billion pieces of mail, parcels and messages delivered
Postal Outlets
17,082
6500
Letter Carriers
60,000
15,000
2010 Revenues (Millions)
20,939 Euros
**5,461 Euros
2010 EBITDA (Millions)
2,037 Euros
**171 Euros
Food Travel Tags:
La Poste, Provence Travel, Travel in France