Constructed on a rise, at the confluence of the Spray and Bow Rivers, this iconic 'Castle in the Rockies,' the Fairmont Banff Springs first opened its front doors to guests on June 1, 1888.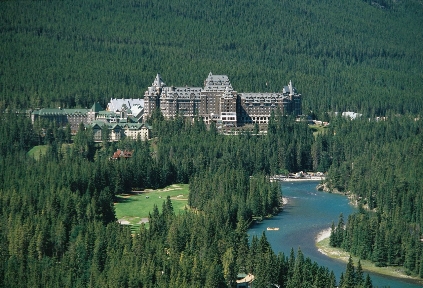 The concept for the hotel was the "brain-child" of Sir William Cornelius Van Horne, General Manager of the Canadian Pacific Railway. He had made the economic connection between rail traffic and tourism. This may well have been a classic example of built it and they will come. Van Horne engaged Bruce Price an American architect to design a suitable hotel.
The original building was a wooden structure heavily influenced by Scottish baronial design. The hotel opened with 250 rooms and a construction budget of $250,000. It was and still is a remarkable sight; to see the towering spires, peaked dormers, metal railings and steep pitched roofs all set above the aqua-blue river waters.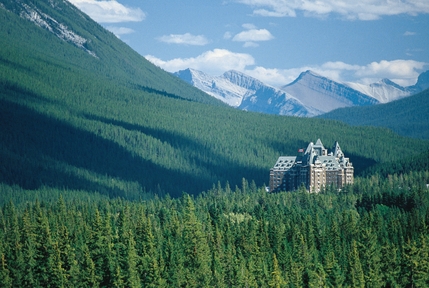 The plans were drawn, the construction well underway and Van Horne paid a visit to review the progress. He was irate; the hotel structure was oriented the wrong way. In his words, the kitchen staff would have the $1million view of the rivers and nearby summits. Needless to say, the error was corrected. The source of the mistake was a missing north arrow on the architectural plans.
By 1910, the hotel ranked among one of the most visited in North American. Popularity drove an expansion that started in 1913, this time using more enduring materials such as stone quarried (outside the National Park) from Mount Rundle.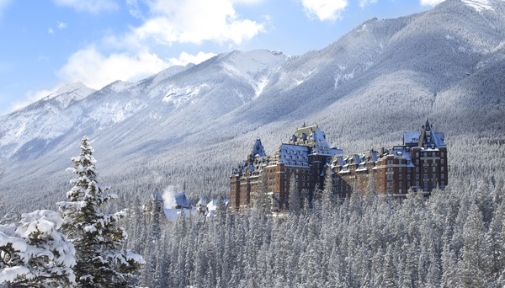 It was not until 1970 that the hotel opened year round, and operators manually ran the elevators until 1977. Several expansions and renovations later, the hotel maintains much of its historical grace. An interesting blend of original and more contemporary finishes adorns the interior. Tiffany sconces light the hallways;  lobby floors and stairwells are finished with quarried Tyndall stone. Shiny 1928 brass doors mark entrances to dining halls where furniture copied from European originals sits under Waterford crystal chandeliers. Some rooms are even warmed by wood burning fireplaces.
Simply priceless!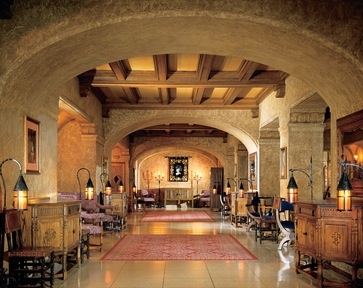 Today, the hotel has 768 rooms and employs 1,200 staff during the peak summer season. Over the years, the Fairmont Banff Springs has hosted countless weddings, diplomats, royalty, movie stars and (some believe) even a few ghosts.
Please join Ginger and Nutmeg in wishing this distinguished lady a Happy Birthday!
If you are planning a trip, check this website as there are several specials related to the celebrations.
Photo credits: Fairmont Banff Springs Hotel
[tfb username='GingerandNutmeg' count='true' lang='en' theme='light']
Food Travel Tags:
Accomodation in Banff, Banff National Park, Canadian Rockies, Fairmont Banff Springs, Fairmont Hotels, Holidays in Banff, Hotels in Banff, Travel Alberta