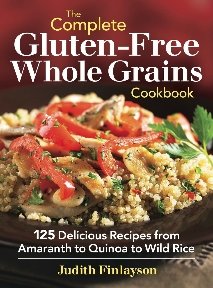 With the Internet, email and social media – does anyone get real mail these days?
Needless to say, Nutmeg was thrilled to find a copy of Judith Finlayson's The Complete Gluten-Free Whole Grains Cookbook, buried under the innumerable junk-mail fliers for duct cleaning, roof repair and debt consolidation.
Judith took some time one spring afternoon to talk about this book, and how her career path (from keyboard to slow cooker) got her to where she is today – working on her 15th cookbook!
Her professional life began in book publishing, in her words as a "glorified secretary." Judith moved into editing and then to well known Canadian magazines such as MacLean's. Her career stops included freelance work, recipe development and a long running Globe & Mail column. She was always interested in food related journalism, although her articles also covered a broad range of women's and social issues. Even while juggling a busy career and editorial deadlines over a twenty-year period her passion for food remained constant.
Judith was not classically trained in the kitchen. She spent a few years "cooking my way through Julia Child's book" – her introduction to French kitchen methodology. Subsequently, her passion has taken her to many global regions including Mexico, India and Thailand to work with masters in these cuisines.
The first book came together by hazard; her husband who is a publisher had the idea in the late 1990s to create a cookbook focused on high-end slow cooker meals. This was at a time when slow cookers were hardly the height of kitchen fashion. He approached at least seven top chefs to ask if they would be interested in working on this project. NO – was the resounding answer. Finally, he reached the end of his list and asked Judith whether she would consider the venture.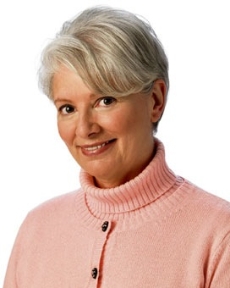 Utilizing the basics from her "Julia Child days" – Judith determined that slow cooking is really French style braising and has nothing to do with dumping a can of this or can of that into a machine. The research and testing took about a year; before 150 Best Slow Cooker Recipes was published in 2001. The cookbook quickly sold over 400,000 copies.
The book that arrived in Nutmeg's mailbox includes 125 mouth-watering recipes. The Complete Gluten-Free Whole Grains Cookbook is also a fabulous guide to the array of options in whole grains for those who have gluten sensitivities, or for those who want to move away from white rice and processed wheat flour. Judith worked with a registered dietician and a food photographer, to create 224 pages of tempting sweet and savoury dishes.
One lucky G&N North American reader can get a free copy of this book by sending Nutmeg the answer to the following (without using Google): Where does sorghum come from and what is another name for this grain?
The rest of you should hurry and order this gorgeous cookbook here.
Nutmeg has tried a few of the recipes, but this one for Curried Sweet Potato and Millet Soup is perfect for an Alberta "spring" day…when it is still snowing.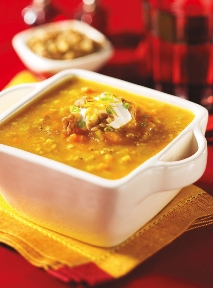 Curried Sweet Potato and Millet Soup (VEGAN FRIENDLY)
Cuisine:
Vegan/Gluten-Free
Prep time:
Cook time:
Total time:
This soup is a lovely combination of flavors and texture. It has a mild curry taste, enhanced with the addition of orange and a hint of sweetness from the maple syrup. The toasted walnuts add taste and an appealing bit of crunch, while the optional yogurt provides a creamy finish. Although this is a great cold weather soup, it's light enough to be enjoyed any time of the year — perhaps even for dinner with the addition of salad. TIPS: To get this quantity of puréed sweet potato, bake, peel and mash 2 medium sweet potatoes, each about 6 oz (175 g). You can also use a can (14 oz/398 mL) sweet potato purée. Toasting brings out millet's pleasantly nutty flavor. To toast, heat in a dry skillet over medium heat, stirring constantly, until it crackles and releases its aroma, for 5 minutes. NOTE: Excerpted from The Complete Gluten-Free Whole Grains Cookbook by Judith Finlayson © 2013 Robert Rose Inc. www.robertrose.ca May not be reprinted without publisher permission.
Ingredients
1 Tablespoon (15ml) Vegetable Oil
2 Medium Onions, finely chopped
2 Each Carrots and Celery, diced
2 Cloves Garlic, peeled and minced
2 Teaspoons (10ml) Gingerroot, minced
2 Teaspoons (10ml) Curry powder
1 Teaspoon (5ml) Orange Zest, freshly grated
2 Cups (500ml) Sweet Potato puree
6 Cups (1.5L) Vegetable or chicken stock
¾ Cup (175ml) Millet, toasted (or use quinoa)
1 Cup (250ml) Freshly squeeze orange juice
¼ Cup (60ml) Maple syrup
To taste Salt & Pepper
Optional: Toasted walnuts or sliced almonds
Optional: Plain Greek yogurt
Instructions
In a large saucepan or stockpot, heat oil over medium heat for 30 seconds
Add onions, carrots and celery and cook, stirring, until carrots have softened, about 7 minutes
Add garlic, ginger, curry powder and orange zest and cook, stirring, for 1 minute
Add sweet potato and stock and stir well
Bring to a boil. Stir in millet. Reduce heat to low
Cover and simmer until millet is tender and flavors have blended, about 30 minutes
Add orange juice and maple syrup and heat through
Season to taste with salt and pepper
Ladle into bowls and garnish with toasted walnuts and a drizzle of yogurt, if using
Photo Credits: Colin Erricson
Food Travel Tags:
Blog Contest, Cookbook Review, Gluten-free, Quinoa, Soup, Sweet Potato, Vegan