Nutmeg knew immediately that there was an interesting story to be told when she stumbled across Foodie Pages a company founded by Erin Maynes. This brilliant concept brings specialty Canadian food and culinary related products to your mailbox. Erin's vision was to use the power of the Internet to create an online farmers' market, a "place" where consumers can buy directly from some of Canada's creative food producers and specialty farmers.

The obvious attraction to Foodie Pages was Nutmeg's love of food and her appreciation for the hardworking creators of such. The less glaring connection was both Erin and Nutmeg attended Queen's University, however, when Nutmeg attended the school it was quite a few years before iDevices and laptops. The two ladies connected online via social media channels and then began to uncover many more shared passions including the food scene in Paris.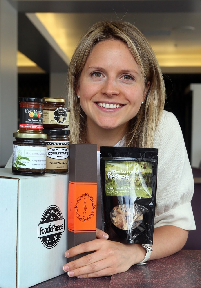 Where did you get the idea for Foodie Pages?
There are food related concepts in the U.S. and U.K. that sparked Erin's interest and may have planted the idea seed in her head. However, Foodie Pages is unique to Canada and features only Canadian owned artisanal businesses. The barriers to entry and start-up challenges are uniquely Canadian due to the country's vast geography and inter-provincial trade regulations.
Foodie Pages recognizes the multitude of issues faced by small owner-operators attempting to get their food products to market; regulatory requirements, production processes, growing cycles, marketing, e-commerce, insurance and mother-nature. What Erin offers these companies, is a robust marketing platform for their handcrafted products. Foodie Pages creates the efficiency of a farmers' market in cyberspace. This virtual farmers' market stretches from coast-to-coast with well over 100 vendors.
Like a fine wine the idea took shape and aged in Erin's head for a few years. Food related experiences with family and friends are central to Erin's memories, which may have led to her post-university marketing job with Cara. This position provided an opportunity for Erin to explore the Canadian agribusiness, product sourcing and the realities of balancing the art and science of cooking with a financial bottom-line.
Spending a school term in Paris sounds like a dream and according to Erin it was just that. Her small, shared rental flat she generously described as tiny with a fridge the size of most North American bar fridges. Joining the Parisians in the habit of daily shopping in the local butchers, bakeries and cheese shops was a good excuse to practice her French language skills. Erin's regular encounters with food purveyors near la rue Montorgueil allowed her to make the connection with the effort required by these vendors to provide fresh, seasonal, high-quality products.
Erin's journey from the sliver of an idea to launching Foodie Pages in August 2012 was not without challenges. The on-going support from her parents and encouragement by friends did not diminish the trials of creating an online, cross-country, postal service dependent, company – on a limited budget.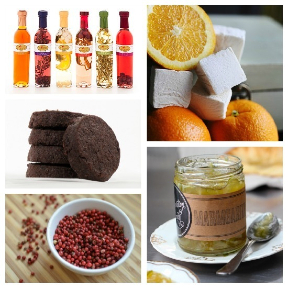 What are the Foodie, Chef and Tasting Boxes?
The Foodie Box is a curated selection of products such as the "Tastes of the Ottawa Valley" which includes regional goodies. The boxes are suitable for gifts or special occasions and typically only available for a limited time.
The CHEF'S BOX™ is a fun concept. These are available on either a single order or subscription basis. Each month, a different top Canadian chef, puts together his or her collection of regional products and tempting recipes to fill this gourmet box.
The Tasting Box is a sampler box of five products selected by the team at Foodie Pages – these boxes are so popular they are sold-out for the moment although, updates are available on the newsletter.
Who are the Foodie Pages suppliers?
To start they are Canadian businesses with excellent tasting products – Erin knows she has sampled every single one. These companies are typically owner-operated, by creators of artisanal products available in a limited supply. Each product has a unique tale with details available on the Foodie Pages website here. It is these human stories that genuinely brought the concept together for Erin as she discovered a sea-salt supplier Vancouver Island Salt Company, the only one in Canada, and Untamed Feast a couple who forage wild mushrooms. Just imagine a risotto made with those mushrooms!
Watch for big things at Foodie Pages in the future as they venture into the Canadian wine industry, featuring small boutique wineries. After all, there is lots of well-balanced Canadian wine to compliment that risotto.
To celebrate the company's first year anniversary on August 4th Erin is offering interested Ginger and Nutmeg readers a limited time discount on Foodie Boxes. When you place an order use the coupon code SUMMER2013 to enjoy $10 off a first purchase of $40 or more (the $10 coupon is not valid against shipping, taxes or gifts cards). Enjoy!
Photo credits: Foodies Pages
[tfb username='GingerandNutmeg' count='true' lang='en' theme='light']
Food Travel Tags:
Artisan Food Products, Canadian Food, Farmers Markets, Foodie pages