Imagine an era before email, Facebook, e-checks, iTunes and SMS – 1963.
In celebration of a simpler time, and those readers who might be nearing their 50th birthdays, Nutmeg put this list of 1963 facts together.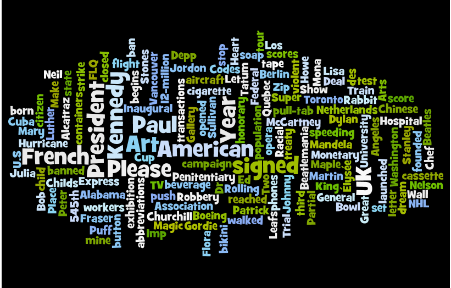 Jan 8th – Mona Lisa was displayed at Washington's National Art Gallery for the first time in the United States (US).
Jan 22nd – The Élysée Treaty (Friendship Treaty) was signed between France and West Germany, twenty years after German occupation of France.
 Jan 25th – Chinese New Year – Year of the Water Rabbit.
 NO Super Bowl! (1st year was 1967)
Feb 9th – Inaugural flight of the Boeing 727 aircraft.
Feb 11th – Premier of The French Chef Julia Childs' TV program
Feb 17th – Basketball champion Michael Jordon was born.
Mar 1st – 200,000 French mine workers went on strike demanding shorter hours and an 11% pay increase.
Mar 1st – Simon Fraser University was founded in Vancouver.
Mar 7th – FLQ violent campaign began in Quebec lasting seven years.
Mar 14th – Pop Art exhibition opened in NYC at the Guggenheim Museum.
Mar 21st – The "inescapable" Alcatraz Federal Penitentiary in San Francisco was closed.
Mar 22nd – The Beatles 1st album was released – Please Please Me.
Mar 31st – Streetcars in Los Angeles stop running after 90 years.
April 1st – General Hospital soap opera premiered – just celebrated its 50th year in 2013.
April 9th – Winston Churchill was given the designation of honorary US citizen – first time the decoration was ever granted.
April 18th – Toronto Maple Leafs won the NHL Stanley Cup, defeating Detroit.
May 8th – The 1962 James Bond film Dr. No premiered in the US.
May 11th – Peter, Paul & Mary's Puff the Magic Dragon reached number two on the charts.
May 12th – Bob Dylan walked off the set of the Ed Sullivan Show – censors would not allow him to play Talkin' John Birch Paranoid Blues. Clearly, that move did not hurt his career.
May 12th – Violent racial riots in Birmingham, Alabama.
June 6th – Actor Johnny Depp was born.
June 8th – The American Heart Association was the first organization to denounce cigarette usage.
July 1st – Zone Improvement Plan (Zip) Codes came into use in the US.
July 1st – Two letter abbreviations for US states were introduced.
July 8th  – Monetary transactions with Cuba were banned in the US.
Aug 5th – Partial test ban treaty signed between England, Russia & the US in Moscow.
Aug 7th – Patrick Kennedy the third child of President John Fitzgerald Kennedy and his wife Jacqueline was born – premature.
Aug 8th – The Great Train Robbery occurred in the UK, at Buckinghamshire where £2.6 million ($7.3 million) was stolen from a postal train headed for London, and never recovered.
Aug 9th – Patrick Kennedy died of infant respiratory distress syndrome.
Aug 25th – Beatle Paul McCartney was caught speeding, and his license was suspended for a year.
Aug 28th – Martin Luther King, Jr. delivered his "I have a dream" speech in Washington D.C., in front of an estimated 2-300,000 people.
Aug 30th – The tape cassette was introduced to the public at the Berlin Radio Show.
Sept 10th – American Express opened credit card service in the UK.
Sept 21st – Place des Arts opened in Montreal.
Sept 27th – US population hit 190,000,000.
Sept 29th – The Rolling Stones 1st UK tour; as the opening act for Little Richard, The Everly Brothers and Bo Diddley.
Oct 3-9th – Hurricane Flora beat a deadly path over Cuba and Haiti, killing more than 7,000 people.
Oct 10th – The population of the Netherlands reached 12-million.
Oct 13th – The first recorded use of the term "Beatlemania."
 Oct 20th – The trial against Nelson Mandela and eight others began in South Africa.
 Nov 5th – Tatum O'Neil was born, the youngest person ever to win the Academy Award – at 10 years old.
Nov 11th – NHL player Gordie Howe scored his 545th goal breaking Rocket Richard's lifetime record.
Nov 18th – AT&T launched push button phones with 10 numbers (*) and (#) followed on later models.
Nov 22nd – US President Kennedy was assassinated in Dallas, Texas
Dec 20th – The Berlin Wall opened for the first time since it was built in 1961 for limited single day visits.
Dec 30th – Let's Make a Deal premiered on NBC.
 The bikini rocketed into fashion popularly following the launch of the movie Beach Party starring Annette Funicello and Frankie Avalon.
Ermal Cleon Fraze ("Ernie") received US Patent No. 3,349,949 for his "pull-tab" design used on beverage containers. He sold the patent to Alcoa.
Rootes Group introduced the Hillman Imp a compact rear-engineered car; it later became the Chrysler Sunbeam.
Happy Birthday!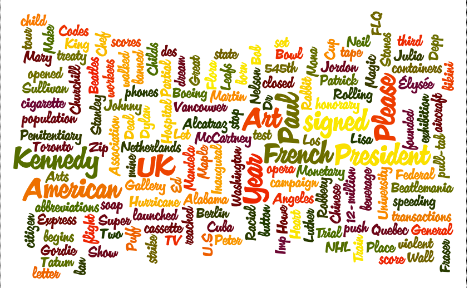 [tfb username='GingerandNutmeg' count='true' lang='en' theme='light']
Food Travel Tags:
1963 Facts, 50 facts from 1963