In France, there is always a school vacation at the end of October, when children and teachers have a week of reprieve from the classroom, and each other. The holiday extends to most public facing businesses on November 1st. You can certainly expect the post offices, banks, grocery stores and government offices to be closed on that day.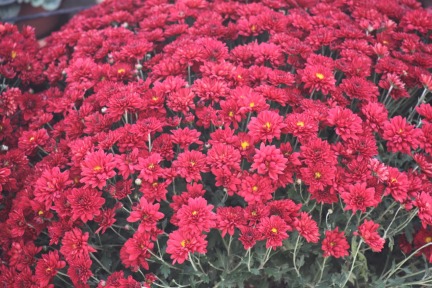 Why?
la Toussaint (all saints) is a religious holiday that always falls on November 1st. The first two days of November, La Toussaint also known as la Fête des saints, and the next day la Fête des morts are typically reflective days. This is a time when families traditionally gather at the cemetery in order to honour their deceased relatives. The custom is to place colorful chrysanthemums on the tombstones.  Overnight, local cemeteries, become a riot of fall colours as the flowers brighten up the tombstones.
In parts of Europe and certainly in France, local flower markets and grocery stores offer a wide variety of chrysanthemums in the week leading up to the holiday. Chrysanthemums are practically only sold at this time of the year in France and should NEVER be given as a gift because of the association with the dead.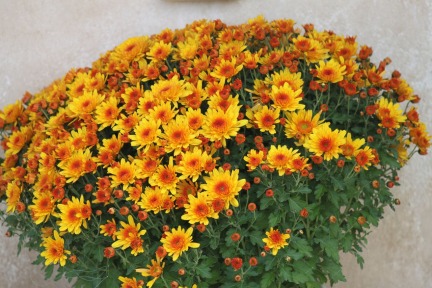 The genius of chrysanthemum is Greek; it translates into "flower of gold".  In European countries that have had a strong catholic influence, as well as in some Asian nations (China, Japan and Korea) the chrysanthemum is a symbol of death, lament or grief.
In North America (except New Orleans), the 'hardy mum" is more typically associated with happy moments.  Which might also explain the North American obsession with All Hallows' Evening (Halloween) a time for kids and adults to dress-up, collect candy and act silly.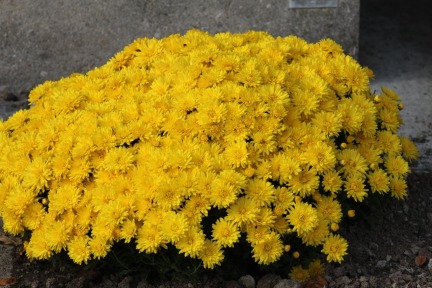 In celebration of fall traditions and the colours of la Toussaint, here, is a delicious muffin recipe.

Morning Glory Muffins
Prep time:
Cook time:
Total time:
These muffins are not quite carrot cake but close and better for you. Enjoy!

Ingredients
2 Cups (450g) Whole Wheat Flour
½ Cup (100g) Brown Sugar
2 Teaspoons Baking Soda
1 Teaspoon Baking Powder
2 Teaspoons Ground Cinnamon
2 Cups (450g) Carrots, peeled and grated
1 Whole Apple, washed, cored and grated
½ Cup (100g) Dried Cranberries
½ Cup (100g) Nuts (pecans or walnuts), coarsely chopped
¼ Teaspoon Sea Salt
½ Cup (100g) Canola Oil
3 Large Eggs
½ Cup (100g) Plain Yogurt
1 Teaspoon Vanilla Extract
Instructions
Preheat the oven to 350F (180C)
In a bowl combine the flour, sugar, baking soda, baking powder, cinnamon, salt and mix well
Add grated carrots, grated apple, cranberries and nuts, combine completely
In a separate bowl beat the eggs, add the oil, yogurt and vanilla and mix totally
Add the wet ingredients to the dry ones and mix until just combined, do not over mix
Using paper muffin cups (or silpat version) fill the muffin pan with the batter, do not overfill
Bake for 25-30 minutes, until a test knife comes out clean
Food Travel Tags:
Easy healthy snack recipes, Muffins, Provence Travel