HAPPY HALLOWEEN!
Nutmeg sat up when she received an email from her girlfriend, Wild Rice, who had trained in the kitchen at cooking school in London. It was not the cheery note that grabbed Nutmeg's attention, but rather the new recipe that was contained in the text, a warm blend of pumpkin and Thai flavours. This recipe is not from the famous cooking school, there is no need to be chef material, read on, anyone can make this simple soup.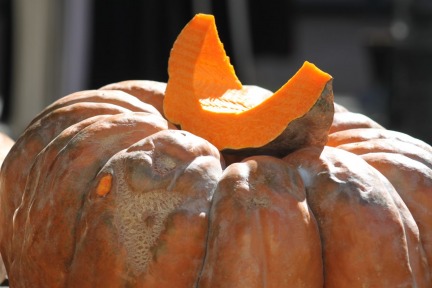 You can serve this soup as a starter course before dinner or as a warming lunch. The recipe is slightly Asian in base so you can take some liberty to add a bit more fiery spice to suit your personal tastes.

Thai Curry and Coconut Butternut Squash Soup
Prep time:
Cook time:
Total time:
This soup is really easy to make. Nutmeg whipped it up one cold evening in Chamonix as they waited for Saffron to arrive for the weekend. Serve as a starter or as a main with a hearty salad and bread. The flavours are really personal, so add more or less heat (curry paste). If you do not like red pepper leave them out. Kaffir lime leaves can usually be purchased at any Oriental food store.
Ingredients
Large (about 2lbs) Butternut Squash, or in France use Courge
1 Tablespoon Canola Oil
⅓ Cup Onion, minced
1 Whole Red Pepper, washed
1 Tablespoon Freshly Grated Ginger
2 Cloves Garlic, crushed
1 - 2 Teaspoons Thai Red Curry paste, more if you like it hotter
6 Kaffir lime leaves, middle vein removed and torn into pieces
4 Cups Chicken Broth
1 Can ( 14oz) Unsweetened Coconut Milk
1 Teaspoon Kosher Salt
2 Tablespoons Fresh Lime Juice
⅓ Cup Toasted Coconut, optional for garnish
To Taste Salt and Pepper
Instructions
Preheat oven to 400°F
Cut the squash in half lengthwise and remove the seeds.
Brush the cut sides of the squash with oil and place cut side down on a baking sheet.
Roast for 45 minutes to 1 hour or until very tender.
Once the squash has cooled enough to handle, scoop the flesh out of the peel using a spoon.
Note: to save time buy good quality chopped frozen squash toss in oil and roast
Note: if you are using red pepper, brush with oil and roast with the squash, it will take slightly less time.
Cool and remove the skin and the seeds
In an heavy bottomed pot, heat the oil over medium heat
Add the onion, ginger and garlic and sauté until softened, about 3 minutes
Add the curry paste and cook for a few more minutes
The curry will start to give off a wonderful aroma
Stir in the chicken broth, coconut milk, salt, squash, red pepper and shredded lime leaves
Simmer for 15 minutes
Remove from heat and stir in the lime juice
Puree soup with a hand mixer or in a blender
Serve garnished with unsweetened coconut toasted at 400°F for 2-3 minutes, until golden brown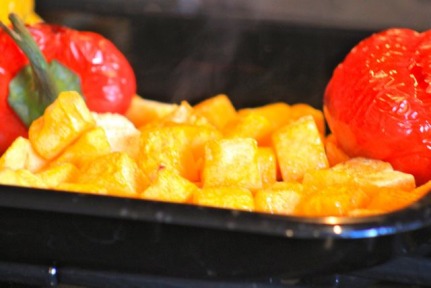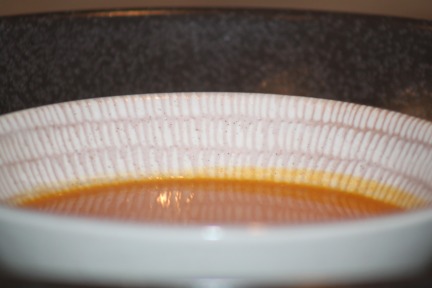 Food Travel Tags:
Healthy Asian Recipes, Healthy Pumpkin Recipes, Pumpkin Soup