It was a lazy afternoon in Provence, under a scalding sun, seated on a suspended terrace in the village of Ansouis. As she sat drinking in the pastoral vineyard views, Nutmeg understood why this might be Andrew Squires' favourite French expression.
Ça depend … it depends.
Andrew was born in the United Kingdom. His artistic leanings emerged early on as he experimented with both drawing and painting. He discovered photography as an artistic medium, and a magnetic force pulled him to Arles for les Rencontres d'Arles an annual photography festival that was founded in 1970.
He has lived in Provence permanently for a couple decades, and he considers it home. He took a few minutes over lunch, and a pitcher of local rosé to tell Nutmeg a little more about his passion for the region and photography.
Enjoy his photos as you read this blog post.
You have a background in painting and photography – how did one lead to the other?
I started painting on my own; I remember my first portrait of a jazz musician from a photo and the almost orgasmic feeling as I finished it. Shortly afterwards I began drawing in a life class with a pencil, then returned to painting, starting from life with a woman with whom I was in love.
I was eighteen when I attempted photography for the first time, I continued with both mediums until the age of 25 when I stopped painting.
I photographed everything from Jimi Hendrix and Pink Floyd, to girls, Cloisters in New York, Weston-Super-Mare, Dachau in the snow, love starting from nakedness, and investigation into "Photography On The Tip of your Tongue."
What subjects do you like to photograph?
I have come to think the traditional genre of photography i.e., landscape, nudes, portraits etc. as misleading, and while appearing to be useful for learning purposes, actually a false point of departure.
More to the point is to answer the question, what is it of value that you have to say. I discovered my subject here in Provence. Although, I had come here to do a Doctorate, at the University of Aix-en-Provence I began to read in French and a whole new world opened up for me in the regional history. The sites of antiquity and the Middle Ages and their associated stories unearthed an incredible world.
This part of the Mediterranean is arguably the birthplace of European civilization. The Provencal light and heat slow you down long enough to contemplate what your senses reveal to you. At school history for me started with the Greek myths, but then jumped to the enclosures. How was I to know the teachers were no longer with us?
So, now my theme is Provence with its history, sometimes sacred, and occasionally evil – a place of magic, mystery and courtly love. This is the exact location of miracles and saints, and of battles between virtue and infamy.
You originally came to Provence to work in Aix-en-Provence – was it what you expected?
It was more than I expected.
For years, before I "jumped" I had attended the Rencontres Internationale de la Photographie in Arles. In the world of photography, there was nothing else like it, certainly not in the UK. It was a shot in the arm, non-stop photography every second of the day for a week, then two weeks. A gathering place for photographers and lovers of photography from all over the world, this is a venue where it is possible to meet and exchange over a common interest. "You show me yours, and I'll show you mine, in the best possible taste of course."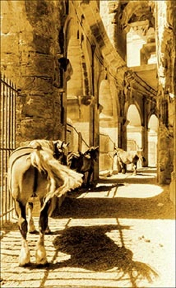 Add real food, light, heat, nightly projections in the antique roman theatre, exhibitions, and seminars, inspiration, and encouragement to begin a path that is your own. Suddenly I was not the only, "mad man in town." It seems to give birth to a new photography, enough momentum to establish what had once been the exclusive prerogative of art.
I began to see what was of value that some author photographers had to say. And then there were the girls, and the lady photographers. It was a privilege to assist in a seminar with Ruth Bernhard in 1983. It is like falling in love, we cannot choose to fall in love; it is just that bingo you are in love that is when you take the photo. In the words of Eduard Boubat "we go towards the photo we have in our mind."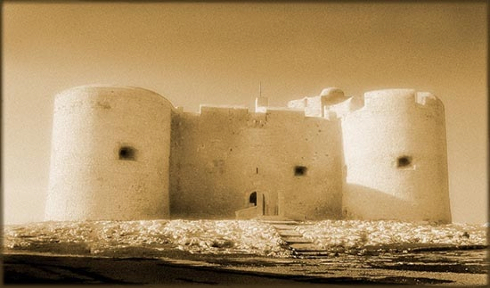 Now you live in the village of Ansouis. How did you end up there?
I quickly discovered that I could rent a whole house in a village for the same price as a bedsit in Aix. Ansouis was the third option; it had a salon de thé, with cake, and a house with a south-facing balcony!
Tell us a bit about life in Ansouis.
Ansouis is human size. No one is invisible. Everyone knows everyone else, although, for some, it took fifteen years to say bonjour. Around lunchtime you can have the streets to yourself.
There used to be four fetes a year, based on pagan origins, for example, the Fire of St. John, (the summer solstice). The moments when we all stop work and get together to dance, drink, eat and who knows. Now we have more events, Fete de Musique, concerts, poetry readings thanks to our non-profit associations. In summer, there is never enough time for everything. Winter by contrast is spectacularly quiet, a time for serious work bathed in the rays of a cooler sun. I walk a lot.
What did it take to get accepted by the locals?
Once the village inhabitants understood that I was a photography teacher, they invited me to teach their children as culture is high on the list here. Full of trepidation, as I had only taught 18-25 year olds, I now faced a group of 12-year olds from our school. They were soon helping me with my French, and we had fun too.
To make it genuine, I invited a teacher in Harlem NY and a headmistress of a girls' school from Southampton UK, both teaching photography, to participate in a project: what the children thought so important that they would want to share it with another little boy or girl somewhere else in the world.
This resulted in an exchange of work, and an exhibition where the parents could see what their children considered important. Consequently, I came to know a lot of parents.
Andrew can be reached via his website here.
Photo credits: Andrew Squires. Ansouis July 2013
Food Travel Tags:
Andrew Squires Photography, Photography Classes in Provence, Provence Travel, Travel in France