The low-altitude, damp, misty, drizzle made for a cool Irish autumn day. Nutmeg was as the expression goes – chilled to the bone. However, Mother Nature's blows vanished after her first spoonful of carrot-ginger soup. This core-warming broth and the classic brown bread were one of several choices on the market menu in the café at Louis Mulcahy Pottery located in Ballyferriter a remote part of the Dingle Peninsula.
The cafe run by Emer Fallon and chef Sinead Kearney may have only existed for a few years, but it is like the culinary extension of the pottery company's philosophies; promoting local trade and delivering quality. This twosome does all the baking using local Kerry milk, eggs and Irish butter. The organic salmon, smoked mackerel and seaweed cheese for the café's hearty sandwiches are all procured locally.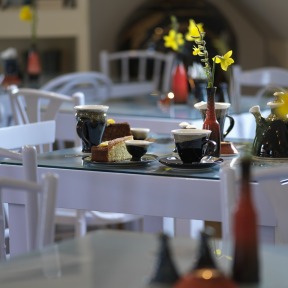 After lunch, Nutmeg's group had time to visit the retail shop that is filled with samples of Louis Mulcahy Pottery  – from classic to contemporary, from practical to fanciful there are 300 items in the pottery line. The retail storefront and workshop are readily visible from the road. What is not so obvious to visitors is the extensive warehouse, kilns, drying and storage areas a total of 24,000 (sqft) of space.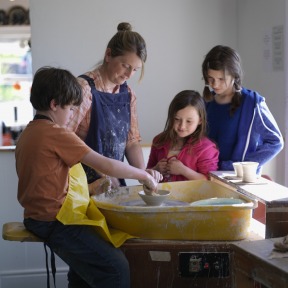 Creative types are encouraged to try their hand a wheel throwing under the direction of a master potter, and about 2,500 people do every year. It is a fun distraction for kids and adults alike. While some of Nutmeg's group were letting their artistic talents loose on blocks of clay, she was able to spend a few minutes chatting with the pottery master himself, Louis Mulcahy.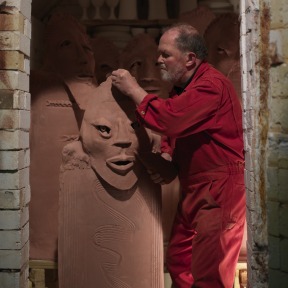 He is proud of the company that has he has built over the last 40-years. Winning the National Crafts Competition in 1975 was his turning point, at that time, Mr. Mulcahy was a cameraman for the National Television Service, and his hobby was pottery. Family and friends were not in favour of the relocation from cosmopolitan Dublin to Ballyferriter on the wild western coast of Ireland. Mulcahy and his wife Lisbeth were adamant that they wanted to raise their children in the country, and so they did.
Despite the naysayers in early years, there is no doubt about the popularity of Louis Mulcahy Pottery. The company produces some 25,000 unique pieces a year, they export to all parts of the globe, and the queue for their annual sale is several thousand deep.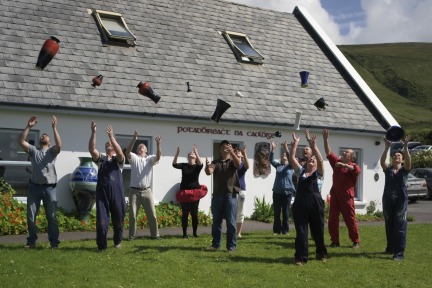 What is compelling about this story is Mulcahy's persistence and belief that the concept would succeed against many odds. Mulcahy is a self-taught potter, he learned on a rudimentary kick wheel that had previously been his wife's when she was a child in Norway. They had the machine imported to Ireland and Lisbeth never used it again as Mulcahy commandeered it at every opportunity until he had mastered the technique, then he moved on to perfecting the art of glazes.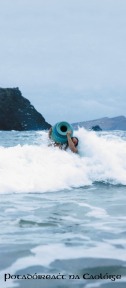 Mulcahy explained he was never satisfied with a ready-made glaze and has spent years perfecting mixtures to achieve the perfect reds, greens, blues and so on. The glazes are applied in stages, many require two dips in glaze and some even need another layer sprayed or brushed on. The finished products are simply – luminous.
Running an artistic-based company on the remote Irish coastline, for the last four decades has not been without its' challenges, the 2008 taming of the Celtic Tiger affected Louis Mulcahy Pottery dramatically despite early efforts to control inventory and operational expenses. Five years later, the company is on firmer ground.
Now Mulcahy is focused on another challenge, huge clay urns (see photo). The man continues his tenacious path of trial and error to achieve the perfect match of pot size with glazing technique – like a successful chemistry experiment the result is a magical creation.
Photo Credits: Louis Mulcahy Pottery 
[tfb username='GingerandNutmeg' count='true' lang='en' theme='light']
Food Travel Tags:
Ballyferriter, Dingle Peninsula, Louis Mulcahy Pottery, Slea Head, Travel Ireland, Wild Atlantic Way