The waitress had Nutmeg sold at the mention of homemade English muffins…she did not even need to talk about the jams.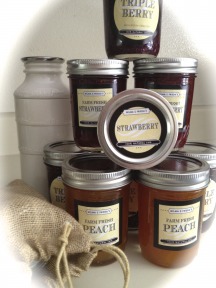 Kelly McFall had a vision for a cafe a dream that was 10-years in the making. Where most people would shy away from a new restaurant project in a fickle, seasonal marketplace with high-end rents, Kelly continued to move her idea forward and recently opened Wilma and Frieda's Café, a tribute to youthful recollections of her two grandmothers.
Wilma and Frieda's Café offers "breakfast with a twist" – homespun versions of hearty classics served with some of the best coffee in the Coachella valley.
McFall is a self admitted coffee lover, a product she knows intimately from her days working with Peet's Coffee & Tea, where she once had the chance to pick coffee cherries in Costa Rica. Collecting the right beans is important, but critical to a good cup of coffee is the process of roasting, and McFall's work experience with Diedrich Coffee confirmed that fact. Her selection of Palm Springs based Koffi to supply morning-saving java for her restaurant was a natural fit; they roast organic beans in their state of the art Diedrich Roaster.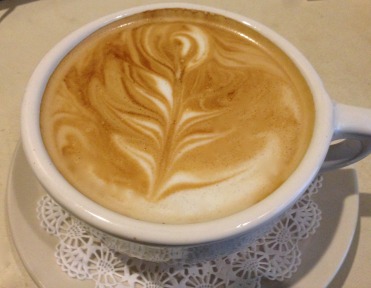 Her choice of partners for the restaurant may not seem natural to everyone. Kelly's brother Kreg who previously managed a Trader Joe's store and her mother Jan, work the floor greeting customers, serving meals and generally co-ordinate the front of house activities while Kelly along with their creative chef assemble the sought after menu selections.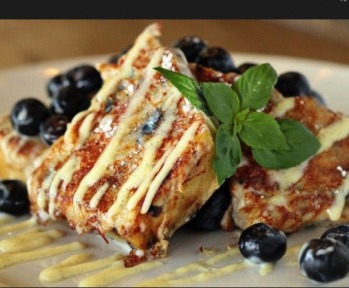 The menu at Wilma & Frieda's includes crowd-pleasing favourites for breakfast and lunch along with some truly decadent daily specials. Fancy some short rib eggs Benedict with sautéed arugula or blueberry custard French toast with a vanilla drizzle? How about a meatloaf sandwich or signature burger?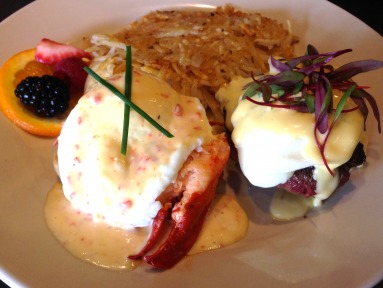 McFall and her chef have created a menu inspired by sweet childhood memories of a grandmother's kitchen. The restaurant and its menu are an affirmation of those reminiscences and the impact that these two ladies had her life – a bit of sass, a sense of class and a preference for traditional fare.
After ten-years, Kelly McFall had most of the components for her plan except for the financing piece – not easy in a challenging lending market. She turned to Kickstarter a crowd-sourced funding concept for creative start-ups, with this program and generous donors Kelly was able to raise the required capital within 45-days.
Funding secured, the core team in place and the concept flushed out, now it was time for the fun stuff — design time. Wilma and Frieda Café is breezy and bright, on a warm day the over-sized doors open onto a shaded terrace. Metal chairs, magazine racks, and rustic sideboards laden with handcrafted jams and other tempting treats; items collected from estate sales and markets form the atmosphere of an old style diner.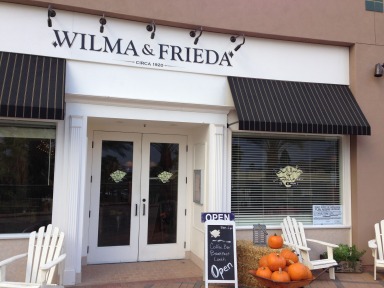 However, it is the neon diner sign "Café Dining Cars" on the wall that brings it all together. This restored wooden marquee came from a roadside restaurant (made from two railway cars) that opened in 1947 on California Highway 101 near Santa Barbara, a place people would stop for a bite on their way to see drag car races.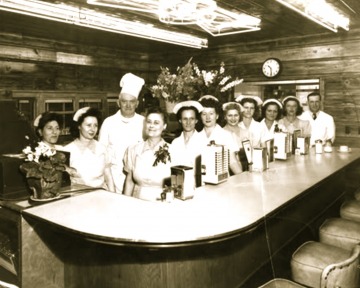 Wilma and Frieda Café may not be a stopover before or after car races, but if the bustling tables and growing take-out business are any indication McFall and her family may have created a magical combination in Palm Desert.
Image Credits: All the mouth-watering photos are courtesy of Wilma and Frieda Café 73-575 El Paseo, Suite C2310, Palm Desert, California
Food Travel Tags:
palm desert coffee shops, Palm Desert Restaurants, Things to do in Palm Desert, Wilma and Frieda's Café in Palm Desert