It used to be that riding backwards in a 'woodie' station wagon without seat belts was an adventure. Now parents need to find ways to entertain their kids who can text one friend, Facetime with another, post to Instagram and tweet about their lunch all in the same 30-second span of time. Riding in backwards in a car may not quite achieve the necessary thrill-quotient intensity these days.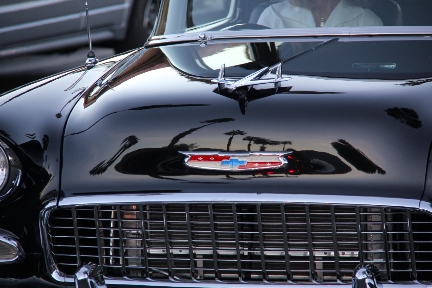 Destination marketing organizations, Banff & Lake Louise Tourism and Travel Alberta are highly sophisticated groups, dedicated to wooing trade associations and individual tourists away from competing resorts. High-resolution images and take–your-breath-away videos of the majestic granite mountain peaks and emerald-green lakes of the Canadian Rockies encourage travelers to visit, but it may not be quite enough.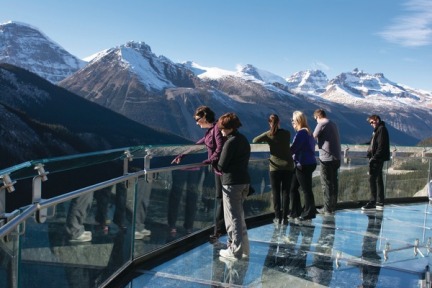 Brewster Travel Canada has solved that dilemma with a brand new adventure in the Canadian Rockies, the Glacier Skywalk – opening in May 2014. This observation deck has already achieved several awards:
• World Architecture Festival award in 2011
• Consulting Engineers of Alberta: Award of Excellence in Building Engineering as well as the Environmental Award of Merit for Environmental Assessment and Monitoring.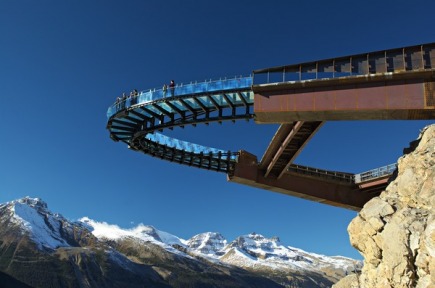 Brewster Travel Canada has evolved into a regional tourism powerhouse, from a modest beginning as a family-run business by one of Banff's first settlers 1892. The company has a long-range commitment to the environment and a stated desire to provide experiences that educate and inspire their clients. The following is part of their vision statement:
To commit to the National Park values of environmental stewardship, and ecological integrity, while providing high quality interpretive information and experiential excursions to our global clientele.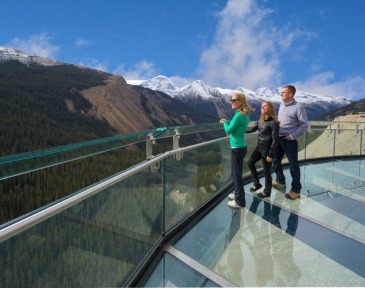 With limited environmental impact as the guiding principal, Brewster engaged qualified partners to design and build a fully accessible, limited impact, architecturally stunning, walk through the sky. Here are some fast facts:
• The observation deck's glass floor is 280 metres (918 feet) above the Sunwapta Valley, just 40 metres (131 feet) below the height of the Eiffel Tower.
• Constructed with 200-metric tons (220 tons) of weathering (paint-free) steel.
• The crane used to move the walkway into place was weighed down by 90-metric tons (100 tons).
• The farthest point on the Glacier Skywalk is 35 metres (114 feet) from its rock base.
• The 400-metre (1/4 mile) walkway is cantilevered giving the impression of floating above the valley floor – guaranteed to provide a few extra heartbeats for anyone with a touch of vertigo.
• Interpretive stations cover: Geology, Biology, Ecology, Technology and more.
It's flat.out.awesome!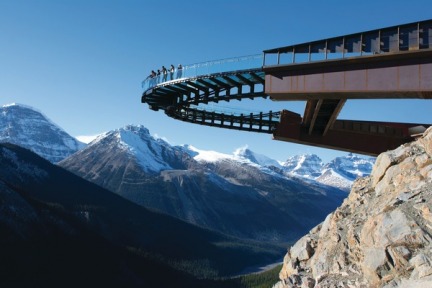 Image Credits: #2-5 Brewster Travel Canada
Food Travel Tags:
Banff National Park, Brewster's Glacier Skywalk, Columbia Icefields Glacier Skywalk, Glacier Skywalk, Holidays in Banff, Travel Alberta