The bubble gum colours of Klari Reis's art are a perfect contrast to the nearby salty, wave-splashed coastline. California may not be her birthplace, but there is absolutely no question that this state is where she wants to domicile.

Initially, she followed the pigments of her artistic core to study fine arts at the University of California Santa Barbara. However, the uncertain financial nature of creative pursuits caused Reis to consider a more predictable path, which led to a degree in Architectural Design from the University of California Davis.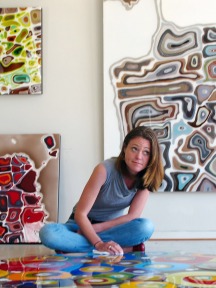 Not quite ready to settle into a full-time career Klari decided that graduate school might unlock the secret to her future direction. The U.K. beckoned, and rainy London became her home for the next few years as she pursued a Masters degree in Fine Arts.
Reis is comfortable and inspired in her sunny San Francisco studio with a bowl of crayon-coloured jelly beans close at hand. Although, the architectural trade did not dazzle her the blend of materials and interesting forms did. Protective coatings applied in high-traffic areas for terrazzo flooring led Klari to experiment with a resin varnish-layer on paintings, and with pigments and dyes in epoxy polymer. Her art is whimsical, like bright candies and gummy bears suspended in glossy plastic homes.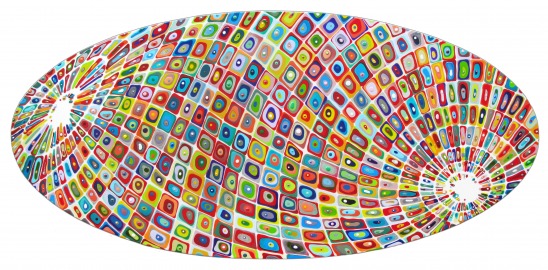 Some of the inspiration for Klari's work has come from an unusual path. In her mid-twenties, she suffered from Crohn's disease an affliction that is highly unpredictable as at best it can be "managed" by diet and certain medications. A doctor in the U.K. helped her to make the biological connection when he showed her how cells reacted to different medicines under the microscope. Reis's first 100 paintings were named after autoimmune medications.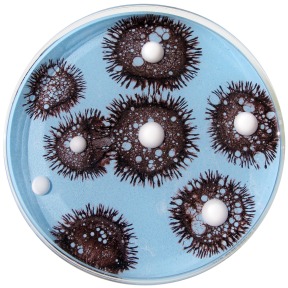 Settled back in San Francisco, Klari has had the good fortune to work with Bay-area biotech companies on artistic commissions, related to their scientific work with living organisms. Where art meets reality in a series called Petri Dish Paintings, Reis has shaped the grouping around what she witnessed in actual laboratory environments.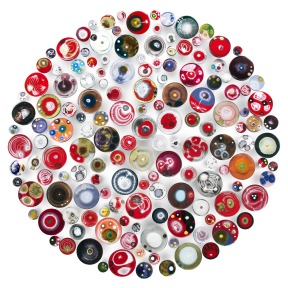 Fueled by jelly beans, inspired by science and entrenched in the city she loves Klari's art portfolio continues to grow. Her website is here.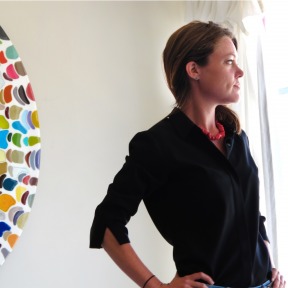 Image credits: All images were made available to Ginger and Nutmeg by Klari Reis
Food Travel Tags:
Klari Reis, Klari Reis Art, Mixed Media Artist, Petri Dish Paintings