Jean-Louis Sibuet quickly appreciated the realities of the hospitality trade, once his parents purchased le Fer à Cheval Hotel in Megève. His early grounding in the accommodation business has evolved into a French boutique hospitality chain. Mr. Sibuet and his wife Jocelyne have created a luxurious, contemporary brand while maintaining a resilient respect for the local environment unique to each of their hotel properties.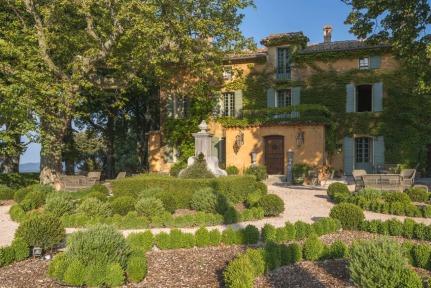 Domaine de la Baume is the newest of the Sibuet hotels, located just outside of the village of Tourtour in the Var. It is truly a boutique hotel with only 11 rooms and 4 suites, at this point.
In 1751, the Renom family, Provencal bourgeoisie, built a home on a site that was previously a 16th century sheep shelter. Almost 200 years later, it was sold to the Sartor family, who added the gardens, and other amenities including a pool and tennis court. The last owner, prior to the Sibuets, was French artist Bernard Buffet, who captured the natural beauty of the area in his paintings and sculptures.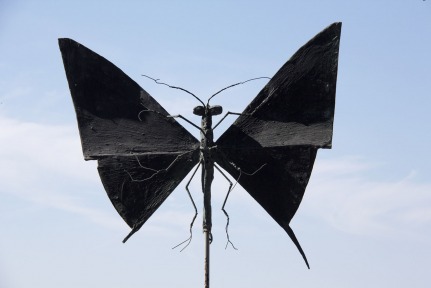 Baume is a French word used to describe a small hill, grotto or a rock shelter. The word seems appropriate for well-secluded Domaine de la Baume nestled on an escarpment, surrounded by olives trees, a natural waterfall, tiered garden beds and a crystal-blue pool. This hotel is a corner of Provencal paradise.
The Sibuets have carefully maintained the image of this stately home with its wrought-iron balconies while fully updating interior finishes in keeping with the original period design. While it is difficult to resist the temptation of poolside loungers or the fluffy armchairs in the book-lined study, it would be a shame to miss exploring the region.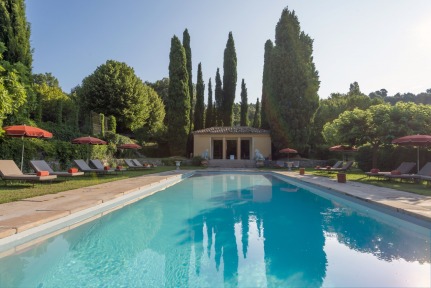 Here are some must-see highlights from the region:
Nearby village of Tourtour is one of les plus beaux villages de France. With a shaded pedestrian friendly central square and charming side streets it is easy to see why it fits the label.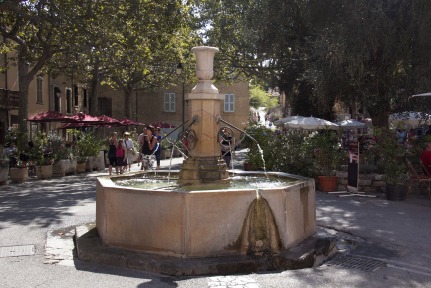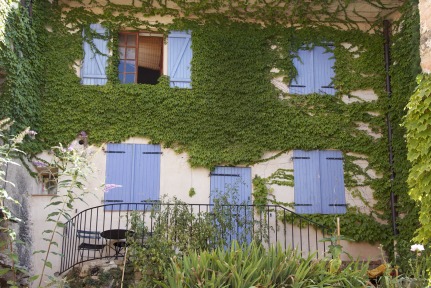 The amazing Grottos of Villecroze – formed by the natural flow of water and still evolving.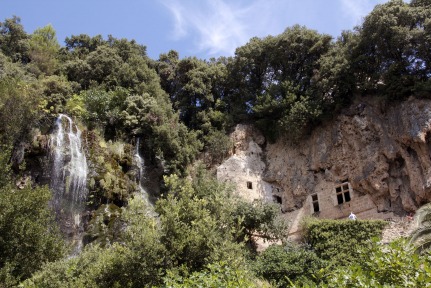 The blue-green water of Lac Sainte-Croix is a magnet for boaters, swimmers and loungers. This reservoir was created in 1973 and is now France's 3rd largest body of water.
There is so much to see! Just make sure to be back in time for dinner at Domaine de la Baume prepared by chef François Martin and his team. Chef Martin has been involved in every decision related to his kitchen, which was at one time the laundry area for the house. He may have trained in Paris, but chef Martin is happy to be now exploring local ingredients in the Var through the season and flavours of Provencal cuisine.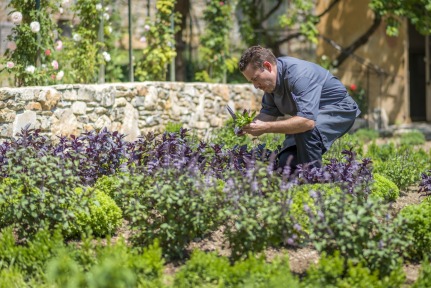 Dinner guests are seated at tables under the leafy canopy of enormous Plane trees. Where they can sample the creations from the kitchen as the sun casts its shadows on the mountains in the distance. Domaine de la Baume is definitely worth a visit, although it may be hard to leave.
Photo credits: Images #1, 3 & 7:  Domaine de la Baume / T. Shu, DR
Food Travel Tags:
Domaine de la Baume, Exploring the Var, Hotels in the Var, Jean-Louis Sibuet, le Fer à Cheval Hotel in Megève, Provence Travel, Travel in France