Ginger and Nutmeg spent a long Sunday afternoon covering over 600 km on some of France's super-highways. Their goal was the looming treasure at the end of the journey, a week of biking with good friends through the Dordogne.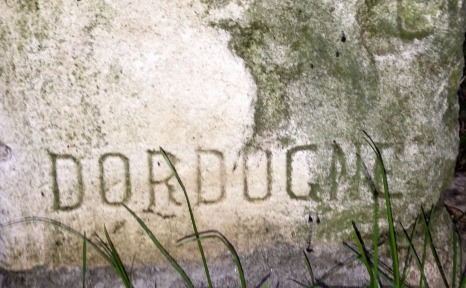 Nutmeg admits that an ABC list covering essential sights and local tastes in the Dordogne region might have been a bit more help before their trip. She hopes instead that this post benefits at least one of the G&N readers who plan to visit this beautiful area in the future.
Artists in caves – archaeological experts have dated the incredible prehistoric paintings in the Lascaux caves to approximately 17,000 years ago. The original cave is no longer accessible to the public in an attempt to preserve the artwork at this UNESCO World Heritage site. Since 1983, Visitors can see exact replicas of these detailed paintings in the caves at Lascaux II via guided tour. This is a must visit location to see why these subterranean rooms are called the Sistine Chapel of the prehistoric world.
Black wines of Cahors produced in Lot Valley vineyards are a deep cherry colour. The production is relatively small in volume by French standards, at only 4200 hectares/10,000 acres. Make sure to sample a glass or two, as it is difficult to find these wines outside of the region.
Confit de Canard – Duck confit is a regional specialty that can be found on almost every restaurant menu. The dish is based on a traditional preparation that was developed in a time before refrigeration. The confit involves two main steps: a process of preservation that involves salt curing for up to 36 hours, followed by slow cooking the duck in fat for up to 10 hours.
Dordogne River runs about 500 km from its' source in the mountains of Auvergne to the Gironde River near Bordeaux. The Dordogne is at times fast and furious running through deep gorges, and in other sections almost as calm as a lake as it flows gently past ancient castles. It is one of few rivers in the world with a tidal bore, where the incoming tide creates a wave pushing water back upstream.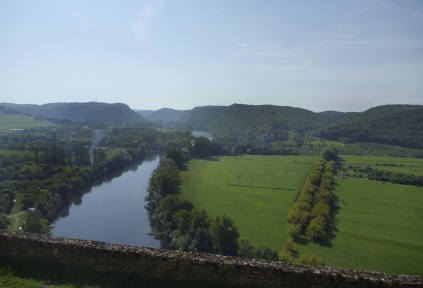 Épeautre or spelt is grown in the region.
Foie Gras may not be globally popular, but it is definitely a culinary specialty of the Dordogne region where ducks and geese are typically fattened with corn. France is the largest producer and consumer of foie gras in the world.
Gouffre de Padirac was discovered on July 1, 1889 by Édouard-Alfred Martel a renowned cave explorer. He was and still is considered the father of modern speleology. Gouffre de Padirac is one large hole in the ground. In order to visit the cave, you must descend by a series of elevators and stairs to reach the grotto at its depth of 103 metres (338 ft). This natural cavern runs more than 40 km (25 mi), although only a small portion, about 2km, is open for visitors to visit by boat and on foot.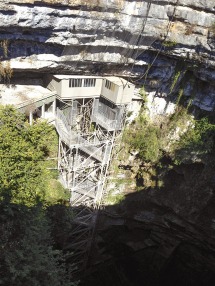 Hazelnuts are one of the tree nuts that flourish in the region, where they are often used in baking. One typical sweet is a gateaux aux noix (nut cake) a semi-moist cake that uses ground nuts to replace most or all of the flour.
Ice-age forces formed the river valley and the rolling hills of this area.
Juniper wicks were amongst the remnants found in the Lascaux caves. It is believed that juniper was selected to light the area where the cave painters worked as it produces a white smoke instead of black. This would have made it easier for the artists to work in the subterranean conditions.
Kayaking is popular in tourist season as the Dordogne River lends itself to gentle floating.
Lauze roofs are rare in modern day construction. Steeply pitched roofs of old buildings in the Dordogne were topped with multiple layers of flat, stacked stones. This local flagstone, in varying sizes, was carefully stacked to reach the peak of a roof line. In some cases, it is believed these roofs weigh 1 ton/square metre; the exterior walls carry the bulk of the load. This website provides some architectural details. The towns of Sarlat and Collonges-la-Rouge have beautiful examples of restored lauze roofs.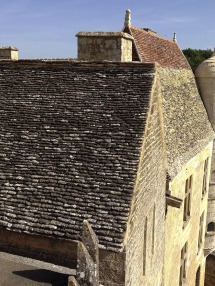 Montgolfière brothers, Joseph-Michel and Jacques-Étienne, invented the pursuit of hot air ballooning in Ardèche France in 1783. The rolling terrain in the Dordogne is suitable for ballooning. During peak tourist season, one can often see hot-air balloons in the dawn or dusk sky.
Nuts have factored into the local diet since the time of the Cro-Magnon. Walnuts in particular are cultivated in significant quantities.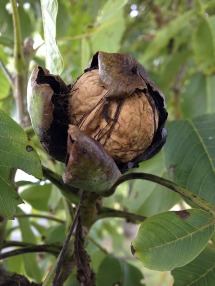 Oie is the French word for goose.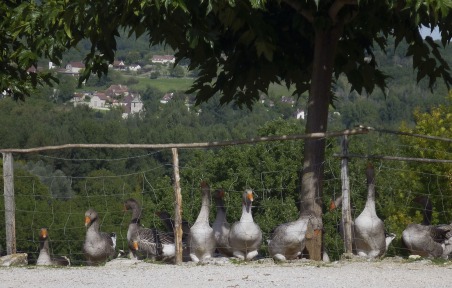 Perigord is a region within the Dordogne department known for culinary classics such as truffles and foie gras. The opposing French and English forces hotly contested the region during the Hundred Years' War.
Quercy technically in the Lot départment is the most southwesterly of the Dordogne region, it is historically and culturally quite aligned with Toulouse.
Rocamadour cheese is a goat cheese produced in both the Perigord and Query. This is an unpasteurized goat cheese shaped in small round discs. Typically, it is sold after about two weeks of aging. Most menus in the area feature at least one item that includes Rocamadour.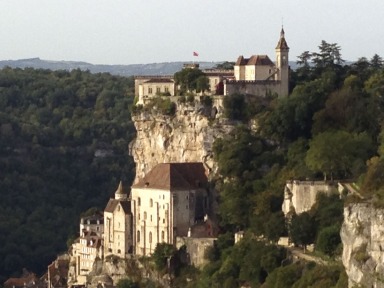 Sarlat is a bustling town with plenty of shopping and a population of over 10,000. A tour through the streets allows you to appreciate how a medieval town grew around a Benedictine abbey. From there, one needs to imagine the violent disputes between the French and English from 1337 until 1453, which finally saw Sarlat becoming part of a French region. The town fell into disrepair for decades, finally in the 1960s Andre Malraux then minister of culture, recognized the need to invest in the restoration of France's historical buildings. Sarlat was one of the first villages to receive state funding, where more than 74 buildings have been restored.
Tobacco once a lucrative crop in the region has been all but phased out due to subsidy cuts. Old tobacco drying sheds can still be seen on occasion, although they no longer serve their intended purpose.
Up and down is what you should expect whether you are walking, driving or cycling in the region. The rolling hills provide panoramic vistas today; in ancient times these crests provided some modicum of security as you may have been able to see your enemies approaching.
Vin de Noix is a prevalent aperitif made with green walnuts. The tradition is to harvest the nuts around the 24th of June the feast of Saint-Jean. The green nuts are typically cut into quarters and macerated with red wine, white alcohol and sugar. The combination is left to mature in a sealed container, in a dark cool place. The sweet wine is typically ready to be bottled and served at the four-month mark.
Walnut orchards are ubiquitous in the Dordogne Valley, the region with the second largest production in France (Rhône-Alpes has the greatest production). Noix in French refers specifically to walnuts. It is said that nothing goes to waste from a walnut tree. Certainly, the nut itself is a nutritional superstar, the wood is often used to fabricate furniture and even walnut shells are ground up to make kitty litter. The ripe nuts start falling from the trees in late October into November. Top quality specimens are used by restaurants and sold to merchants. Broken and inferior nuts are used to make walnut oil and other products.
X crossbows and other weapons were used during the Anglo-French conflicts over Aquitaine during the Hundred Years' War.
Y if you are still asking why visit – check out our Dordogne photo gallery here.
Z is the shape of many roads in the Dordogne, where switchbacks and hairpin turns make for great viewing points.
Food Travel Tags:
Confit de Canard, Dordogne Travel, French Walnuts, Sarlat History Tours, Travel in France