Nutmeg loves France and Ginger tolerates her passion. The way they manage to find moderately stable ground within the quicksand of their personal interests is in those moments when friends come to visit. These encounters are an anchor with the familiar, and the ballast that settles a slightly rocky boat. Sometimes, they are able to convince those friends to explore with them.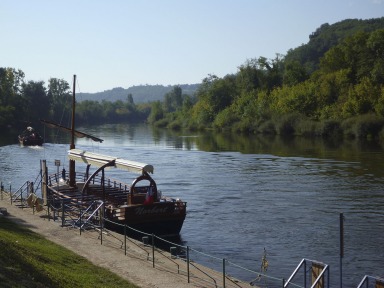 One recent occasion was a group bike trip through the now tranquil Dordogne, a region of France that once was the subject of violent tug-a-wars between French and English forces. Either, these were good friends or they were desperate for a vacation as the general descriptions for each day were as follows:
• Moderately hilly
• Mostly hilly
• The odd flat section
• Steep hills
Maybe, it was the draw of history or the promise of wine, but they all came to discover historical Dordogne.
The Dordogne is an agricultural department in southwestern France, the region of Aquitaine. Within the Dordogne, are four smaller areas the Périgords (green, white, purple and black) with varied topography ranging from verdant meadows and limestone cliffs, to waterways and blankets of oak and pine. This combination is a powerhouse producer of walnuts the size of golf balls, slow-cooked canard confit, wholesome red wines, black truffles worth their weight in gold and goose liver dressed-up as foie gras.
The Dordogne River, which travels 500 Km from its source, is almost glass-calm in sections making it difficult to believe that it was central to 300 years of conflicts during the Middle Ages. French-English battles over territorial control were spurred-on by the flip-flop marriages of Eleanor of Aquitaine from King Louis VII of France to Henry Plantagenet (King of England). It was only in 1451 that the English were ultimately defeated at the Battle of Castillon.
Regional unrest in the Dordogne predated the French-English struggles. Four tribes of Gauls inhabited the area, the name Périgord appears to have derived from the Gaulish word "petrocore" (four tribes). These bands resisted against the Romans, seeking refuge in concealed caves and veiled lookouts.
Subterranean refuges, fortified castles, medieval towns and pilgrimage sites – what a backdrop for a sightseeing trip on two-wheels!
The group was treated to all of that and more:
Martel is a small hamlet best known for the seven medieval towers that shape its profile. The town is perhaps unique as it did not begin as a religious centre or a fortified military station; rather it was situated at the trade crossroads between Paris and Toulouse. It was a convenient place to overnight for traders and pilgrims.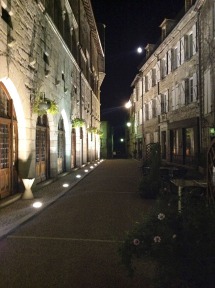 Collonges-la-Rouge, on the other hand, was founded around an eighth century priory. Pilgrims heading towards Santiago de Compostela, in Spain, were able to find some shelter behind the village's fortified walls. The priory is no longer standing, however, this town with its distinctive red sandstone buildings has been classified as a historical monument since 1942.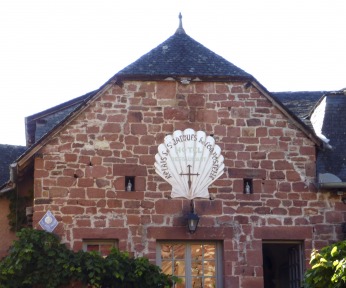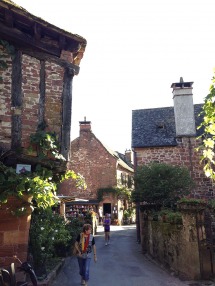 Autoire is the name of a stream and a hamlet of buildings with steeply pitched brown roofs. The views coming into this village nestled near the bottom of a steep valley are definitely the stuff made for photo-ops.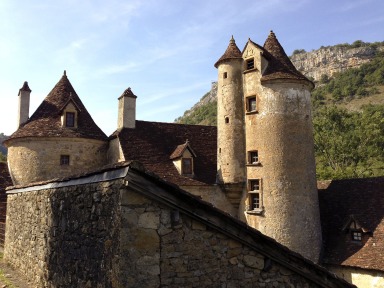 Loubressac not surprisingly is ranked as one of les Plus Beaux Villages de France. A hilltop town with medieval ocher buildings and meandering streets perched on a hilltop, with commanding views in several directions.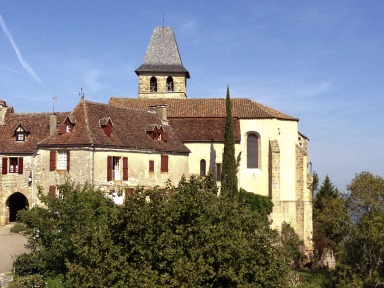 Rocamadour is constructed like a rock (ròca) climber tethered vertically to a steep cliff face. This site attracts 1.5million visitors a year. However, it has been a magnet for religious pilgrims and the faithful since the Middle Ages. One such visitor was the explorer Jacques Cartier who visited in February 1536, and prayed for his safe return from the unknown wilds of what is now eastern Canada. Many legends surround the compact site with its collection of eight churches and chapels, as well as the famous Black Madonna. This video from above gives you an impressive viewpoint.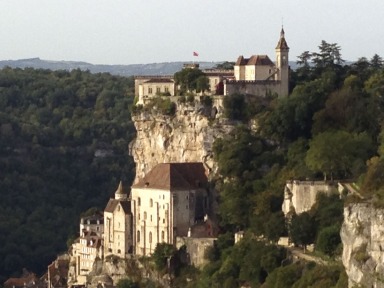 Sarlat was one of the first towns in France to receive state funding for restoration work, a program that started in 1962. The symbol of Sarlat is the salamander a creature able to endure fire. Strong resistance and perseverance might be best to describe a place that has been inhabited since Gallo-Roman times and was built-up around 9th century Benedictine monastery.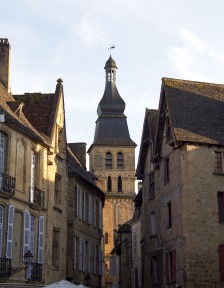 Hilltop fortified refuges numbering more than a thousand lined the Dordogne Valley. These rock fortresses provided shelter and strategic advantage to the occupants. The castle walls certainly could tell a tale or two including the now privately owned Chateau du Beynac that was once used as a stronghold for Richard the Lionheart, the son of King Henry II and Eleanor of Aquitaine.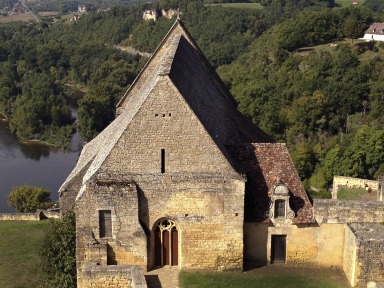 And one more hill…to see this panoramic view from Domme.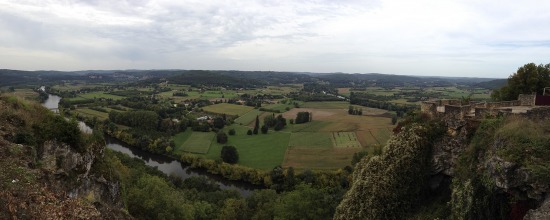 For more photos please check out the Dordogne gallery.
Food Travel Tags:
Beynac, Collonges-la-Rouge, Confit de Canard, Dordogne Travel, French Food, French Walnuts, Rocamadour, Sarlat History Tours, Travel in France