Your Canadian Rockies hiking guide is dog-eared from multi-year use and too many days in a backpack. Yet a primal fear of heights has kept you away from rock climbing. Mount Norquay has the answer this summer.
Via ferrata!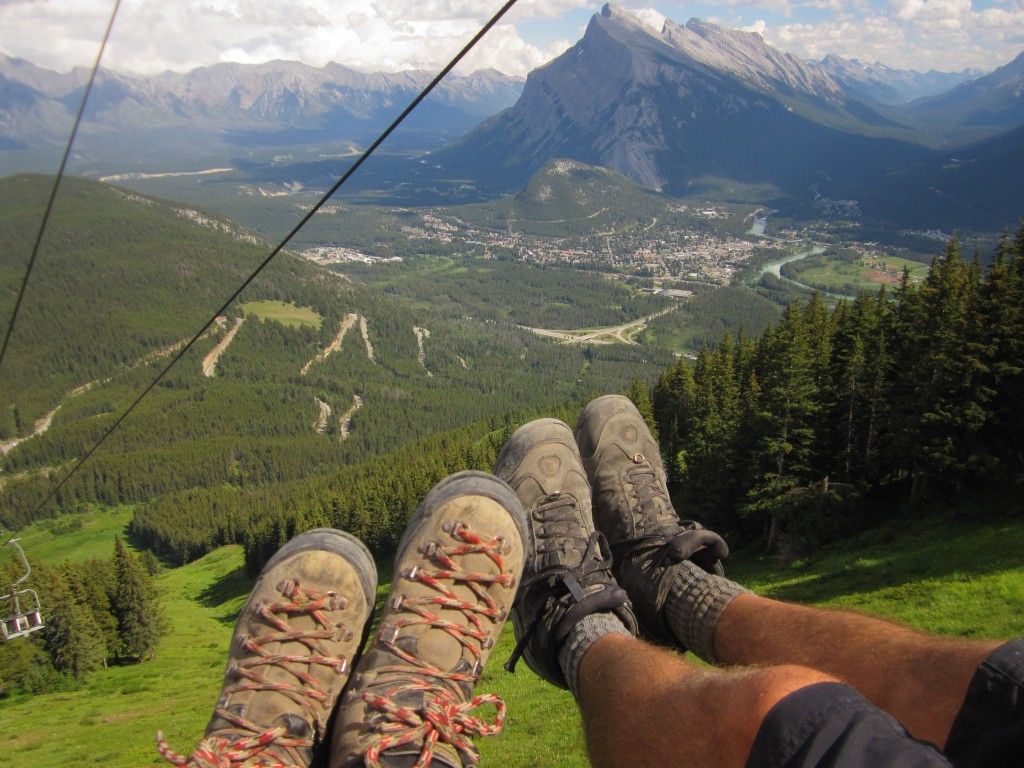 Via ferrata or iron road is an Italian term. The phrase was used to describe alpine military routes created during World War I in Northern Italy. The Dolomite Mountains were pivotal to Austrian and Italian hostilities during that time. Minimalistic vertical corridors were fashioned in the Alps to create somewhat sheltered approaches to the summits. Ladder rungs made of wood and heavy ropes were installed to fixed points along rocky ledges. The purpose was to move troops to mountain peaks as rapidly as possible so they could establish defensive positions before the enemy did the same.

Post-war, the appeal of via ferratas as an adventure activity for non-alpinists became apparent, an approachable route to breathtaking European mountaintops. In the 1930s, the Italian Alpine Club began converting makeshift army equipment into more permanent installations. Over time, rotting ropes became steel cables, old wooden steps were converted to fixed metal rungs and slat-bridges replaced flimsy tightropes.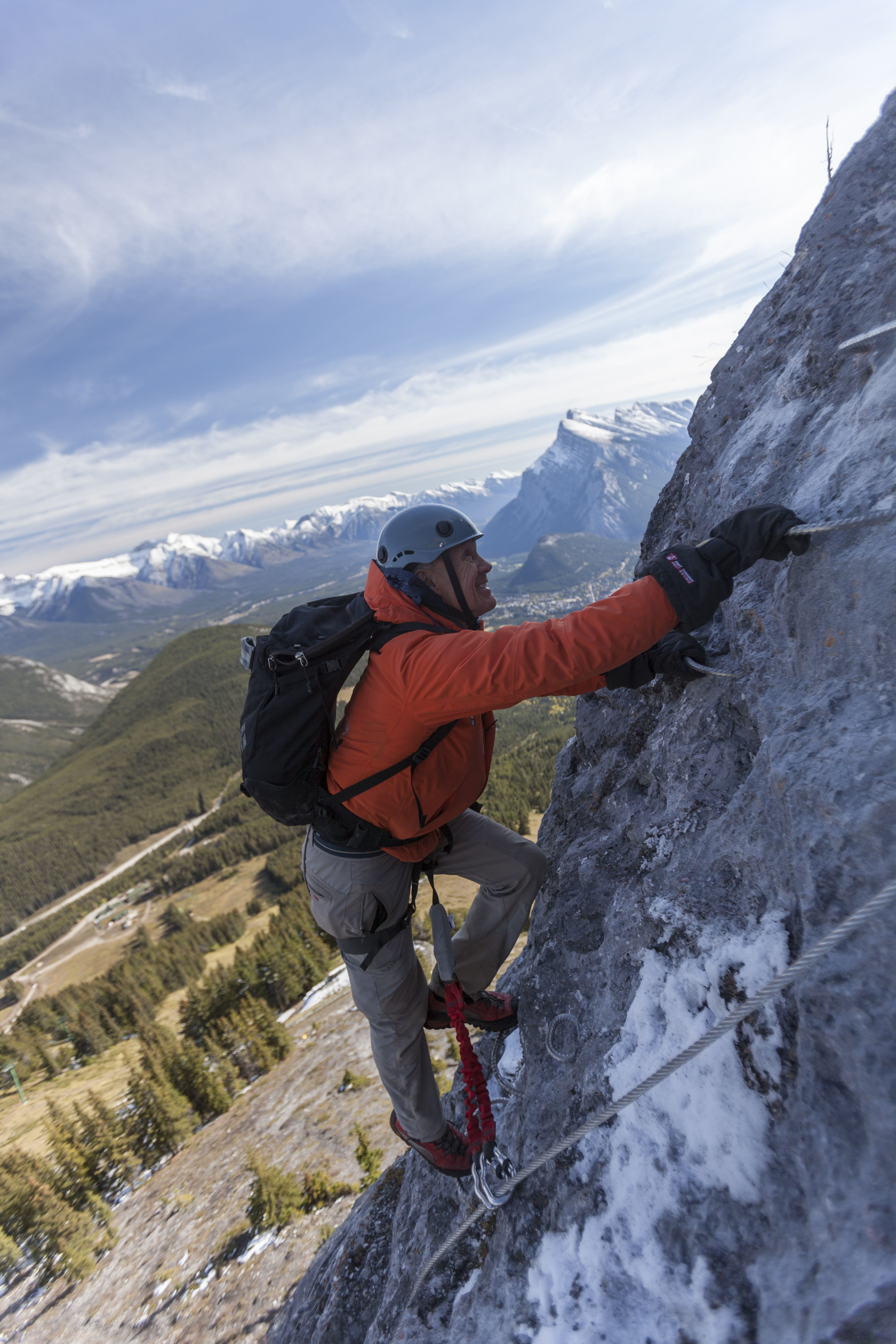 A traditional mountain climber depends upon light equipment, and few anchor points to scale a rock face. Their goal is to get up and down safely using ingrained route picking skills and physical training. In the case of a via ferrata, the vertical path is predetermined by a set of anchored metal features and typical athletic requirements are limited to being able to climb a ladder.
The popularity of via ferratas in the European Alps has mushroomed there are well over 1000 accessible routes. In Canada, the vertical hiking concept is a newcomer to our western mountains. Mount Norquay is now offering this adventure activity on the limestone cliffs above Banff.
Your alpine experience starts in the town of Banff with a shuttle ride to the base of the North America chairlift. Where you have a choice between the Explorer, a two-hour introduction to the via ferrata concept, or Ridgewalker a four-hour commitment to scaling the mountain.
After a short time with your guide, hanging out on rocky ledges with the Bow Valley backdrop, you will understand how the equipment works and will have tested your vertical limitations with a suspension bridge crossing.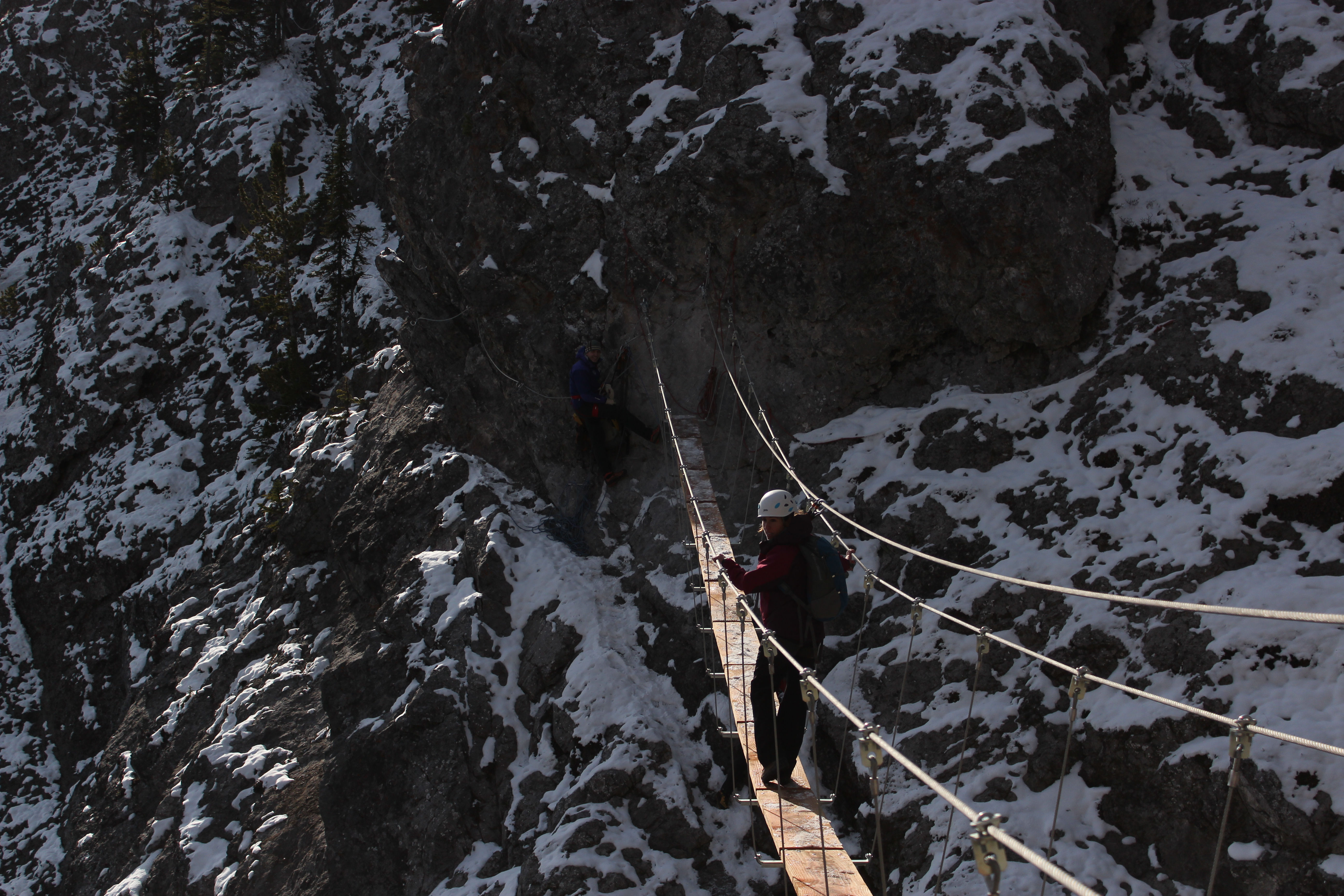 Both via ferratas at Mount Norquay circle back to the Cliffhouse Bistro located at the top of the historical chairlift. This retro teahouse cantilevered into the stony ledge offers a picture-perfect finish to your active day.
Pack away your fears and the let guides at Mount Norquay show you the ropes. Bookings for the Mount Norquay's via ferrata can be made here.
Photo Credits: All images have been provided by and approved for use by Mount Norquay
Food Travel Tags:
Canadian Rocky Mountains, Mount Norquay, Things to do in Banff, Via Ferrata