Their eyes connected on a train headed towards the Champagne region. Before the weekend filled with bubbles supplied by the cellars of Krug and Dom Pérignon was over, Caroline Jones a proud Australian, and French native Thomas Bertrand had uncorked a little sparkle. Their long-distance romance bloomed and the now married couple lives between the vines at Domaine Rouge-Bleu a vineyard in the heart of Provence.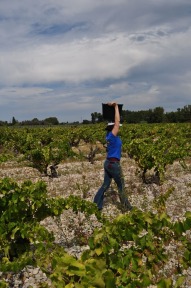 Nutmeg was more than a little curious why a couple might purchase a vineyard? Was it a coup de foudre (translates into 'struck by lighting' or less literally 'love at first sight') or was it plain folly? After all one of the bottles from the winery is called Lunatique – Caroline cleared up Nutmeg's confusion.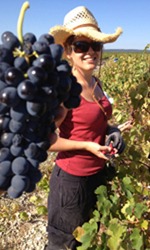 It has little to do with being slightly mad, but rather a wine label with a sense of humour as the name refers to the process of monitoring the growth, harvesting the grapes and making wine from 100-year old Grenache vines following bio-dynamic principals and lunar cycles. The wine is pure, natural and just as delicious as some of its near-by competition in Châteauneuf-du-Pape.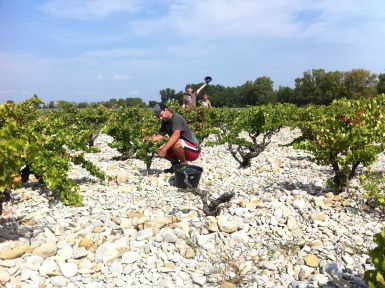 Thomas and Caroline now own and operate Domaine Rouge-Bleu in France's southern Rhone region, both have deep experience in the wine industry. Caroline was twenty-four years old when she first participated in a grape harvest in France. She was hooked and began working her way from the field, tending vines and harvesting, to cellar hand to finally to the position of vintage winemaker. Hands-on exposure to the wine industry in both Australia and France has given Caroline a unique perspective, methodology aside; nature and patience make for a good wine.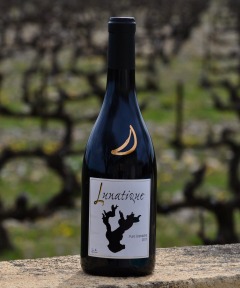 Caroline spent several years working harvests in different grape growing regions around France, from Bordeaux to Banyuls and Gigondas. However, it is Provence where the couple decided to make their investment in Domaine Rouge-Bleu, where Caroline had worked the grape harvest in 2010. The vineyard is mid-sized, at only nine hectares. The previous owner and winemaker tended the old vines of Grenache, Syrah and Carignan following bio-dynamic philosophy, this was an important criterion for this wine-focused couple.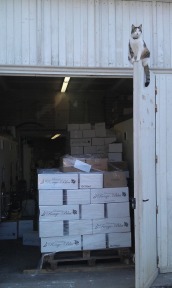 Their philosophy at Domaine Rouge-Bleu is to work in harmony with nature to produce wines reflective of their terrain. The vineyard produces 25,000 bottles per year and exports to the United Kingdom, Australia and United States. Nutmeg hopes that one day she can buy a bottle in Canada too!
A house move and a weather-dependent business in a new country might be more than enough for most people, but not this twosome. They recently opened a three-bedroom bed and breakfast (B&B) with rooms that are named after grape varieties; Grenache, Syrah and Roussanne and serve up jaw-dropping views of the vineyard. When sublime Provencal mornings permit a French continental breakfast is served under the Mulberry tree.
Domaine Rouge-Bleu – go for the wine and stay for coffee – now that is a winning combination in Nutmeg's books!
Photo Credits: All Photos were provided by Domaine Rouge-Bleu
Food Travel Tags:
B&Bs in Provence, Domaine Rouge Bleu Wines, Provence Travel, Travel in France, Vineyards in Provence, Wines of Provence