Nutmeg had a few items on her to-do list; number one was to replenish the wine stock before Ginger arrived. The challenge was making a decision in les Alpilles given the plethora of nearby vineyards. On this particular occasion, she chose Domaine de la Vallongue as they had reopened their boutique after some renovations and were featuring some unique sculptures by Jean-Pierre Rives.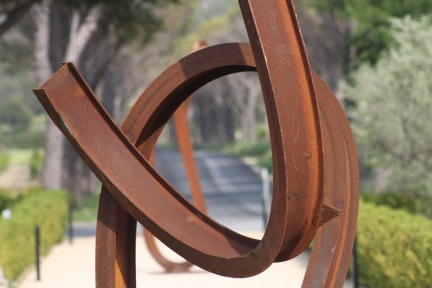 Views of the Alpilles are sweeping, seeming to stretch forever from this vineyard. The boutique is actually two bright, spacious rooms appointed with attractive shelves and tables. The rooms are simply an artful backdrop to display a variety of tempting household items and suitable gifts. And most certainly the reason for any visit is to spend a few moments at the long, wooden counter savouring the unique features of their wines.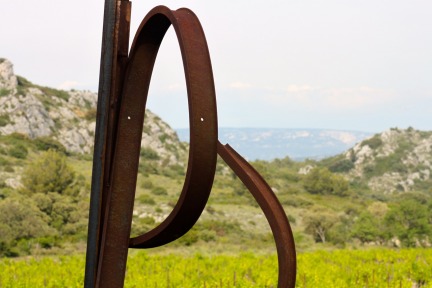 The Domaine is proud of the fact that their wine has been organic since 1985. Their grape vines form uninterrupted rows, following the undulating hills deep into the distance. Sunlight and elevation changes work to furnish the grapes with their flavours and produce easy drinking wine.
While paying for her bottles, Nutmeg noticed a basket of clear vials of saffron in simple packaging. Saffron is the most expensive spice in the world, but honestly what did it have to do with the vineyard? As it turns out one of the workers at the vineyard owns a tract of agricultural land where he grows commercial production of peppers, tomatoes, herbs and saffron crocus, Crocus sativus. This saffron was not from a foreign land, but rather a garden 12km away. Nutmeg bought the saffron and had to know more.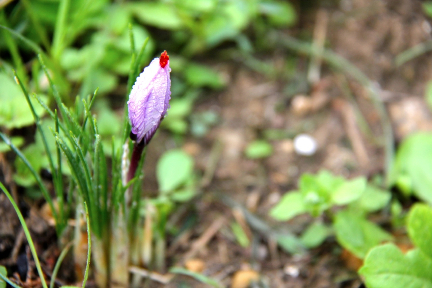 The word saffron from the Arab word zafaran, which means yellow – the colour imparted to food by the dried stigma of the flowering crocus. The Crocus sativus is part of the Iris family. This tiny Iris cousin, a perennial, flowers in the fall. The plant grows from a bulb to a height of 20-30cm; the purple flower itself is no more than 4cm. Each flower contains three styles or stigma, not much larger than the size of a thread; these are harvested and dried to produce saffron. The flowers only bloom for a remarkably short span of time, a matter of hours. It takes 250,000 stigmas to make just half a kilo of saffron. On one acre of land, you can only expect to reap 2.5-3kilos of saffron.
$$$ – Did you know the saffron math before?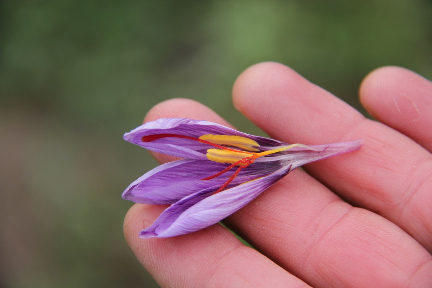 This plant is native to the Mediterranean basin its origins have been traced most likely to ancient Crete. Documented use of saffron for medicinal purposes, perfumes, dyes and cooking stretch back over 4000 years. Present day Iran, grows over 90% of the global production of precious saffron.
Nutmeg chose a suitable fall day and biked over to take a few photos of these tiny beauties.  Enjoy the photos and this effortless recipe for Saffron Chicken with Chickpeas.

Saffron Chicken with Chickpeas
Prep time:
Cook time:
Total time:
This recipe is very easy. Feel free to change the meat to beef, pork, lamb or even a hearty fish and still get an excellent result. Serve with crusty bread and a green salad.

Ingredients
6 Chicken breasts, skinless, boneless
1 12oz Can Chickpeas, drained
1 Cup Tomato paste
1 Cup Dijon Mustard
2-3 Tablespoons Extra-Virgin Olive Oil
1 Teaspoon Fleur de Sel
1-2 Teaspoon Ground Pepper, to taste
1 Medium Onion, coarsely chopped
2 Cloves Garlic, crushed
1 Tablespoons Raw Sugar
1 Teaspoon Coriander seeds
3 Cups Red Table Wine
2 Pinches of Crushed Saffron

Instructions
Heat oven to 350°F
In a mixing bowl, combine the tomato paste, Dijon, red wine, sugar, spices and mix well
Add the chicken and coat completely
Pour the whole mixture into an ovenproof dish and allow to marinade for 25-30 minutes
Bake for 25-30 minutes until bubbling and the meat is cooked
In the meantime, heat the olive oil in a heavy frying pan on medium heat
Add the chickpeas and allow to them to cook, stirring frequently
Once they will start to dry out and jump in the pan, they are ready.
Serve the chickpeas along side the chicken
Food Travel Tags:
Chicken, Chickpeas, Provence, Saffron, stew