Nutmeg got a little lost on her way to this hike. Given the religious significance of the location, maybe she was not the first lost soul during the long history of the Sainte Baume grotto.
The grotto is located inside a natural cave high on the sheer cliff face of the Massif de la Ste-Baume. The word baoumo is Provençal for grotto. Stories from Christian religious history and associated legends of Mary Magdalene support the theory of her living a hermetic existence in this cave for over 30 years.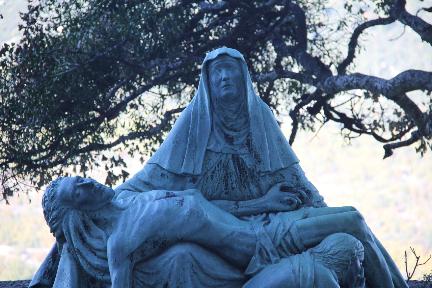 The traditional belief is that Mary Magdalene and several others accompanied two disciples Maximin and Sidonius to spread the joyous message of Christ's rising, beyond the borders of Palestine in the year 42 AD. Their boat managed to cross the Mediterranean arriving in what is now the town of Saintes-Maries-de-la-Mer. The story is told that Mary Salome, Mary Jacoby and their attendant Marcella remained in this area while the others travelled further a field to what is now the city of Marseille. It was at that time the Roman port settlement of Massilia.
The group separated over the ensuing months, Mary Magdalene and Sidonius chose a direction towards the rugged mountain north of Marseille. This is where they found the natural cave and grotto, and where Mary is said to have passed several years of reflective solitude. She certainly had a spectacular view.
For longer than a millennium, the site has become a prominent destination for Christian pilgrimages. Popes, kings of France and pilgrims alike have ascended the steep path. A dense forest of elm and ash trees form a thick canopy, shading the path called the Chemin des Roys or the King's Road to what is now a chapel (Chapelle Grand Saint-Cassien) and small monastery.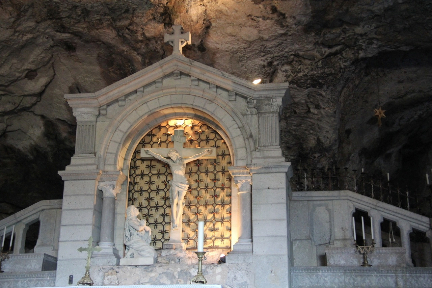 It is believed that Mary descended from the hillside and passed away in Aix-en-Provence. Her remains were protected and buried in a tomb in nearby St Maximin.
Did you know the story?
Food Travel Tags:
Pilgrimage site in Europe, Provence Travel, St Baume Monastery, Travel in France