Much has been written about Vincent Van Gogh's life, the famous Dutch painter who led an expressive, tortured life. This statue le voleur de tournesol (the Sunflower Thief) by Gabriel Sterk may just capture the essence of Van Gogh's work – as you never quite look at sunflowers, irises, olive trees or wheat fields the same way after seeing his paintings.
The deep purple, snowy white and tall mauve varieties of iris were in full bloom when Nutmeg arrived in Provence. Inspired by these harbingers of spring she determined it was high time to visit the hospital, Saint Paul-de-Mausole, in St Remy where Van Gogh spent over a year in 1889.
Vincent Van Gogh was born on March 30, 1853 in Groot-Zundert in the Netherlands, the eldest of six children. His family lineage oscillated between the vocations of theology and the art world, true to tradition his father was a minister and his uncle "Cent" (Vincent) an art dealer. It was his uncle who helped young Vincent land his first job working for an art broker in The Hague. He worked for the company for just shy of seven years in London and then in Paris. However, by April 1876 he had reached the point of frustration serving clients who, in his view, treated art as a commodity – he resigned.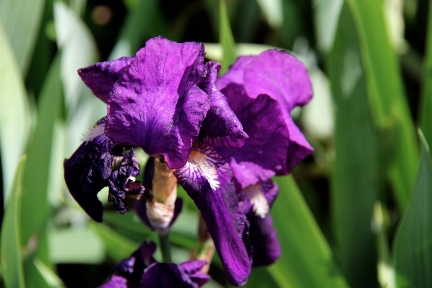 During next few years Van Gogh waffled between work as a teacher, a foray into theology and dabbling with sketching. Determined that art would be his future he entered l'Académie Royale des Beaux-Arts in Brussels, the year was 1880, and began painting in earnest. An uncle commissioned him to paint several canvases of The Hague – the results were deemed sub-par. This inspired Vincent to work harder to perfect his craft, moving to Paris in 1885.
The Paris years were fruitful, highlighted by his encounters with Paul Gauguin. In February 1888, Van Gogh left the streets of Paris behind; he was tired and worn down by a busy social life and frustration with lack of recognition. In two-years, he had painted over 200 canvases.
Van Gogh followed his dream to Arles, in Provence, where he hoped to create an artistic colony. The dream did not materialize, and his mental state deteriorated. On May 8, 1889, he took the short train ride from Arles to St Remy with Reverend Salles, where he committed himself to the asylum Saint Paul-de-Mausole and into the care of Dr. Théophile Peyron. The 30-room facility was not full, so Vincent was allowed two rooms, a bedroom and a space that he used as a studio.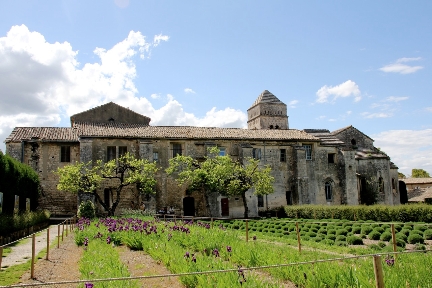 The next twelve months proved to be an extremely prolific time for Van Gogh, he produced 150 paintings and 100 sketches. The imposing metal bars on the windows and rustic living conditions did not prevent him from discovering and reproducing the beautiful elements native to the area.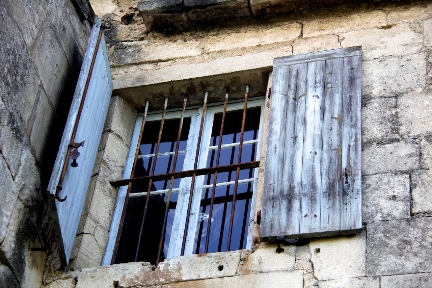 He left the hospital on May 16, 1890 for Auvers-sur-Oise where on July 29th he was pronounced dead as a result of a bullet wound. It is widely believed that he shot himself although no gun was ever found. Post-mortem analysis of his mental health is still subject to discussion. What is not up for debate is the powerful energy of the works he produced. In a ten-year span, he produced almost 900 pieces yet sold only one during his lifetime.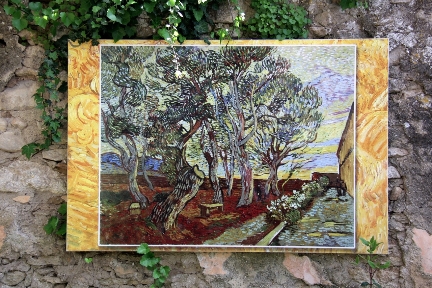 In St Remy, you can follow a self-guided tour of 21 panel markers "a walk in the universe of Vincent Van Gogh." Each panel includes a photo of one of his pieces placed on or near the site where he would have painted the scene. The tour is informative; unfortunately, the vistas are much changed from that era as the town of St Remy has built up in what was the champs de blé (wheat fields) that he painted.
"To do good work one must eat well, be well housed, have one's fling from time to time, smoke one's pipe, and drink one's coffee in peace." Vincent Van Gogh
Do you have a favourite Van Gogh quote?
Food Travel Tags:
Facts about Vincent Van Gogh, Provence Travel, St Remy de Provence, Travel in France