It is not often that Ginger gets to write about G&N adventures, but this experience warrants a post. As many of you know, Ginger is an airplane geek, and any experience related to flying gets serious precedence over most things. Man since the beginning of time, has wanted to escape the bonds of earth and fly like a bird. Fixed wing gliding provides man the opportunity to catch air currents and soar hour upon hour.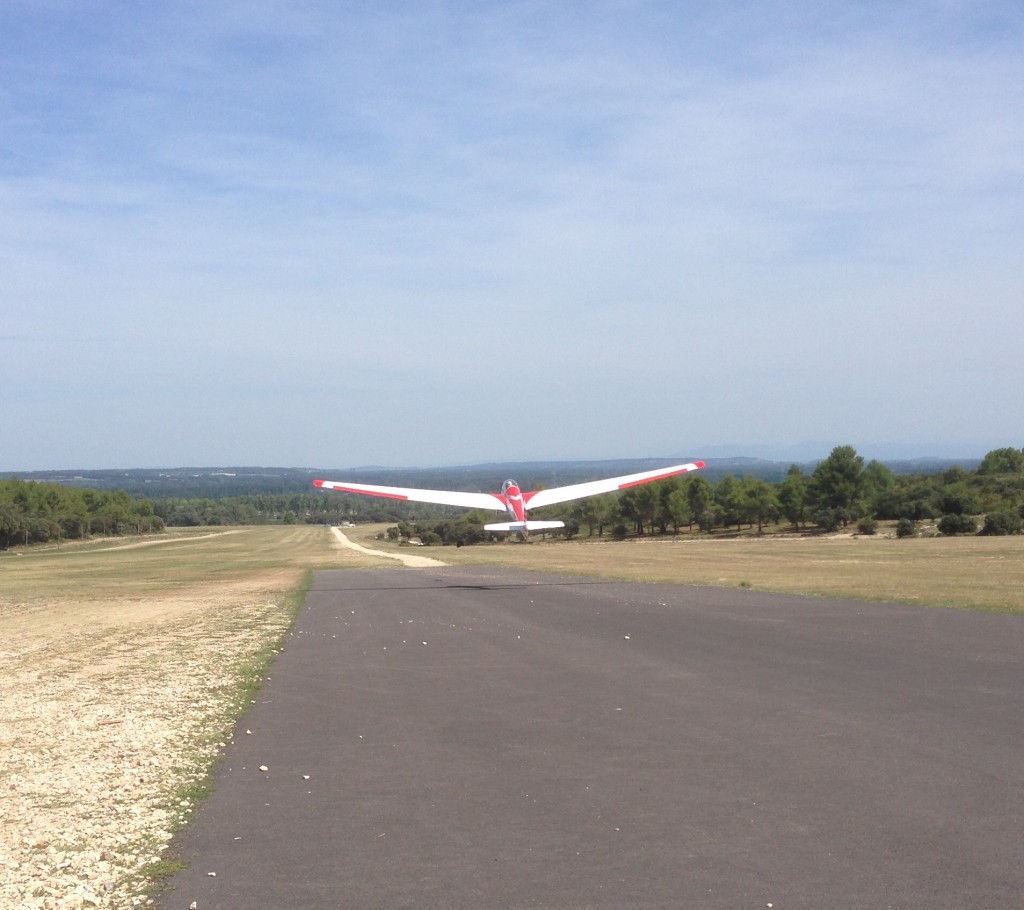 On September 9th of 2015, Ginger successfully soloed a fixed wing glider in France. Some of you will question what makes this so powerful. The language of aviation globally is English, however in parts of rural France, the spoken word at the airport is French. As a result, the instructors, and most of the people at the flying club spoke French. To be able to fly solo, Ginger needed to prove his proficiency in couple of critical areas to the chief pilot. Firstly, that he was a competent pilot, but also that he could understand all the French radio communication.
Not a small task for an Anglophone from Western Canada!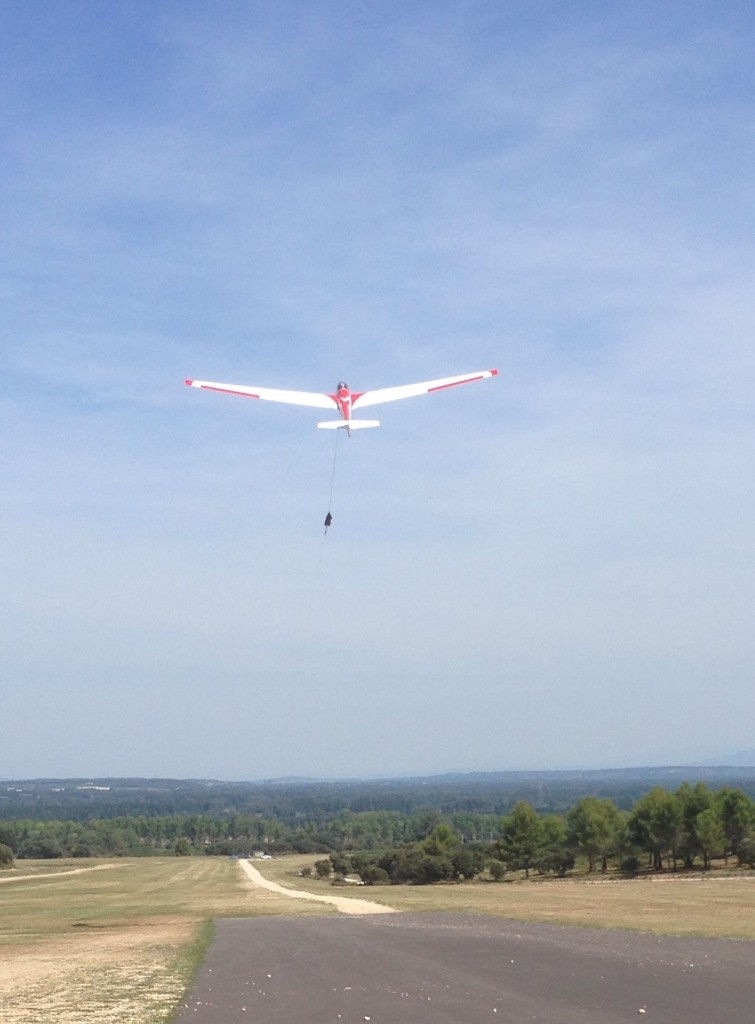 The birthplace of modern-day gliding was Germany, and in 1927 the Alexander Schleicher GmbH & Co., was founded, making it the oldest sailplane manufacturer in the world. The Schleicher Company under the tutelage of designer, Rudolf Kaiser, created ASK 13. The ASK 13 is one of the most versatile training gliders in which to learn the fundamentals of soaring. The ASK13 is a combination of steel tubing and wooden stringers covered by fabric. First manufactured in 1966 over 700 planes were built. Its wingspan is 52 feet (or 16m), with a glide ratio of 27 meaning that for each meter of vertical flight, the glider will travel 27 meters horizontally. It is rugged, durable and the model Ginger used for training.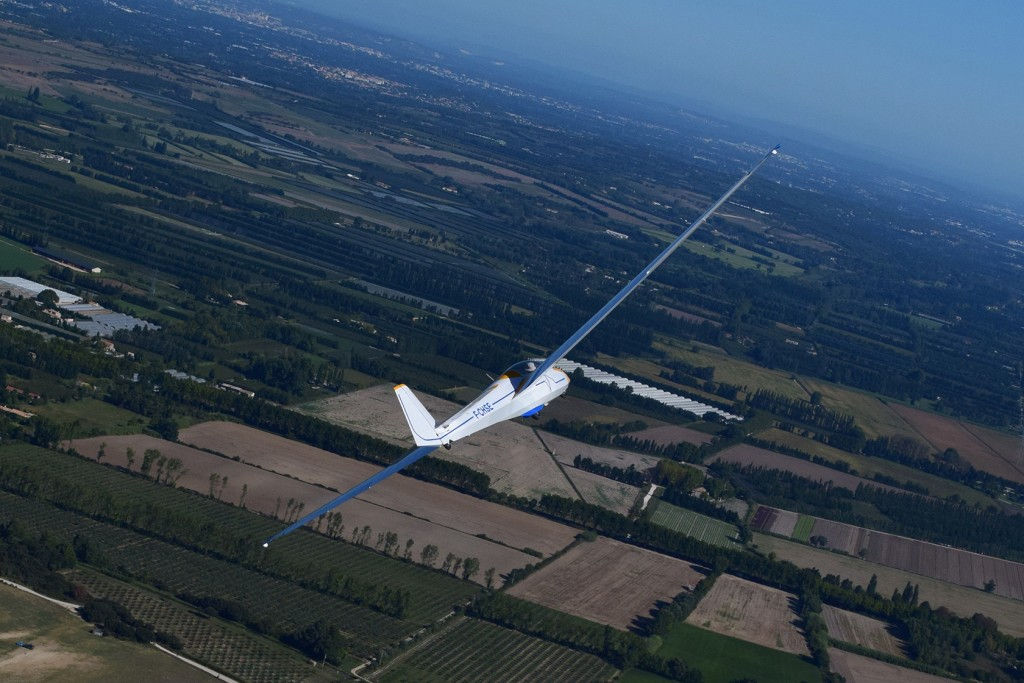 Instrumentation on a glider is extremely basic. An altimeter, to check your height, an airspeed indicator, to make sure you have the correct maneuvering speeds, a variometer to ascertain the rate of climb or descent, a radio to let people know where you are and a compass to give you an idea of direction of flight. However, the most important instrument is a tiny piece of yarn attached to the windscreen, determining if the glider is in coordinated flight. If the string is vertical on the horizon, it means that the pilot has input the correct amount of rudder with his feet and balanced the appropriate amount of aileron with the stick. This little piece of yarn does not lie, if positioned correctly, you are sure to improve your stick and rudder skills as a pilot. Once mastered, the glider becomes harmonic, effectively balanced upon the air.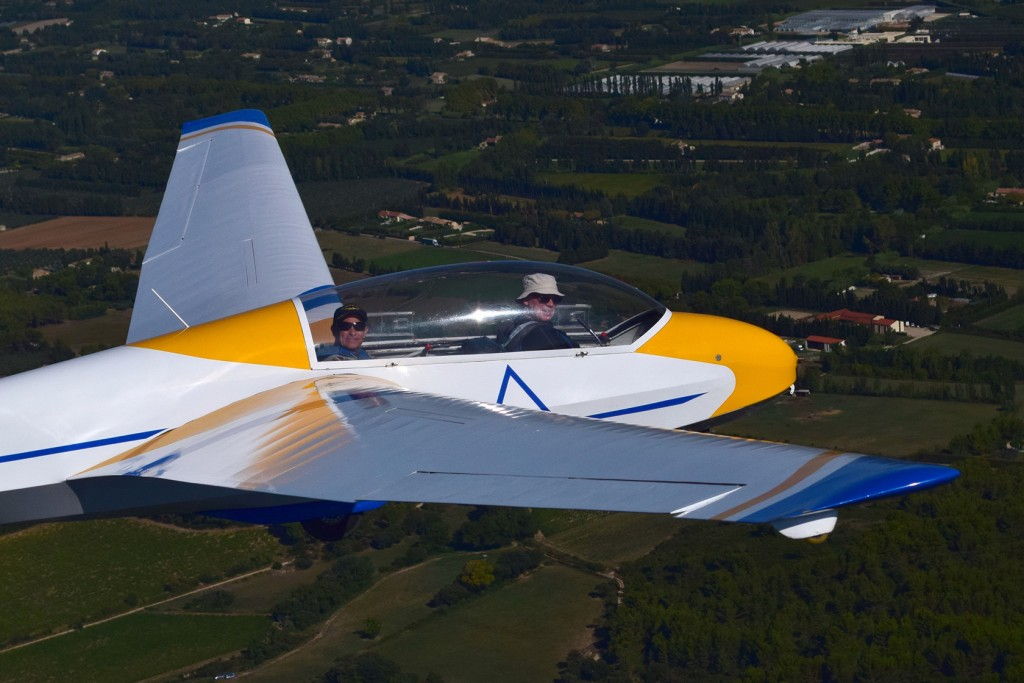 In the idyllic playground of les Alpilles, Ginger stumbled upon utopia for the sport of soaring. This is a location where there is an amazing confluence of meteorological elements come together to ensure near perfect gliding conditions. The Romanin airport benefits from North to South winds, and natural geological features that include an awesome ridge line. If one day is no good, wait a day and the winds will be perfect to lift you for what seems like an eternity. In fact, before the imposition of regulations preventing longevity of flight records, the longest flight for a two-person glider out of the aerodrome at Romanin, in Saint Remy de Provence was over 57 hours!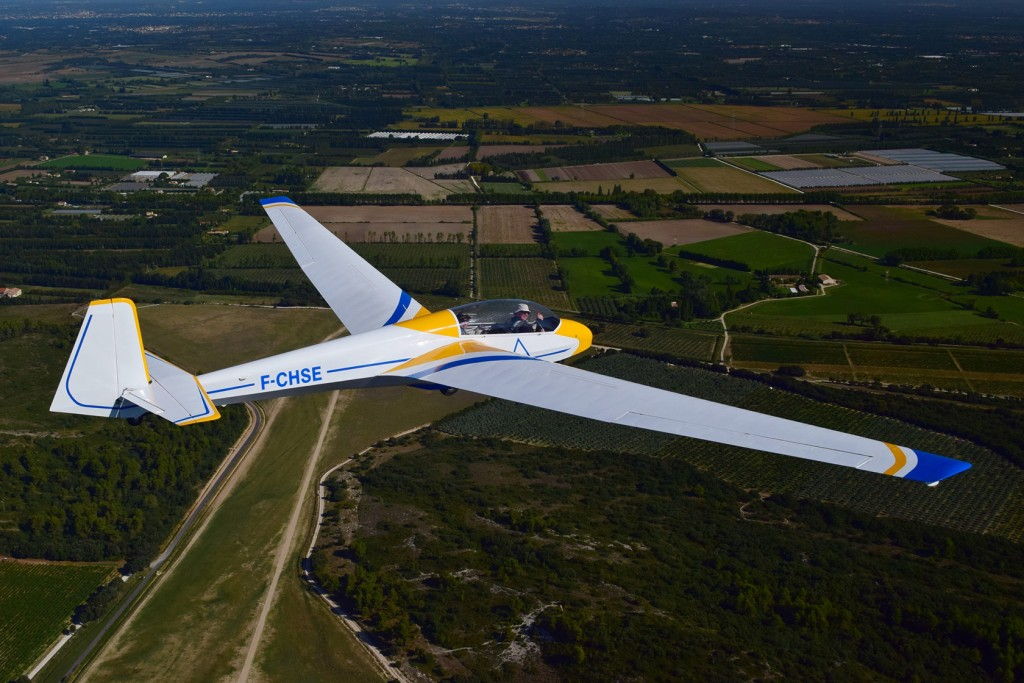 One of the unique weather phenomenon particularly found in the south of France are the Mistral winds, and these prove particularly useful for gliding. Mistrals occur as a result of the warm Sirocco winds from North Africa crossing the Mediterranean and are pushed up northwards towards the Alps near Mt Blanc, where they encounter the south winds from northern Europe, at which point these winds start to circle back towards the Med, picking up steam as they go. The Mistral can be your friend, but it can also be your enemy, they can blow for days on end at speeds of 100km/hr. Flying is not possible in these conditions, and these winds have been said to cause some people to go insane. It may not be surprising that Vincent Van Gogh spent time in a hospital in Saint Remy de Provence, where he cut his ear off. Could this action have been caused by these winds?
The first time Ginger and Nutmeg rode their bicycles past the airport at Mazet de Romanin, G was enthralled with this new opportunity for flight. A kilometer-long steel cable attached to a tractor with a winch spool to a glider. Once the old tractor revs its engine, and the cable becomes taunt the glider is catapulted into the air. The first 60-meters of flight seem normal, but after that the glider springs into the air at a 45-degree angle, at 110km/hr — an example of non-powered flight being taken to new extremes.  At the apex of the lift, about 400 meters, the aircraft automatically releases from the cable and escapes the bonds of the earth unto its own devices. Within a minute of takeoff, the pilot makes a slight left turn towards the mountains of les Alpilles, in hopes of establishing more lift to take the glider higher.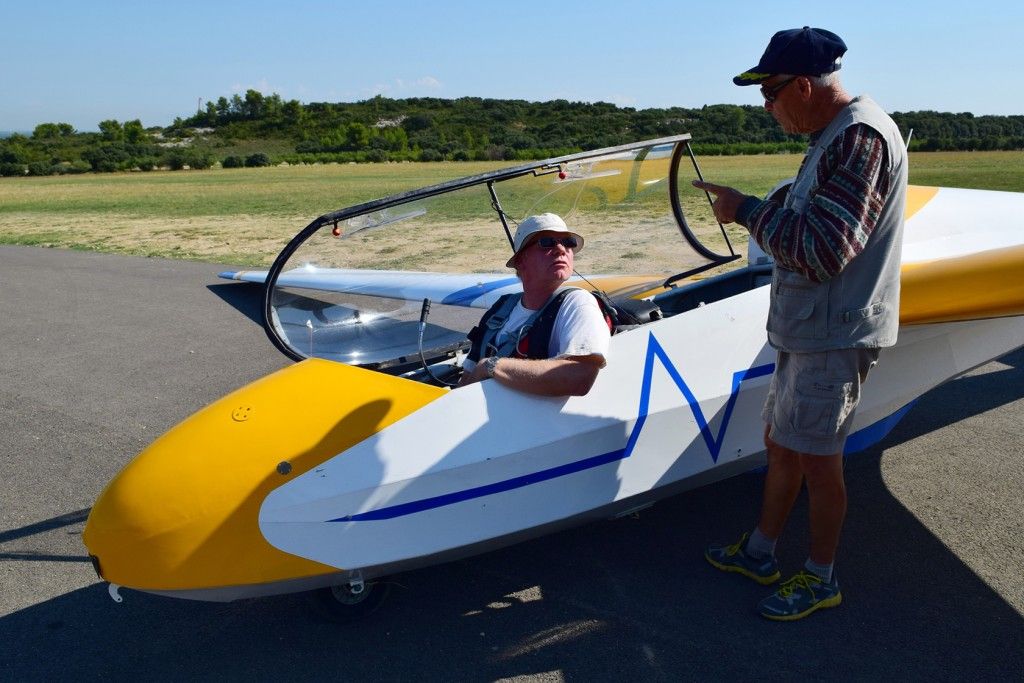 On September 9th, due to light winds, Ginger's flight consisted of heading towards the Alpilles ridge and then making a quick right turn back into the circuit for landing.
Landing is not something that you have the option of doing twice. With no engine, and power to pull you out of trouble, landing is a critical part of the flight. G set up for a downwind, placing the runway in perfect sight, making sure to adjust properly for that days' winds and not being too high for final. Turning final, with the nose at the optimal angle, speed should be at least 90km/hr, air brakes should be slightly out. It is best to set your trajectory and not change it, but if you are too high – more air brakes, too low – less air-brakes. Gently nurse the aircraft to just above the ground, pull back slightly on the stick, and center wheel touches softly. Let the glider run out, and hopefully position in near the other gliders, waiting in line to take off. Ginger's instructor, Guy Schaeffer, has over 15,000 hours of flight time so he can critically observe a good flight. Ginger unstrapped the seat belt and parachute harness, exited the glider, and raised his hands in the air in delight.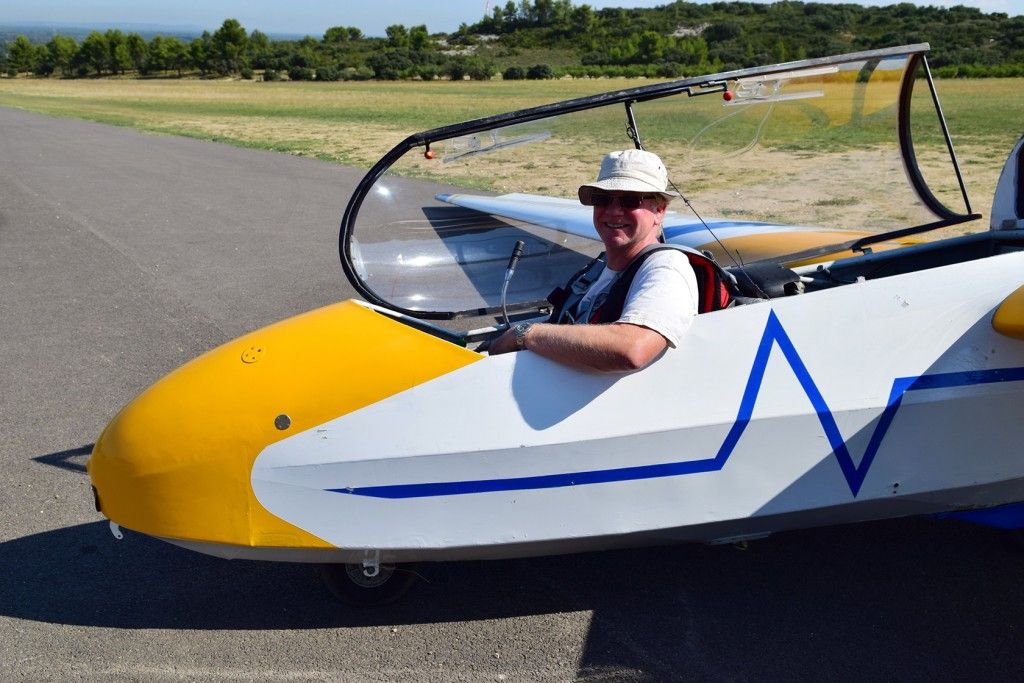 Guy smiled, would you like to go again? Silly question. Next year, Ginger plans to repeat the process as many times as Nutmeg will allow.
Do you want to experience the joy of flying like an eagle?
To learn more about gliding in St Remy check out Aeroclub Alpilles. If you don't wish to get a license, experienced instructors will take passengers out for a thrill of a lifetime, anytime you are willing to get your nerve up for some new found FUN!
Image Credits: Photos #3-7 were provided by and published with approval from Alex Martinez
Food Travel Tags:
Aeroclub Alpilles, aerodrome, Alpilles, Gliding, Mazet de Romanin, St Remy