Nutmeg has long held a fascination for street art and its covert, daring, brash, temporary, loud, in-your-face style of self-expression. So far removed from stuffy galleries and permanent, curated collections. Nutmeg compiled an ABC list of street art terms in order understand this open-air pursuit, and top places for viewing around the world.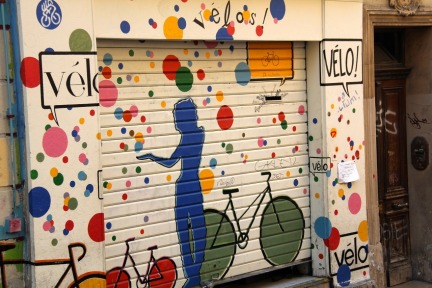 Aerosol wielding "punks" painting slogans in unexpected places is often a stereotypical image for this art form.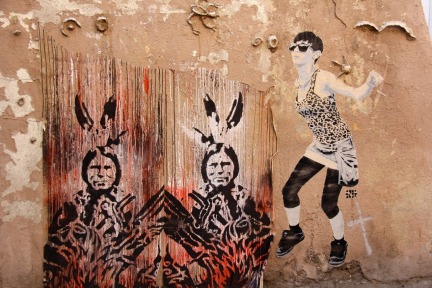 Berlin Wall once stood as a barrier between East and West Germany from 1961 to 1989. A 1.3km section remains festooned by the contributions of hundreds of artists you can see photos here. Restoration work is currently underway to maintain the long-term viability of this canvas.
Canada Post's iconic red mailboxes were so often the targets of street artists that the company began a defeat graffiti program. Starting in 2010, letterboxes are now "dressed" in postal code decals.
Defacing public and private property is a frequent argument. Is it a criminal act or a form of creative communication? The debate continues.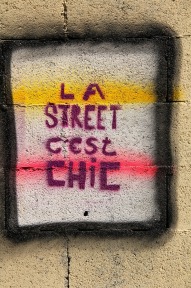 Exit Through the Gift Shop: A Banksy Film is the award winning documentary by street artist Banksy. A depiction of street art through the eyes of a retail shop owners turned artist by night.
Famous artists who started their careers in "public" spaces include René Moncada – I AM THE BEST ARTIST (IABTBA), Mirko Reisser (DAIM) and a long list of others here.
Graffiti Alley in Toronto runs westward from Spadina Avenue to Portland Street for almost a kilometer and is often seen in Rick Mercer's rants. You can even take a guided tour with the Tour Guys. Thanks to Jason from the Tour Guys for the photo below.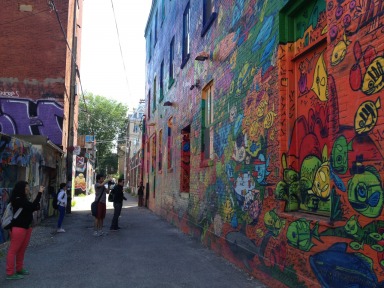 Haring, Keith was born in Reading, Pennsylvania, but it was under the lights of New York City where his art flourished. His craft ranged from white chalk "subway drawings" to designs for Swatch watches, a mural for the 100th anniversary of the Statue of Liberty and much more before his early death.
Inspiring neighbourhoods one wall at a time is the StreetARToronto or StART motto where Toronto City Council has embraced street art in the community-based programs.
Jurisdictions legal definitions vary as some view street art as a crime where others view it as an art form.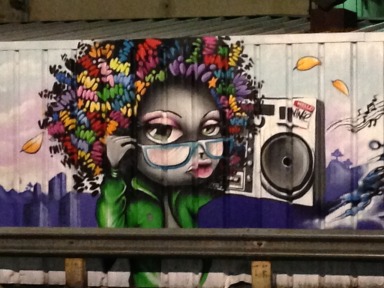 Kilroy was here. The exact origins and timing of this simplistic line drawing and phrase are uncertain. Did the doodle stem from from World War II US service bases? Or was he a 'relative' of a UK Mr. Chad or Australian Foo was here? Was he a real person? "The mischievous face and the phrase became a national joke," according to author Charles Panati.
Lock-on Art refers to sculptures that are often welded using scrap metal and then chained or padlocked to a permanent (or semi-permanent) structure such as a streetlamp, bridge, post, tree etc.
Mural Arts Program in Philadelphia with over 3000 murals has celebrated more than 30 years with this goal "to create art that transforms public spaces and individual lives."
New York City is considered one of the top street art cities in the world.
Open-air displays define the unlimited potential of the street art movement.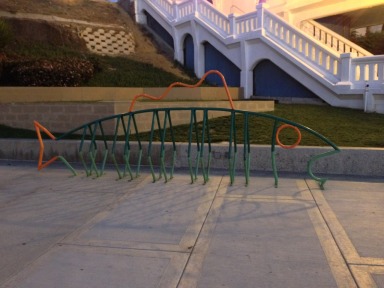 Pop Up Art appears in unexpected places for a short period of time. Based around a chosen theme people are invited to bring objects related to the topic to incite discussion. And then it is gone. The Santa Cruz Museum of Art & History (MAH) has a whole section of their website dedicated to pop up art. See the video here.
Quick Dry Glue – Wheat paste is liquid glue made from a combination of wheat flour and water. This ancient binding technique was used for bookbinding, papier-mâché and other crafts. The adhesive is cheap to make and difficult to remove once it dries which makes it an attractive technique for street artists. The popularity of wheat pasting has grown into a broader "canvas" for quick messaging, from an inexpensive way to distribute promotional London music band posters. There are even recipes on the Internet for the perfect wheat paste mixture.
Red Bull Street Art View is a website developed using Google Street View to showcase street art around the world.
Street Art is a catchall term for colourful, visually arresting, often unsanctioned, artistic-expression in outdoor public locations. San Paulo, Brazil is often considered a mecca for the talented and the daring, where pichaçãos — the artist's tags (signatures) — are found in particularly high places.
Trains have often been used as canvases.
Urban Art creates the vibe of a city. Where bronze and plaster cast statues of historical times may have set the cultural tone now major municipalities have public art budgets and committees.
Video Production with readily available hardware and software street artists are able to develop arresting displays that can be projected onto city buildings such as this one by French company Groupe F.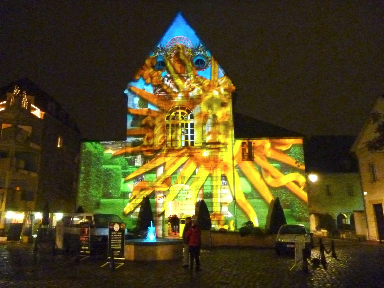 Wooster Collective – Named after a street in Soho, New York City — "The Wooster Collective was founded in 2001. This site is dedicated to showcasing and celebrating ephemeral art placed on streets in cities around the world."
X-COLOR was a large-scale exhibit in Japan showcasing domestic, street art and culture.
Yarn Bombing is sometimes referred to as a more feminine form of street art although; it is not a trade exclusive to females. Semi-permanent installations of brightly knitted, crocheted or quilted "covers" appear on trees, statues and in other public places.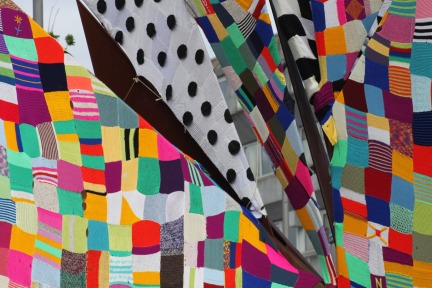 Zzz often street art is created under cover of darkness.
Here are some other street art photos from G&N travels.
Food Travel Tags:
Street Art, Top Cities for Street Art, Travel