There are many reasons to complain about the SNCF (French national railways) including their frequent schedule delays. However, when the system works you board the TGV (Train à Grande Vitesse) in Avignon and arrive 2.5 hours later on the platform at Paris Gare de Lyon – génial (brilliant)!
Ginger and Nutmeg were in Paris for a quick visit, a weekend of "hanging-out". As often happens, Ginger was simply happy to be there, and Nutmeg had a plan. They were going to stroll (flâner) the city and do a foodie tour along the way.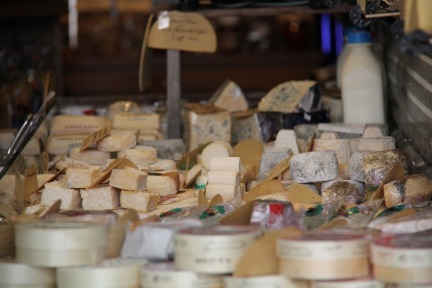 The food tour began at La Maison Angelina, Nutmeg had arranged to meet a friend on Rue Rivoi for a late afternoon tea. This iconic restaurant and café first opened its doors in 1903,
The tea room decor is aristocratic Renaissance in flavour, the walls are adorned with gilded mirrors and the high coved ceiling frames by ornate trim work. Seating options will remind you of dining with your grandmother – small marble-topped café tables for intimate tête-à-têtes and larger tables with starched white linens.
La Maison Angelina has several locations around the globe, and there is an online shop, but to visit the Paris location is a must if you are a foodie with a sweet tooth. The cafe is frequented by both tourists and Pariseans, so you should expect a line, but don't be put off by the queue it moves quickly.
While you wait, spend the time wisely by choosing your decadent treat from the display of mouth-watering pâtisseries. The counter is filled with macarons of in a selection of colour and flavour combinations, traditional millefeuille and cream filled éclairs, a rainbow of fruit tarts and an array of chocolate truffles.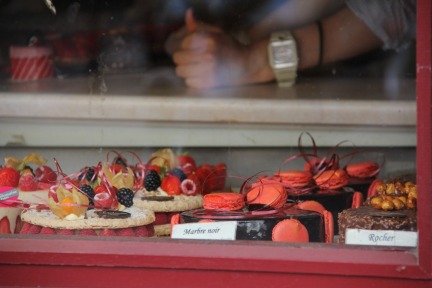 Saturday dawned a sunny June day, pleasant enough for the stroll that Nutmeg had in mind. First up was a coffee shop, one that she had read about called Kooka Boora. Located in Pigalle, this café occupies a strategic corner spot allowing for tables on two streets. They serve excellent coffee and a tempting medley of sandwiches and sweet treats. Nutmeg could not resist a slice of their banana bread. When in Paris? 🙂
A stroll down Rue des Martyrs should be a prerequisite for food lovers. This charming street is filled with inviting cafés, fromageries, boucheries, boulangeries and épiceries line both sides of this small stretch of the quartier. The Rose Bakery (46 Rue des Martyrs) is easy to miss if you are busy gawking at the rest of the options along the road. Take a peek inside this cozy bakery, it will be hard to tear your eyes away from the tempting sweet and savoury treats. The Rose Bakery display counter is laden with buttery pastry, tartines of tomatoes, olives and goat cheese, spinach and red pepper quiche, glazed strawberry tarts and other temptations of the day – practically impossible to forgo.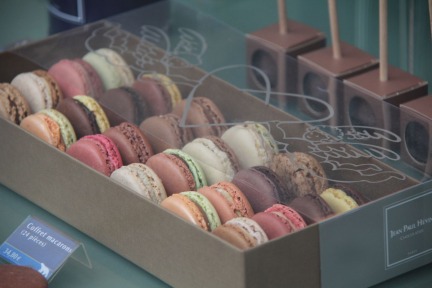 Fortified with a java hit, the next stop was the Père Lachaise Cemetery a long walk, but plenty to see on the way. Père Lachaise opened in 1804 it is the largest in Paris and "home" to many famous dead, including Jim Morrison, Chopin, Jean Moulin, and Édith Piaf. Details on the cemetery are available here including a PDF map. There are many guiding companies offer a tour of this famous cemetery, or you can choose to stroll through the shaded alleys at your own pace.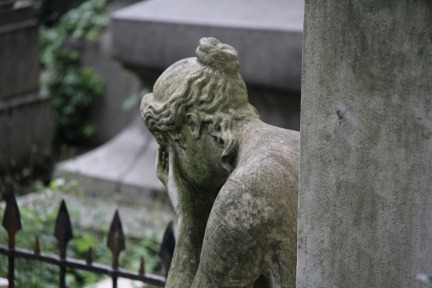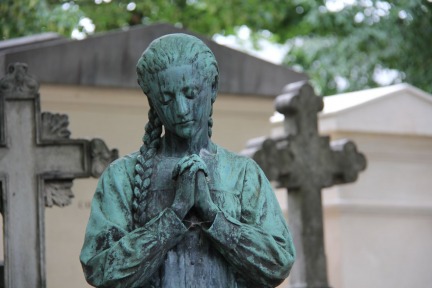 After the long walk and a cemetery tour, Nutmeg suggested a cab ride to La Grand Épicerie that is the food "heaven" associated with Le Bon Marché department store, which first opened in 1852. Both stores are part of the LVMH group, and it is easy to see the focus on luxury shopping in the La Grande Èpicerie; this Paris "temple" of nourishment is certainly comparable to Harrods' Food Hall in London.
Arriving daily from every corner of the globe are specialty foodstuffs and ingredients of exceptional quality. There is an enormous prepared food section. The only issue is how to choose between a fresh tabouli salad or tempura shrimp or scallop ceviche on a bed of shredded carrots and fennel…buy it all! It was 15:00h and the twosome were starving, needless to say they indulged.
Post lunch, they strolled through trendy St-Germain-des-Prés and St Michel, to Île St Louis. Ginger was after some ice cream from Berthillon, founded in 1954 by Raymond Berthillon this store still get top marks as some of the the best ice cream in the city. That – is a tall claim in a city and country where food is religion. Ginger did not rate his frozen treat anything more than a 6/10, however, the elbows-out, scrum at the cash was worth the visit.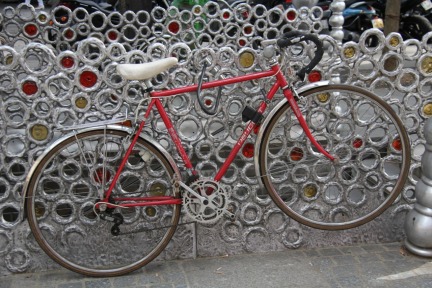 Sunday morning the sky lightened slightly, overcast and drizzling. Not to worry they only had a few hours and Rue Cler was not far away. This charming pedestrian-only stretch is lined with food purveyors of every description. The bakery doors swing open at the corner Boulangerie Pâtisserie, circulating tempting fresh-baked-buttery aromas into the air. Multicoloured fruit and vegetables are stacked so perfectly at Top Halles that they appear to be painted in place. A market street, Rue Cler is the place where you are certain to see Pariseans shopping for their Sunday lunch.
Ginger and Nutmeg enjoyed two quick cafés and perfect French omelettes at Café du Maché, it was time to catch the TGV back home, their epicurean tour of Paris complete.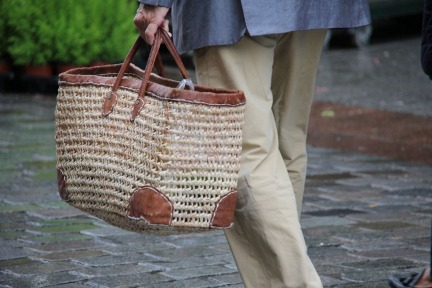 More Paris photos here if you did not get enough.
Download the GPS guided app here.
Food Travel Tags:
Coffee, Food in France, Markets, Paris, Travel to Paris