As Nutmeg stood in front of a crayon-coloured mound of dirt, clay and straw she thought what would Antoni Gaudí i Cornet (Gaudi) have thought of this? The "summit" of Salvation Mountain stands almost 45-feet high, a mass that is easily recognisable in the otherwise pancake-flat California desert.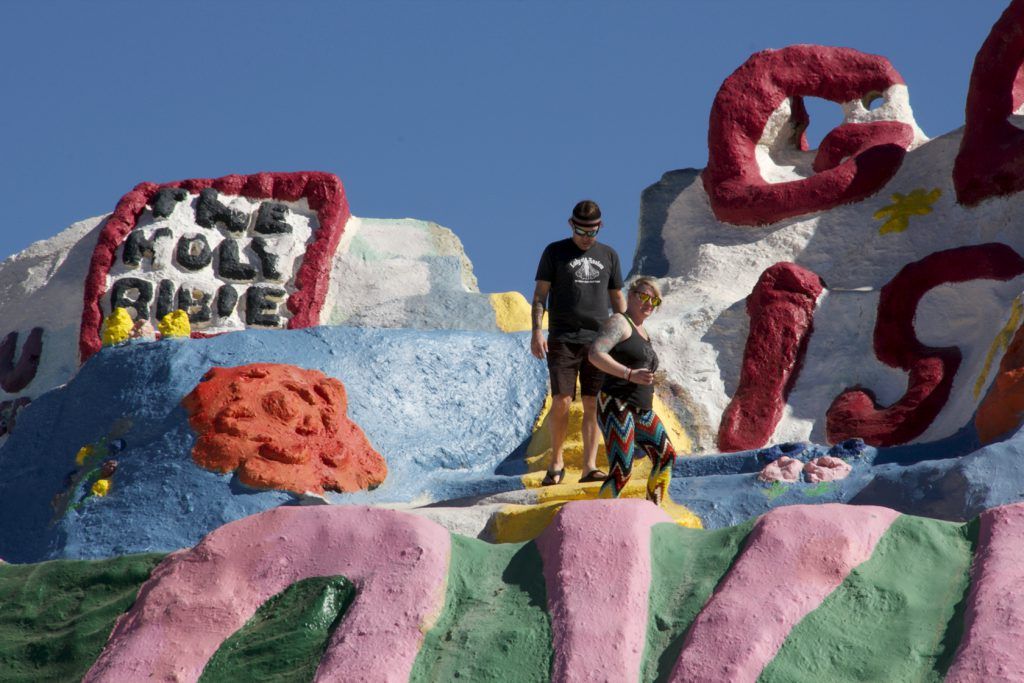 This semi-permeant hill is, in fact, the second iteration of Salvation Mountain, the first version collapsed. Creator Leonard Knight took that event as a sign that his initial construction methodology (concrete, junk scraps, sand and paint) was flawed. He recommenced the project, this time, using more traditional and time-tested materials that the Adobe Indians have used for centuries – earth, straw and organic matter. You can read more about Adobe construction here.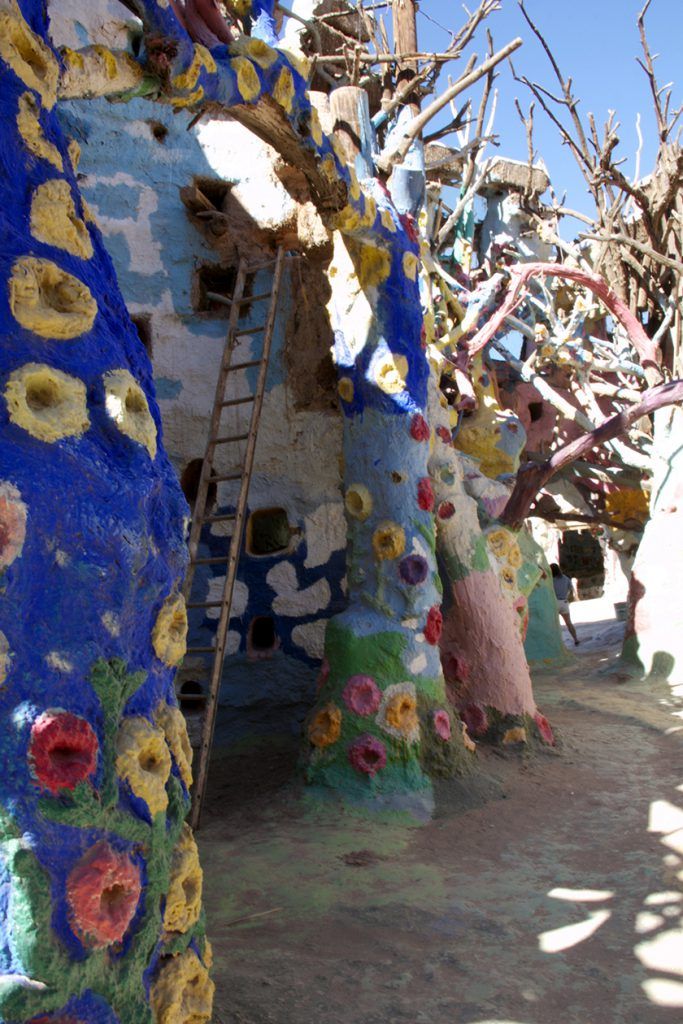 It is not the height of this Gaudi-esque, semi-permeant mound that attracts the curious; it is the magnetic attraction to the "Alice in Wonderland" tableau. The "canvas" in this case, is the structure erected by sweat labour and camouflaged by thousands of gallons of donated acrylic paint (estimated at over 100,000 cans). Multihued and covered in religious messages – Salvation Mountain is impossible to miss and should not be. For more about Leonard Knight's Salvation Mountain click here.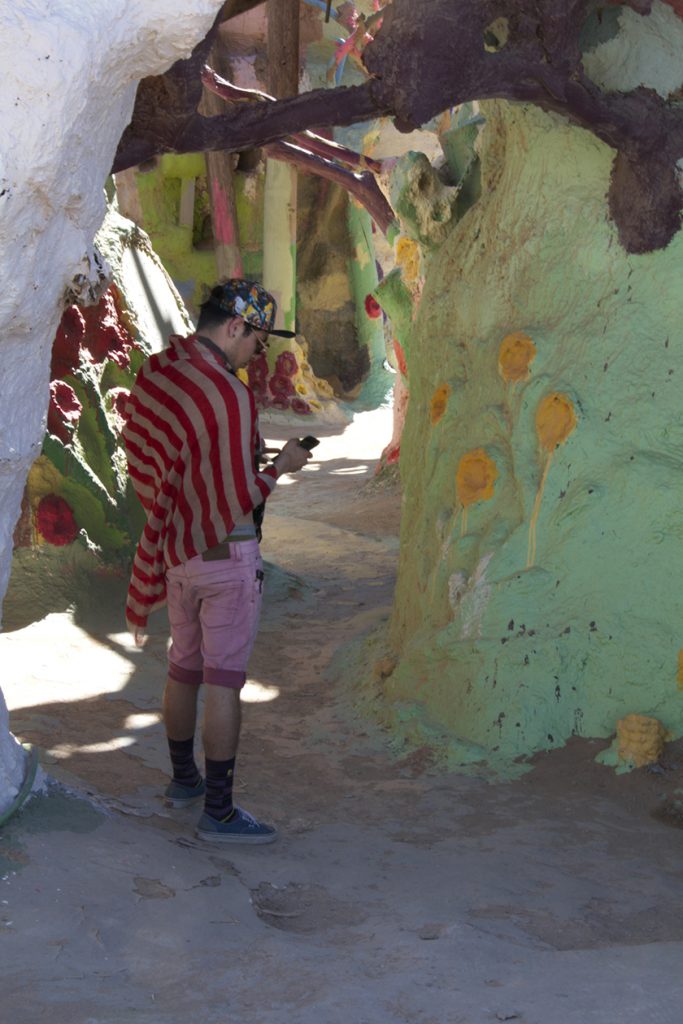 Note: when you go take some paint to donate. G&N forgot!
Maybe the blinding light and monotone sandy desert is why Salvation Mountain was conceived in the first place. After marvelling at the dedication, it took to undertake a mountain-sized "papier-mâché" mound in the heart of the California desert it is time to move down the road to Slab City.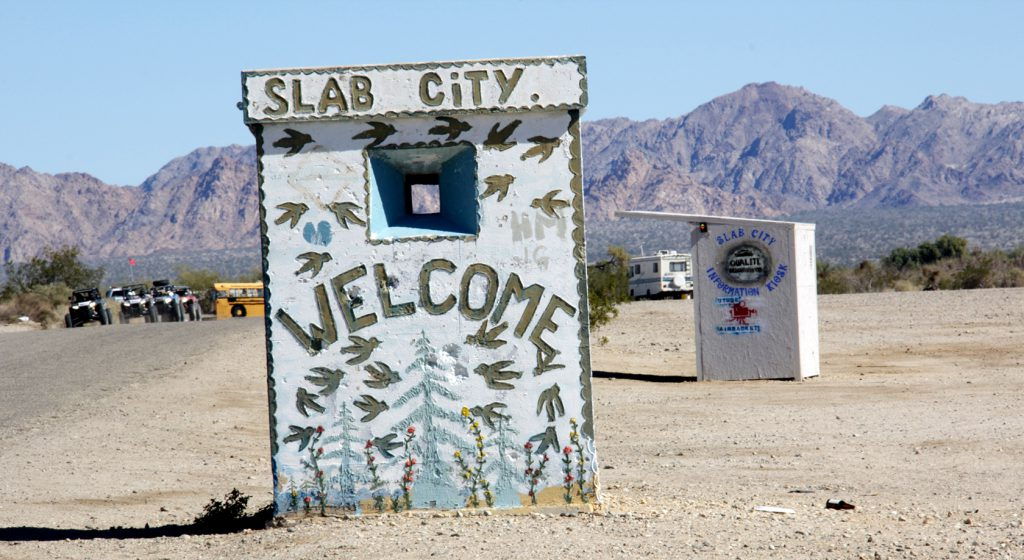 Slab City is a long way from Palm Springs both literally and figuratively.
Residents of Slab City call themselves the "Slabs," which might provide some insight into the hardy snowbirds who choose to spend their winters in this stark Imperial Valley landscape. This squatter's settlement has up-cycled the remaining of concrete slabs from a former WWII Marine training camp to use as the foundations for houses, RV parking and a few shared public facilities.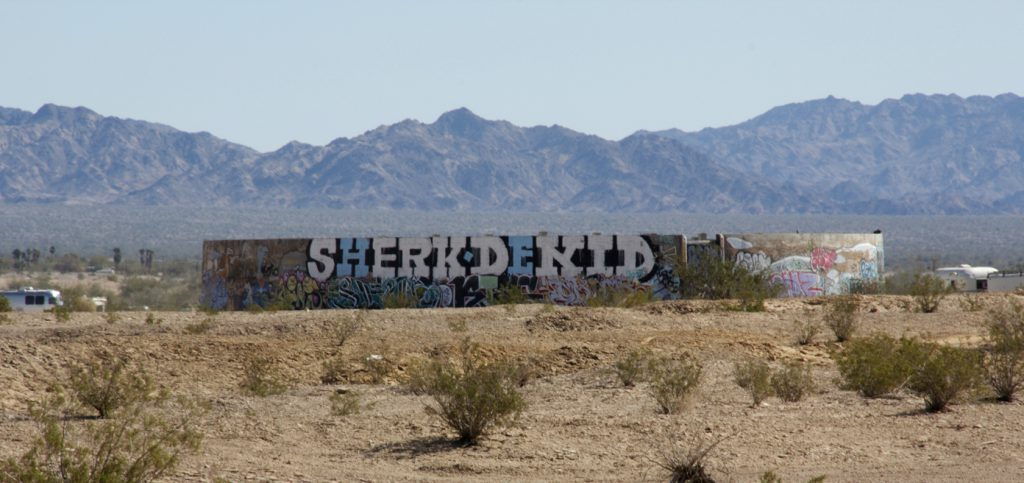 Slab City has no running water, limited electricity (via solar generation) and no garbage pick-up. This lack of facilities appears to attract a collection of snowbirds, looking for a bit of adventure. However, it is the permanent residents (approximately 150) who live off the grid all year who might just define "true grit."
For more on Slab City read KPBS News "Will Slab City Remain The Last Free Place In America?"
Whatever the motivation is living under the desert sun, even in February, is blinding.
Food Travel Tags:
California, Desert, Gaudí, Leonard Knight, Salvation Mountain, Slab City