Have you ever had an interview, and after an hour they have tested your ability to answer probing questions like:
Describe a situation when you had to report bad news to a client  (So sorry, too bad so sad…)
Why are you the right candidate for the job? (Don't you know who I am?)
What are your weaknesses?  (Like I am really going to tell you…)
Describe your greatest accomplishment and why it is significant (Getting paid)
Then out of left field they throw in the wild card question, you know the interview is almost over at this point. What fruit would you use to describe you and why?  Nutmeg was able to answer that one without hesitation.  Without a doubt, her answer is the mango, it grows in warm, frost-free climates, it has a unique flavor, very sweet when ripe and it is widely used in tropical and Asian cuisine.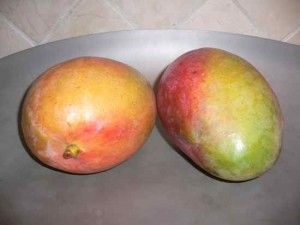 There are many kinds of mangoes and the growing season varies around the globe.  In May and June, the North American grocery stores are filled with produce from Mexico including the Champagne or Ataulfo variety.  The Alphonso, which grows in India, is considered the global premium variety.  The total world-wide production of mangoes is 33 million tons, India produces almost 50% at 13 million tons, followed by China then Mexico.
Mangoes are a great source of Vitamins A, C and E, although you should not eat the peel it contains urushiol, the same chemical as poison ivy. The best way to eat a mango is to cut out the juicy fruit and enjoy.  Other options are of course smoothies, salsa, gelato, belininis etc.. One of Nutmeg's absolute favourite recipies is actually green mangoes salad here is the recipe:

Green Mango Salad
Ginger and Nutmeg had this salad many times in Vietnam, it is also considered a Thai salad. It really does not matter, it is a delicious summer salad. This salad is not hard to make but does require some chopping. A few notes: A bottle of Fish sauce will last a lifetime You can play with the level of "heat" to your taste You can use green papaya instead of mango Instead of chopped peanuts you can use cashews.


Ingredients
2 Green (not ripe) Mangoes, peeled and julienned
2 Small Carrots, julienned
1 Cup Bean Sprouts, washed
1 - 2 Teaspoons (to your taste) Hot Chilies, crushed
2 Green Onions, chopped
2 Tablespoons Cilantro, chopped
2 Tablespoons Mint, chopped
2 Tablespoons Thai Basil, chopped (or regular basil)
1 Tablespoon Fish Sauce
1 Tablespoon Fresh Lime Juice
1 Tablespoon Palm Sugar
Instructions
Mix the mango, carrot, bean sprouts, chili, green onion, cilantro, mint, basil in a large bowl
Mix fish sauce, lime juice and sugar in a small bowl
Toss the salad with the dressing and serve garnished with the nuts
Enjoy!
SIDE NOTE:  Nutmeg did not get the job so you may want to prepare a better answer for your next interview.
Food Travel Tags:
food info, Green Mango Salad Recipe, Healthy Asian Recipes, Healthy Salads