Due to a wedding cancellation only few days before the event, a lucky group of foodies received an email invitation, to participate in a rare Saturday morning cooking class. La Petite Maison de Cucuron is the successful restaurant run by chef Eric Sapet and his lovely wife. They offer a top quality seasonal menu and limited cooking classes.
The restaurant has been open since 2007 in the charming medieval village of Cucuron, in the Luberon. The Luberon is filled with one delightful village after another so it is difficult to choose a favourite. Cucuron although small, it is unique among the hamlets, as it has a truly distinctive shaded main square with a large water feature l'etang or pond.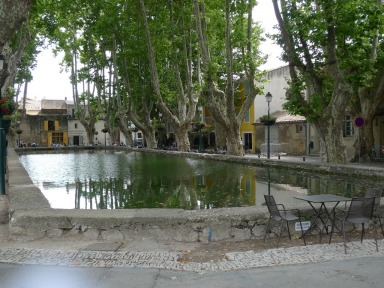 Eric Sapet is a chef with a fabulous reputation. He worked in Paris at top ranked Michelin star restaurants including La Tour D'Argent. As he moved south, he continued to build his CV at Relais et Châteaux properties and other highly regarded establishments. The opportunity to run his own restaurant in a former Cucuron bar/cafe has allowed Eric to follow his passion for local, high quality ingredients and excellent wines.
Nutmeg could not resist! Finally, an opportunity to participate in one of his cooking classes, which are generally sold-out. The best part was the proposed menu was all about tomatoes, Nutmeg's #1 favourite food.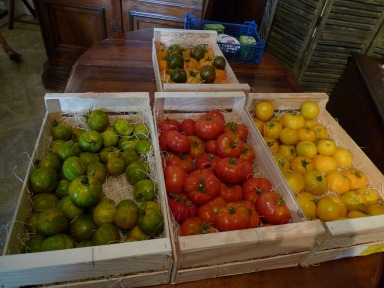 The heirloom tomatoes grown by Bruno Adonis of Lioux were the heart of the menu for the day. The class started at 10am and finished around 12:30pm, so the group could indulge in what had been produced. The menu was as follows:
Smooties aux tomates – literally tomato based smoothies infused with fresh vanilla and cocoa beans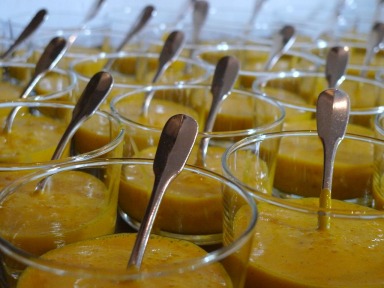 Mosaïque de tomates multicolores et de crème de sardine – multicoloured tomatoes on a sardine cream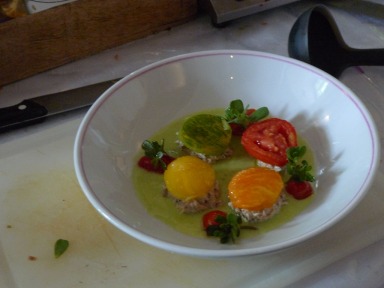 Grosse tranche de tomate laquée au soja garnie d'un effiloché de confit de canard à la pékinoise – a slice of beefsteak tomato lacquered in soy, garnished with a variation on Peking duck and caramelized onions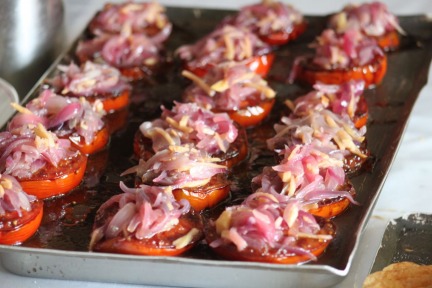 Tarte aux fraises, tomates confites et tapenade d'olives noires – a pastry base with sweet tomatoes, strawberries and fennel tapenade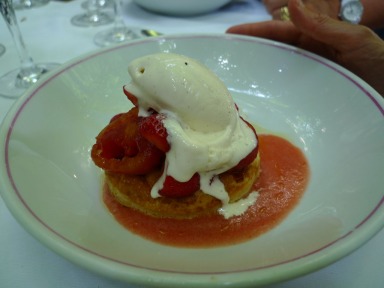 The group enjoyed a protracted lunch on the patio shaded by the plane trees. The meal was fantastic and the wines perfectly paired with the courses. Full and happy Ginger and Nutmeg headed home for a nap.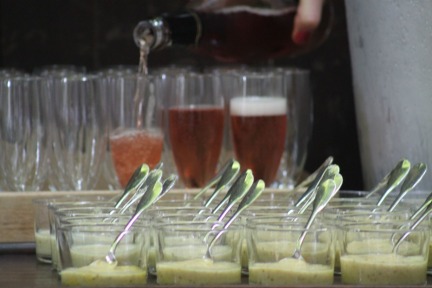 The following is Eric's recipe for the unique and fabulous desert

Tarte aux fraises, tomates confites et tapenade olives noires
Prep time:
Cook time:
Total time:
Eric Sapet is a master, the mixture of these ingredients is certainly not common but the result is excellent. This dessert does have several components but in the end it is not complicated. The mixture of ingredients may seem strange but the result is sublime. Our dish was garnished with vanilla ice cream, which is optional but certainly did not take away from the lovely result.


Ingredients
1 Package Filo pastry or Pate Feuilletee
½ Cup (100g) Melted Butter
¾ Cup (150g) White Sugar
6 Medium Tomatoes, Italian Romas work well
4 Cups (1 Litre) Water
2 Whole Fennel bulbs, chopped
¼ Cup (50g) Olive Oil
⅓ Cup (75g) Black Olive Tapenade
1 Basket Strawberries
½ Teaspoon Salt
Instructions
To make Tomatoes:
Start with the tomatoes, wash and cut in slices of roughly equal sizes
Remove the seeds from the tomato slices
Heat the water with ¼ cup of sugar, the sugar should be dissolved and the water hot but not boiling
Place the tomatoes in the water and cook for a minute
Remove from the water and then return the tomatoes to the water
Repeat twice more (the tomatoes should be bathed three times)
To make the Pastry:

Take one sheet of filo at a time, butter lightly with melted butter, sprinkle with sugar and lightly salt
Place each sheet on top of the last one until you have 5 sheets
Cut 6 circles of approximately 8cm (3 inches) in diameter
Place on a baking sheet with a cooling rack over the top (allows cooking and each circle will rise equally)
Bake in the oven at 320 degrees (160C) until lightly browned
To make the Tapenade:

Cut the fennel bulbs into small pieces
In a heavy pot cook the fennel pieces in a mixture of water, salt, sugar (1/4 cup) and olive oil, until softened and caramelized
Add the tapenade and mix well
The Presentation:

Wash and cut the strawberries
Use half of the strawberries and blend to create a coulis 17. Take one pastry round per dish, place in the bottom
On top of the pastry place two tomato slices
Top with fennel tapenade
Garnish with strawberries and the coulis
Food Travel Tags:
Cooking classes, Cucuron, Desserts, La Petite Maison, Provence, Tomatoes