What Would the Romans Think?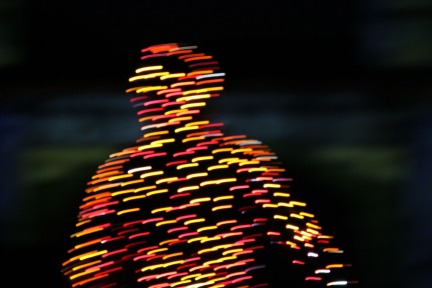 Remarkable Pont du Gard once formed part of the Roman, engineered water conveyance system supplying the inhabitants of Nîmes. Built in the 1st century AD this UNESCO World Heritage site is staggering. Pont du Gard is apparently one of the most frequented tourist sites in France. There is a visitor centre, a well designed and highly informative museum and of course the bridge to see.  For more sporty types, many activities are available at the site, including mountain biking, hiking, kayaking on the Gard River, or just lazing on the shoreline observing the imposing structure. If you want to read more, here is an earlier post here and the official website here.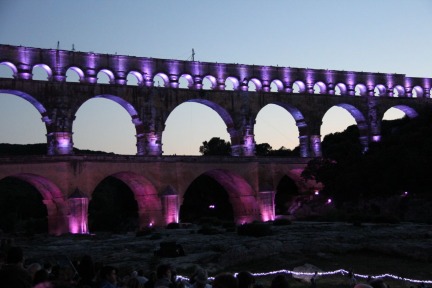 Aside from daytime activities, the property is also used for festive events during summer evenings, like concerts and light shows. Nutmeg read about the 2012 light and laser show called "Les Fééries du Pont" (Fairies of the Bridge), and convinced Ginger it would be worth the hour-long drive.  Tickets in hand, a picnic packed, extra clothing layers and their camera equipment they headed out.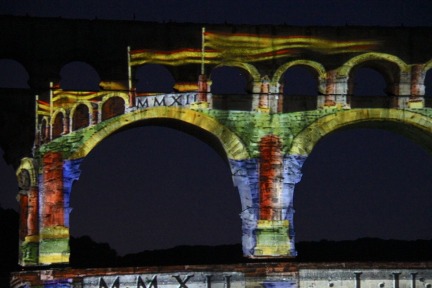 The show was scheduled to begin at 10:30pm allowing the sky to darken sufficiently. The crowd arrived well before the show started to scope out optimum viewing locations and enjoy a French summer picnic.  Ginger and Nutmeg set up their folding stools on a tiny open area (one of the few left) and opened their hamper — a vegetarian meal of Caprese salad, lentil burgers, panisse (like polenta, made with chickpea flour) and some red wine, Ginger was on a diet. Their diner was a weak cousin to mouthwatering spread that their neighbours were sharing, homemade chèvre quiche and olive cake, a variety of cheeses and pâtés, chocolate torte and rose – all rounded with a few cigarettes. 🙁
As 22:30 approached a comic entertained the crowd, and the bridge was doused in a soft purple light. Anticipation grew as the day's warm air chilled. The remnants of dinner were packed away, extra layers were donned and camera equipment readied.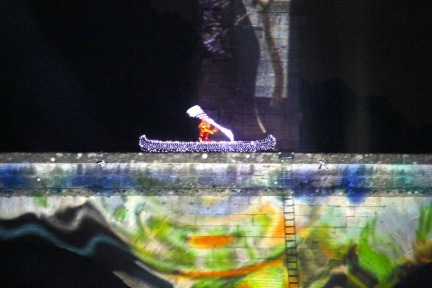 The next hour was filled with music, lasers and pyrotechnical displays. The Pont du Gard conceived as a Roman aqueduct then used as a toll bridge in the middle ages was transformed into a stage. Four separate vignettes transformed the structure into an imaginary river, a line of trees, a village of houses and a pyramid of people. The magical evening was a production of Groupe F, a French company that specializes in pyrotechnical displays.
"The company is internationally renowned for its work which includes the Athens Olympics, the millennium celebrations in Paris and New Year's Eve festivities in London."  – ABC Adelaide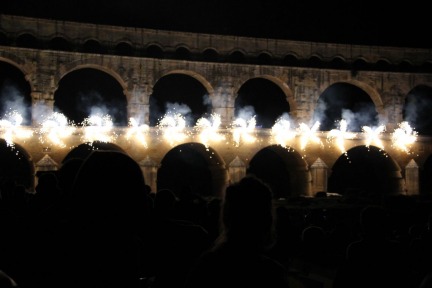 Would the Romans approve?
Nutmeg thinks they would have loved the show. What do you think?
Food Travel Tags:
Groupe F, Light Shows, Pont du Gard, Provence, Travel