Don't let your mother tell you that the Internet is a scary place! Nutmeg has met so many interesting people via Twitter, Facebook and Pinterest that she has decided to start a Guest Blog Thursdays, so they can share their stories. Volia:
Aidan Larson is an American mom of three navigating her way through life in France and writing about it on her blog: Conjugating Irregular Verbs. She writes from her dining room table in the south of France in between motherhood, French lessons and perfecting her oeuf en croute. If you want to read more from Aidan she can be found on her blog site Conjugating Irregular Verbs (letters from my dining table in the south of France).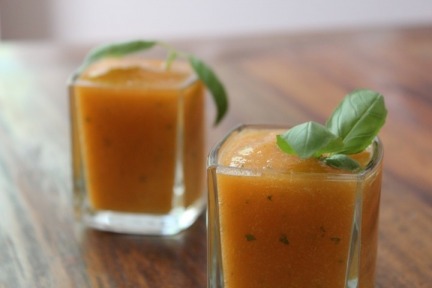 We are smack dab in the middle of summer. It's my favorite season of the year, especially here in the south of France where the produce is tantalizingly displayed at weekly markets all over the region. This is the time of year that could make even the most vegaphobic person fall for a green bean, squash flower or misshapen tomato. Endless possibilities for creating fresh, cool, and perfectly filling summer lunch dishes abound. There really aren't enough Sunday midis to make all the things I want to make. I jot down notes, tear out recipes and plan menus while greedily dreaming of long lunches around the table in the dappled sunshine of the terrace.
When I thought of what I'd like to share with you, the readers of Ginger and Nutmeg's blog, I picked some of my favorite easy summer dishes and made you a typical French Sunday lunch menu. It's something you would be served at any southern French maison during the summer, probably outside under a wisteria laden pergola or rush covered terrace. It would also make a great pique-nique lunch to enjoy under the shade of a plane tree while you wait for the speeding cyclists of the Tour de France to whiz by.
The French love to serve appetizers and desserts in small shot glasses, called verrines. They make for pretty portions and are fun to dip your small teaspoon into. The soup and white chocolate mousse would be perfect served this way rather than family style. You can fill the glasses ahead of time and keep them refrigerated until ready to serve.
Everything can be made ahead so it is an easy menu for entertaining. You can, of course, prepare the tomato and crab tart up to the point of cooking and then put it in the oven while the soup is served, if you want it to be piping hot. If not, it's just as good at room temperature or even refrigerator cold eaten like morning pizza, right out of your hand. (The French would never eat it this way, but what they don't know won't hurt them.)
French Summer Sunday Lunch for 6
Cold Melon Soup with Basil
Tarte à la Tomate with Crab
Summer Cheese Trio
White Chocolate Mousse with Frozen Raspberries
Chilled Rosé for the grown-ups and Water with Mint Syrup for the children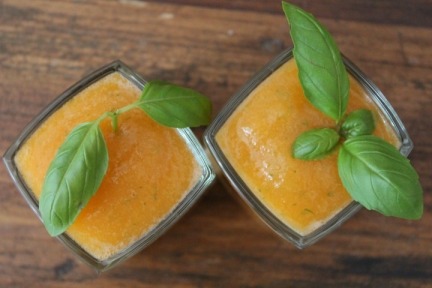 Cold Melon Soup with Basil
Prep time:
Cook time:
Total time:
So simple, so fresh and so summer. A must try recipe.
Ingredients
1 Large Charentais melon or cantaloupe, ripe and perfectly sweet
1 tablespoon Lime juice
6 leaves Fresh basil, plus extra for garnish
1-2 Tablespoons Water, as required
1-2 Tablespoons Extra-Virgin Olive Oil
To Taste Freshly Ground Pepper
Instructions
Cut the melon in half
Remove the seeds and peel
Cutting into rough chunks and place in a glass blender
Add in the lime juice, basil leaves and olive oil
Blitz in the blender until smooth
Pour into shot glasses and chill until ready to serve
Crack over some pepper and a small basil leaf to garnish just before serving.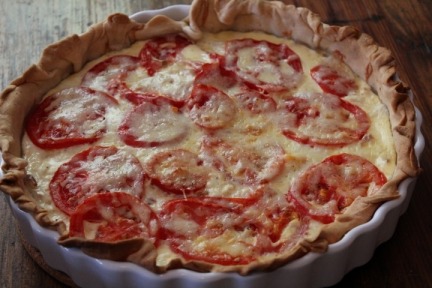 Tarte à la Tomate with Crab
Recipe type:
Main dish - Light Lunch
Prep time:
Cook time:
Total time:
An excellent lunchtime dish and one that impresses your guests every time. Serve it with a simply dressed green salad of lettuce leaves, finely sliced scallions, green and white parts, and a tablespoon of drained capers.
Note: Even if you do not like Dijon do not skip this step it gives a depth of flavor.
Note: You can prepare the tart and leave in the fridge for up to a half hour before cooking. Any longer and your crust will get soggy.
Ingredients
1 Large Tomato choose from the tempting market fresh varieties
1 Small Red onion, finely sliced lengthwise
1-2 Tablespoons Dijon Mustard
½ Cup Cantal entre deux cheese from the Auvergne region of France or an aged white cheddar
170g (6oz) Canned Crabmeat in brine
1 Large Egg, lightly beaten
150ml (3/4 Cup) Light Cream
Instructions
Preheat oven to 180C/350F/GM6
One prepared savoury pastry crust (you can make it if you like but I don't bother
Place the pastry in a tart pan, crimping the top edges
Fork the bottom lightly and spread with a tablespoon or more of the Dijon mustard
Thickly grate over a layer of the cheese to cover the mustard
Meanwhile, slice your red onion and gently cook it in olive oil over a low heat until just soft but not browned
Drain the canned crab
Layer the softened onion and crab over the grated cheese
Slice your tomatoes into small rounds and place in a circular arrangement over the rest
Beat the egg with the cream and pour over the top
Grate over some more cheese to cover and you're done
Bake for 25 minutes in the oven
Summer Cheese Trio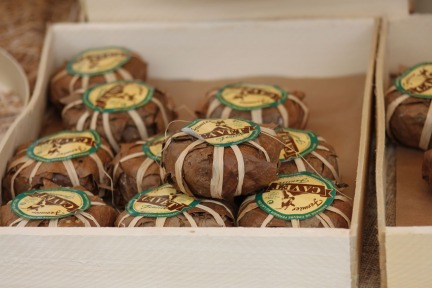 The cheese course is a luncheon staple here in France but the trick is not to serve too many choices or too much of each. Pick three different cheeses and serve a small wedge of each on a wooden cutting board. Some good ones to try would be a firm, ripe bleu d'Auvergne, a low-fat cow Tomme de Savoie made from cow's milk, and a Pélardon, goat's cheese from our Languedoc region.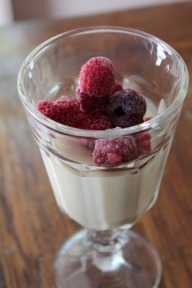 White Chocolate Mousse with Frozen Raspberries
Prep time:
Cook time:
Total time:
When ready to serve, add a couple of frozen raspberries to the top of each glass. Or you could mix your raspberries in a couple of tablespoons of Grand Marnier if you like before topping each.
Ingredients
180g (7oz) White chocolate
300 ml (1⅓ cup) Whipped cream, I use liquid and beat it with the mixer
1 Cup Frozen Raspberries
2 Tablespoons Grand Marnier, if desired
Instructions
Melt chocolate in the microwave or bain-marie (double boiler)
Beat the cream with a hand-held mixer or similar
Mix the melted chocolate into the whipped cream, folding it gently
Pour into shot glasses or small wine glasses and refrigerate for 2 hours
Food Travel Tags:
French Food, Provencal Traditions, Savoury Tarts, Soup, Travel in France