Delphine the owner of Crêpes, Cidre et Companie, in Aix en Provence, is a lovely blend of Spanish roots and a childhood spent in northern France. Her Bretonaise heritage is recreated daily in the tiny kitchen at 23, rue de la Cépède in Aix. Her crêpes and galettes (savoury crêpes) are made with love, and she does not skimp on ingredients – lots of butter, whole milk and eggs. You can read more about her crêpes here.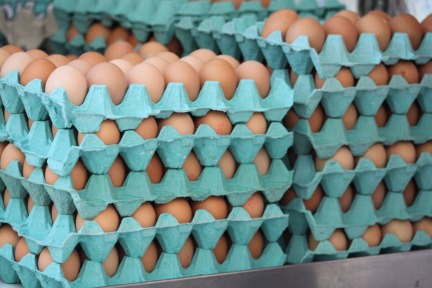 Delphine serves some other traditional treats from her hearth. There are usually (if not sold out) delicious, buttery cookies and sometimes if you are very lucky a slice of her traditional Far Breton. This dessert from Brittany is a tasty delight somewhere between a flan and a pudding. A Far Breton is similar to a Clafoutis or a Fiadone from Corsica. The key ingredient, much like for perfect crêpe batter is flour.
Far is the word for flour in Brittany. With origins as a savoury dish made with buckwheat flour, Far Breton was traditionally served with roasts in the 18th century. As tastes changed and refined products became readily available the recipe evolved into the sweet dessert that is enjoyed today.
Pictured below is the final product.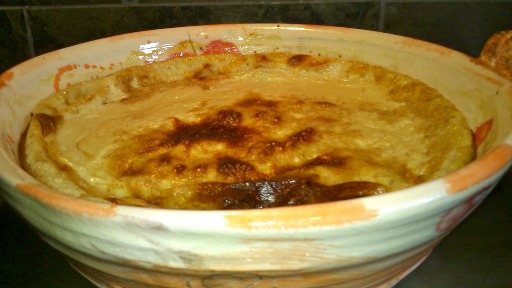 Far Breton From Brittany
Prep time:
Cook time:
Total time:
The recipe is very simple. It is best to eat Far Breton slightly warm, the day it is made, as it can get a bit dense when it cools. The flan can be made with pitted prunes or apples. Delphine makes hers with prunes, so that is the one that Nutmeg attempted.
Note: (in France sucre vanillé is sold in packages, you can make your own with a vanilla bean and white sugar or use one teaspoon of vanilla extract – not too much as you do not want the batter to change colour)
Ingredients
1 Cup White Flour
⅔ Cup White Sugar
1 Package (roughly 1 tablespoon) Vanilla Sugar (Sucre Vanillé) or Extract - see note 4 Large Eggs
4 Cups Milk (2%)
½ Cup Pitted Prunes
2 oz Dark Rum
Instructions
Preheat the oven to 200°C (400°F)
In a small bowl soak the prunes in the rum
In a mixing bowl combine the flour and sugar together
Add the eggs one at a time and whisk each one well
Add the vanilla sugar (or extract) and the milk; make sure to blend together well
Finally, add the prunes and the rum
Pour the batter into a buttered pan
Bake for approximately 55-60 minutes; check the progress a couple times during the cooking the centre should not jiggle too much
The flan will rise and then fall after you remove from the oven
Food Travel Tags:
Far Breton, Food from Brittany, Food in France, French Food, How to make real French crepes