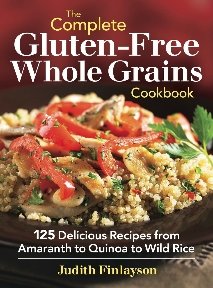 With the Internet, email and social media – does anyone get real mail these days?
Needless to say, Nutmeg was thrilled to find a copy of Judith Finlayson's The Complete Gluten-Free Whole Grains Cookbook, buried under the innumerable junk-mail fliers for duct cleaning, roof repair and debt consolidation.
Judith took some time one spring afternoon to talk about this book, and how her career path (from keyboard to slow cooker) got her to where she is today – working on her 15th cookbook!
Her professional life began in book publishing, in her words as a "glorified secretary." Judith moved into editing and then to well known Canadian magazines such as MacLean's. Her career stops included freelance work, recipe development and a long running Globe & Mail column. She was always interested in food related journalism, although her articles also covered a broad range of women's and social issues. Even while juggling a busy career and editorial deadlines over a twenty-year period her passion for food remained constant.
Judith was not classically trained in the kitchen. She spent a few years "cooking my way through Julia Child's book" – her introduction to French kitchen methodology. Subsequently, her passion has taken her to many global regions including Mexico, India and Thailand to work with masters in these cuisines.
The first book came together by hazard; her husband who is a publisher had the idea in the late 1990s to create a cookbook focused on high-end slow cooker meals. This was at a time when slow cookers were hardly the height of kitchen fashion. He approached at least seven top chefs to ask if they would be interested in working on this project. NO – was the resounding answer. Finally, he reached the end of his list and asked Judith whether she would consider the venture.
Read the rest of this entry »
Tags: Blog Contest, Cookbook Review, Gluten-free, Quinoa, Soup, Sweet Potato, Vegan